---
Thursday, May 31, 2007
GORE'S NEW BOOK HITS THE STANDS


http://www.youtube.com/watch?v=EAuzdGYrMjA
You might have an interest in taking a look at this video. Don't look, though, if you're absolutely convinced the Al Gore, the inventor of the universe and all things bigger, is infallible.
Truth is, Saddam Hussein was doing his WMD dance when the Clinton/Gore team was in town running things to their little hearts content.
If you have trouble believing this, and if you have trouble believing that there was weapons of mass destruction, then don't pick up any of the fact-based historical type books either. You won't like the real facts.
Better to stick with the cartoon version of the news.
Do I know this for a fact? Nope. I have never been to Iraq.
I have never talked with President Bush. He certainly has not sought out my counsel or opinions about anything.
Have I ever talked with Madam Secretary Rice. Nope. She's far too big-brained for me.
So do I know any of this, for sure? Not really. Remember, folks, we only
know
what our senses give us for information. We either see it, feel it, or hear it.
You've heard the old saw,
Seeing is believing?
Well, seeing is knowing.
If you didn't see something happen, you don't know for sure it did. If you believe something happened and you didn't see it, then you are relying on a trusted source for your information.
Or you are speculating.
##
WELL, WELL, WELL -- FRED THOMPSON'S IN THE RACE

At least that's what the leakers are saying.
In my many and several years of working as a volunteer in various elections, I can tell you that the people who are allowed to get reallythisclose to a candidate are very trustworthy and loyal. They wouldn't leak any tidbit of information about their candidate for all the tea that's buried in the harbor.
So when media sources started quoting anonymous "leakers" who are throwing tidbit bones out there about FDT announcing on the 4th of July that he'll be making a run for the Rose Garden, my most immediate first cynical thought is that this is the announcement before the announcement.
There is no way that anyone would leak anything from Fred Thompson's campaign unless they wanted to be immediately banished from Thompsonville.
And if FDT has leakers and they're leaking before he has even announced, he'd better get his broom out real early and make a clean sweep. People who spring leaks tend not to be the loyal type.
He wouldn't want those kind of people within a hundred yards of his office, or chair, or red pick-em-up truck, or tomato patch, or anywhere else he hangs his hat.
I'm not a leaker, have never talked to Mr. Fred Himself Thompson, but I wrote months ago that he would be running, that this country needs Fred Thompson, and the generation of my grandchildren most certainly needs this man.
It will continue to be safe to go to sleep at night in the United States if Mr. Thompson becomes Mr. President.
##
1:16 pm
Wednesday, May 30, 2007
CLEANING TIPS -- from Alice Stubbe

Tomorrow I will do the housework. NO EXCUSES!!! (unless they're good ones.)

1. It is time to clean out the refrigerator when something closes the door from the inside.

2. If it walks out of your refrigerator, let it go!

3. The best mini-vac for an after meal clean up is the dog.

4. Keep it clean enough for healthy, dirty enough for happy.

5. Never made fried chicken in the nude.

6. Do not engage in unarmed combat with a dust bunny big enough to choke the vacuum cleaner.

7. You make the beds, you do the dishes, and six months later, you have to start all over again.

8. If guys were supposed to hang clothes up, door knobs would be bigger.

9. My idea of housework is to sweep the room with a glance.

10. Thou shalt not weigh more than thy refrigerator.

11. Simplify. Hire a maid.

12. My second favorite household chore is ironing. My first being hitting my head on the top bunk bed until I faint.

##




1:16 pm
Tuesday, May 29, 2007
CINDY SHEEHAN GIVES UP ALL THAT PROTESTING


She made a speech over the weekend about going back to where she used to be and try to recuperate her normal life.
She also wrote in her daily diary that she publishes on Daily Kos that she just can't make the sacrificies anymore. It appears that she has finally realized that one person cannot change a culture or a society or even (probably) the people who live down the block.
In fact, adults can't change anybody unless -- and this is a really big "unless" -- the person wanting to make the change has control of the environment of the person they want to change.
Did I say that right?
Think about it. We were able to change our developing children because we had control of their environment.
What did Sheehan have control of? George Bush, the president. Nope.
Just try to get into the White House to have a chat with him. Not going to happen. And if you think you can ride over the Andrews Air Force Base with the dream of boarding Air Force One so you could bend his ear on a long flight, think twice about that one too.
But change the president's behavior? Not going to happen. Change his point of view. Not likely either.
Or how about congress? You are definitely going to zero out on that one too.
What could Sheehan possibly do to get the attention of anybody in congress? And even if she did, how would she motiviate them to make any changes?
Nancy Pelosi and Harry Reid have enough troubles doing that and they each have great big political sticks to wave around. Sheehan doesn't have any political clout.
My personal opinion is that she is probably stepping down because she can't draw a crowd anymore. And when you're in the protest business, if you can't draw a crowd you can't get funding.
Bread and butter decisions overshadow ideologies.
Sheehan realized a critical point of view -- the far left is just as out of touch as the far right. Ideologies don't live on the extremes of the political -- oxygen deprivation, I guess.
I hope that Sheehan is going home to finish her grief work at the loss of her son Casey. For that I will keep her in my prayers.
She is more fragile than she appears to be.
##
5:22 pm
Friday, May 25, 2007
WELL, MY GOODNESS -- LOOK WHO'S CALLING THE KETTLE BLACK!


Most of you probably don't regularly read the
Israel News
. Truthfully, neither do I. But every once in a while one of its headlines is captured on another site like ynetnet.com.
In this particular case, old Iranian President Captain Almond Marmalade (that would be short for Ahmadinejad which is too difficult to pronounce) has said that the Jews are acting like
beastly persons.

What makes this such a beastly quote is that Marmalade has said in the recent past that he's going to eradicate the U.S. and Israel off the map of the world. That was before his approval ratings -- even in Iran there are such things -- started to sink like a rock.
Don't know if the Ayotollah got ahold of him or the voters did whatever they are able to do by way of protesting, but Marmalade seems to have toned down his rhetoric a tiny bit. Now he's coming back up again and he's saying the Jews are beastly persons because they don't have any faithi n God or the Bible.
Since it looks like the pot calling the kettle black, maybe marmalade ought to mind his own beeswax and see if there's anything else he could focus on that would improve his ratings with the voters over there.
Anything at all? Nope. His Rogueness may have a tough time just getting re-elected.
Read more at:
http://www.ynetnews.com/articles/0,7340,L-3404396,00.html
##
McCAIN FINDS HIS WAY BACK TO WASHINGTON


After missing a month of senate votes, Senator John McCain found his way back to Washington and actually voted three times on Thursday.
During that month of his self-imposed sabbatical (in which he was taking care of campaign duties like fund raising), he missed about half of the scheduled votes so far this year.
Doesn't matter. He said his constituents understood why he missed all those votes.
But wait, Mr. McCain. When you are a senator of the United States of America, aren't you supposed to be working for all of us? Seems like we're all chipping in some of the $162,500 salary you're drawing from the U.S. payroll.
Oh, you're not? You only work for the people in your state who elected you?
That explains everything. I guess.
But the only senator who's missed more votes than you is that guy who is recuperating from a brain hemorrhage. Tim Johnson.
Well, I just decided I'm not voting for you for anything. What you're doing smacks of the unethical.
In fact, the way I see it, is theft of time and theft of service is just downright stealing.
##
ABOUT THE LOBBYIST CAMPAIGN REFORM: IT'S ABOUT TIME


Oh they're squealing like little stuck pigs.
The lobbyists don't like the package that the House voted through yesterday by a margin of 382-37. Now they have to 'fess up about how much money they're trying to "strong arm" on behalf of political candidates.
The Democrats don't like the bill because they're afraid that it will actually discourage lobbyings from helping them raise campaign cash.
The Republicans aren't in the clear either. They don't like the bill for the same reason.
But you see, turkey reps, that's exactly the point.
The voters in America don't want their congressmen/women beholding to the lobbyists.
Oh, you say you're not beholding to them. It's all "free" money? Who do you think you're kidding? Us folks back home?
Didn't anyone ever tell you that nothing is free in Washington, D.C.?
Think turnip patch. We didn't come from there. You take money. You owe somebody. And the lobbyists do come calling when it's time to vote on legislation.
That line is so thin between your free money and corruption that it might as well not even be there.
The bill is called a "bundling" bill. Not sure what's in the bundle but my guess is a lot of audacious hope that the people back home will think their congresspersons are good guys once again who are sticking with good old American law and order.
But here's the real point: the elected people in Washington have finally gotten the idea that the internet has created a lot of transparency about what they're doing, who's in attendance and who's voting for what.
It's really, really hard for the big wig newspaper publishers of the mainstream media to manage the news anymore. The internet has replaced a lot of the news sources and big newspapers in major markets across the country are having to lay off reporters because the paper print versions of the news don't hold up to the scrutiny of the light of day.
The internet did that. News is factual again. Wasn't that what newspapers used to provide?
##
9:37 am
Thursday, May 24, 2007
THE SADDEST OF NEWS OUT OF BAGHDAD


The body of Pfc. Joseph J. Anzack, Jr., 20 years old, has been identified as the soldier who was pulled from the Euphrates River. His two fellow soldiers are still missing and a massive manhunt in the Triangle of Death continues for the two remaining kidnapped victims.
Please join me in praying for the family and friends of Private Anzack as they grieve the loss of this brave young man. He was a gunner from Torrance, California.
The other two missing soldiers are:
Spc. Alex R. Jimenez, 25, of Lawrence, Massachusetts
Pvt. Byron W. Fouty, 19, of Waterford, Michigan
read more at
http://www.cnn.com/2007/WORLD/meast/05/24/iraq.main/index.html
##
AWWWW, MURTHA SAYS HE'S SORRY


It was a tirade against a fellow congressman (Mike Rogers, R-Michigan) who had tried to remove a $23 million earmark because it amounted to redundant spending for an intelligence gathering facility in Murtha's Pennsylvania district.
Murtha then threatened to deny Rogers any future spending projects in defense bills. Ever. Forever.
Now Murtha says he was out of line and he's sorry.
Rogers tried to have Murtha reprimanded under the House Ethics Rules violation.
Remember when Pelosi said she was going to clean up the ethics rules in the House? Didn't happen folks. It's as bad as it ever was.
I know you can't vote in Murtha's district. But I will tell you this. Each and every congressman is up for re-election in 2008.
You're going to get a chance to go to the polls and voice any discontent you may have with these politicians who promise you the moon and give you sawdust instead.
It is time to clean house. And by that I do not mean with Nancy Pelosi's broom. She's bringing the approval rating for the House of Representatives to new lows. And her buddy, Mr. Reid, on the other end of the building, is doing the same thing for the senate side.
Can anybody trust a politician? Do you think they care? Nope. They just keep counting their money.
##
LOOKS LIKE WE'RE HEADING FOR A RECORD SNAKEBITE SEASON

In an article posted on
PrimeNewswire
, we can expect a busy season with snakebites from rattlesnakes, copperheads and cottonmouths/water moccasins. These venomous bites can be treated with CroVab(r), an antivenom. This particular antivenom is not used to treat coral snake bites.
There are some 45,000 snakebites in the United States each year. Of these, between 7,000 and 8,000 are from poisonous snakes. And of that number, maybe a dozen will be fatal.
The snakebite season starts about mid-March and runs through the cooler weather in the fall.
The article quotes snake wrangler Bo Slyapich in Los Angles as having logged in three times the number of emergency calls so far this year. You don't think of Los Angeles as having a particularly big snake population. Maybe rattlesnakes? There is a rattlesnake that's native to Southern California. That I know.
The point is, be careful out there this year. Warm weather patterns bring snakes out more as they search for food, and also water.
read more:
http://www.primenewswire.com/newsroom/news.html?d=120143
##
9:53 am
Wednesday, May 23, 2007
FOX NEWS REPORTS BODY OF MISSING SOLDIER FOUND


It's the news that we all prayed wouldn't come.
According to Fox News, the Iraqi police have discovered a body floating in the Euphrates River south of Baghdad.
The man was executed with shots to the head and whip marks on his back.
Dear Lord in Heaven, please be with the other soldiers and bring them back safely.
Three soldiers went missing on May 12. Their kidnapping launched a massive manhunt from their fellow soldiers.
Identity has not been made as yet, pending positive identification and notification of family members.
Read more:
http://www.foxnews.com/story/0,2933,274914,00.html
##
GAS PRICES AROUND THE WORLD
-- from Patti
Oslo , Norway - $6.82 a gallon for unleaded regular, in US dollars
London , UK $5.96
Rome , Italy $5.80
Brussels , Belgium $6.16
Hong Kong $6.25
Tokyo , Japan $5.25
Sao Paulo , Brazil $4.42
Buenos Aires , Argentina $2.09
Mexico City $2.22
Sydney , Australia $3.42
Johannesburg , South Africa $3.39
New Delhi , India $3.71
Here's the kicker!
Caracas $0.12!!!
Kuwait $0.78!!
Riyadh , Saudi Arabia $0.91!!
##
AD FROM MOVE AMERICA FORWARD POSITION: SURRENDER IS NOT AN OPTION TO REID/PELOSI

http://www.youtube.com/watch?v=AF_frpUoMIg&NR=1
##
VIDEO: HOW TO DRIVE A HUMMER IN IRAQ

I have to put a caveat in here, though, for my grandson Jerry not to watch this video. You already have enough ideas of how to get through heavy traffic and no matter what you think, your pickup truck is not a Hummer.
This is a great site for all sorts of photos and videos, though.
The rest of you can watch and enjoy. Jerry, go do your homework. Love, Grandma.
http://www.strategypage.com/military_photos/2007522225120.aspx
##
EDWARDS SAYS WAR ON TERROR IS JUST SOMETHING BUSH MADE UP


He's joined by fellow Democratic presidential candidates Sen. Joe Biden (Delaware), Dennis Kucinich (Ohio Rep.) and former Senator Mike Gravel (Alaska) who say they do not believe there was a global war on terror.
However, not so fast, say Hillary Clinton and Barack Obama. They indicate that they do believe there is a global war on terror.
Edwards said in New York, "We need a post-Bush, post-9/11, post-Iraq military that is mission focused on protecting Americans from 21st century threats..."
But wait a minute, Mr. Edwards. How do you propose to protect Americans from 21st century threats when you just said there isn't a war on terror?
Terrorism is the threat!
You don't get it and it's just another reason -- maybe the primary reason -- why you'll never be elected president of the United States.
In fact, you're not even a front-running contender.
Get the sand out of your eyes, sir. There's an ill wind blowing and just the thought of weakies like you sitting in the Oval Office scares the bejeebers out of me and millions like me who will be going to the polls to vote for someone we believe will protect us from terrorists.
Uh, that will not be you.
source: AP, Permalink
##
11:14 am
Tuesday, May 22, 2007
HEAVY-HANDED REP. MURTHA VOTE FOR REPRIMAND MAYBE TODAY

It's a $23 earmark. The project was removed from a resolution headed for the house floor, except that another representative (Mike Rogers, R-Mich) made a motion to take the earmark out because there was already one in a bill. So it was a redundancy.

Well, I can tell you that Murtha (D-Pa) did not like that. Things sound of like they exploded. Lots of intimidating-type yelling and finger pointing where Murtha threatened to take all the earmarks from this other guy. Forever.

The forever guy brought a resolution to the floor to cite Murtha with an ethics violation.

So we'll just see if the reprimand goes through. Could be showdown time between Hoyer and Pelosi at the OK Corral. The representatives just aren't playing nice.

I expect that the Democrats will circle the wagons and tell the Republicans to leave their best buddy alone.

Ethics rules, schmules.

##


THE DO-NOTHING 110TH CONGRESS IS ABOUT TO TAKE A BREAK

From what? Certainly not very much work!

But they head out for the Memorial Day break May 28 - June 1. Too bad their breaks aren't tied to how much productive work they do.

I do think, though, that they are going to try to pass a resolution on the Iraq budget, sans a withdrawal deadline. That's what President Bush asked for in the first place and if the senators hadn't been so bullheaded about playing their own war games with the White House, the budget package would have been ready for signing by now.

Anyway, there are a lot more interesting things going on in the world that watching the 110th Congress playing shenanigans.

For instance --


IT'S BEEN 17 YEARS ALREADY -- HERE COME THE CICADAS

Supposedly, just in the Chicago area alone, there will be 1.5 million per acre of the 17 year variety. But then, there's also a 13 year variety. Not sure what they're up to yet.

Actually, they're going to come up out of the ground all over the midwest -- from eastern Iowa, northern Illinois, southern Wisconsin, northwestern Indiana, and southern Michigan just about now and into early June.

Suburban backyards and parks will feel the assault. And assualt it is. These little critters have been buried underground where they've been drinking the sap from tree roots.

They're about to come up out of the ground, attach to the nearest twig they can find, climb up in the nearest tree and shed their ugly little shell of skin. After that, they'll mate and the female will lay about 600 eggs. When the eggs hatch, they fall to the ground and burrow underground. Thus, another cycle starts.

They only live underground about a foot down. It's not like they burrow all the way to China.

Wikipedia says there are 2,500 varieties of cicadas. They do a lot of damage because the females cut slits in tree twigs where all these eggs are laid. Trees do not find this a happy circumstance.

You'll know they're in your backyard because they sing a very loud chorus. If your windows are open, they'll annoy you thoughout the night with their little one note samba which is really a mating call for you know what.



But what I absolutely do not understand is why in the world would anyone want to eat cicadas? Yucko! But there are recipes out there for the crunchy little delicasies.

##

DUMB LAWS -- to make you chuckle (I hope)

In Alaska:

While is is legal to shoot bears, waking a sleeping bear for the purpose of taking its picture is prohibited.

In Anchorage, no one may tie their pet dog to the foot of their car.

Also in Anchorage, persons may not live in a trailer while it is being pulled through town.


In Illinois:

In Chicago, all businesses seeking to do business with the city must sift through their records to see if they had any dealings with slaves during the slave era.

The law forbids eating in a place that's on fire.

It is illegal to burn bird feathers.

There is a $1,000 fine for beating rats with baseball bats.

In Kenilworth, a rooster must step back 300 feet from any residence if he wishes to crow.

Bees are not allowed to fly over Kirkland or through any of the city streets.

In Normal, it is illegal to make faces at a dog.

##



12:20 pm
Monday, May 21, 2007
IMMIGRATION BILL HAS TO WAIT; SENATE DELAYS DEBATE UNTIL JUNE

What with the Memorial Day holiday and recesses looming on the horizon, the Senate agreed to invoke cloture this afternoon on the Comprehensive Immigration Reform Act of 2007.

The truth of the matter is, it doesn't look like they have enough votes to pass it anyway.

So what does that mean?

The country is still full of about 12 million illegal aliens. Now, what are they going to do about that?

Well, it apparently isn't all that pressing an issue. They're going on vacation, or back to their districts for some R&R Golf Outings, or wherever senators go to play.

Your tax dollars at work. This is one of the reasons why the approval rating for congress is down around the ankle level of 25%.

But you have to admit that all this anticipation made this a real nail-biter of a day, don't you? I mean, who would have ever thought that they'd just shut down the senate for the holiday and do absolutely nothing about immigration.

Couldn't they at least have scheduled hearings or something.

After all, what does C-Span do when the lights under the dome get turned off?

##


UPDATE: ONLY 20 (!!!) SENATORS HAVE COMMITTED TO
IMMIGRATION BILL?

And late this afternoon, a trail balloon is supposedly going to be launched to see just how much support there is for this thing-of-a-bill. Actually the vote today is whether to even allow the debate (war-games) to begin. That vote needs a total of 60 votes just to proceed to commence to begin. And then the big bags of wind start talking. And talking. And talking.

Their first task, in my view, is going to be to define amnesty. That's the sticking point.

Majority Leader Harry Reid says he's going to insist -- absolutely insist -- that the guest-worker proviso be reduced from 400,000 to 100,000. But Reid is not in any position to rally 'round a slug fest on the floor of the senate. He's not likely to get anything he wants on this matter.

What I don't understand is about this guest-worker proviso. The senators are going to let them stay and work for two years. Than they've have to go back home and stay for a year. Then they's be able to renew their guest-worker status.

But folks. These are people who are here illegally. What makes you think they would ever voluntarily go back to a country they escaped from and then wait for the proper time to come back to the U.S. legally when they already know how to get here and stay here and hide for years and years and years and years. The immigration service can't find them. Won't deport them. And if this is passed, won't find them anymore. Still.

One could say that the law is unenforceable, wouldn't you think?

The rumor mill that's being touted all the way from Rush Limbaugh on the air to the Washington Times article filed by Stephen Dinan and S.A. Miller say that there are a grand total of 20 senators who have said, "I'll vote for it." Forty have said, "Not."
So 20 + 40 = 60. That only leaves 40 senators left behind. McCain's not in the building (again) and Senator Johnson is still recuperating from his AVM. Sixty minus 98 is only 38 senators left.

Anyway, the senators are rushing around trying to get some kind of legislation passed before they go on their Memorial Play Day break.

##



THE IMMIGRATION BILL IS ABOUT AMNESTY FOR MILLIONS
OF ILLEGALS WHO ARE HERE RIGHT NOW

So let me see. We're going to give amnesty to about 12 million illegal aliens who are here in this country at this very moment. Mostly from Mexico, but there are quite a few from El Salvador and Honduras and other places that are not on the U.S. border.

And after the amnesty provision, then we're going to seal the borders?

How.

I mean, if you know how to do that, then explain how the 12 million got in.

The other side of the debtate, at least it seems so to me, is that if we don't grant amnest and make the 12 million illegals go back to wherever they came from, what are we going to do with their children who are American citizens because they were born here.

Let's say, just for the sake of argument, that the illegals have an average child/per/household of 3 children. That would be 36 million children born to illegal aliens while they are in this country.

Would we have to build orphanages if we make their padres and mudres go back home. (Pardon my Spanish, I only speak English.)

It's a really big problem caused mainly by the fact that there have been a whole bunch of people not doing their jobs at the borders in the first place for a long time. By that I mean that it took 12 million illegals longer than a weekend to cross the border.

See what a fine mess this is now.

Last I read, though, there has been a compromise package ironed out in the Senate. Ted Kennedy must be gloating. He hasn't gotten this much press in I don't remember when.

The question is whether or not is will have enough votes to pass and send over to the house. The House hasn't added its two cents worth in yet. Then it goes back to a conference committee and see if things can even be worked out.

It's not over until it's over folks.

##


1:22 pm
Thursday, May 17, 2007
RECORD TAX RECEIPTS -- HERE'S THE NUMBER


I mentioned a few blogs ago that the U.S. Treasury took in a record amount of tax receipts in April.
That number is $383.6 billion. I think the context I was using was the fact that the more people there are who are working, the more taxes are paid into the treasury, which ultimately reduces the deficit.
Lower taxes mean business expansion, which, in turn, means more people are hired.
GERMANENESS -- HERE'S A FINE WORD FOR YOUR VOCABULARY

Basically, in a debate tournament, if you wander off the
germaneness
of your topic, you'll get points deducted.
As far as Congress is concerned, the need for germaneness goes back about 185 years to when Henry Clay introduced it into House Rules. Pelosi announced recently that she was going to change the House Rules by doing away with the minority's ability to use this parliamentary procedure to alter bills.
So the Republicans, now in the minority in the House, said that if you do that, Ms. Speakerette, then we will call for procedural votes and they threatened to keep doing it until there was assurances that the Democratic leadership would not change the rules about germaneness.
Minority Whip Say Blunt (R-Mo) said in a Jackie Kucinich article in
The Hill
, "...the change is horrifying..."
About 2 pm yesterday, Blunt sent an alert out to the members of Congress that the test of germaneness was about to be introduced.
The call for procedural votes continued. Finally, word came down from Majority Leader Steny Hoyer (D-Md) that there hadn't been any rules change proposal.
So I guess all is well, and everybody is back at work under the dome.
Just hope that the politicians don't start pouting again. They can be such big babies, you know.
Somehow the threat of gridlock isn't what I'd call working out a compromise on anything.
POPE BLISTERS POLITICIANS WHO FAVOR ABORTION

In a "Oh yeah, what are you gonna do about it?" type position aimed at Pope Benedict, 18 House Democrats fired a message back to him that Catholic bishops or clergy who withhold communion from politicians "...clashes with [religion] freedoms guaranteed in our Constituion. Such notions offend the very nature of the American experiment and do a great disservice to the centuries of good work the church has done."
Well, okay then. So now the domed ones are trying their hands at theology.
Uh, if I were Catholic, which I am not, I don't think I'd get into a theological tug-of-war with the Pope. Somehow, I don't think the politicians in the United States have much say in dictating what the Pope says is the position of the Catholic church.
Here's the list of the 18 who took the Pope to task, and the text of their message:
[letterhead of the Congress of the United States]

FOR IMMEDIATE RELEASE
Thursday, May 10, 2007

CONTACT:
Adriana Surfas 202-225-3661

Catholic Members of Congress Express Concern
Over Church Sanctions

Washington, D.C. – Catholic members of the U.S. House of Representative, including Representatives Rosa L. DeLauro (CT-3), Joe Baca (CA-43), Tim Bishop (NY-1), Joe Courtney (CT-2), Anna Eshoo (CA-14), Maurice Hinchey, (NY-22), Patrick Kennedy (RI-1), James Langevin (RI-2), John Larson (CT-1), Carolyn McCarthy (NY-4), Betty McCollum (MN-4), Jim Moran (VA-8), Bill Pascrell (NJ-8), Tim Ryan (OH-17), Linda Sanchez (CA-39), José Serrano (NY -16), Hilda Solis (CA-32), and Mike Thompson (CA-1) issued the following statement in response to Pope Benedict's warning that Catholic elected officials risked excommunication from the Church and should not receive communion for their pro-choice views. The majority of these Members also supported the Statement of Principles issued on February 28, 2006, that expresses the signers' commitment to the dignity of life and their belief that government has moral purpose.

"We are concerned with the Pope's statement warning Catholic elected officials that they risk excommunication and would not receive communion for their pro-choice views.
"Advancing respect for life and for the dignity of every human being is, as our church has taught us, our own life's mission. As we said in our Statement of Principles, 'We envision a world in which every child belongs to a loving family and agree with the Catholic Church about the value of human life and the undesirability of abortion – we do not celebrate its practice. Each of us is committed to reducing the number of unwanted pregnancies and creating an environment with policies that encourage pregnancies to be carried to term.' That is precisely what some of us are doing with our initiative 'The Reducing the Need for Abortion and Supporting Parents Act' – which includes policies that promote alternatives to abortion, such as adoption, improve access to children's healthcare and child care, as well as encourage paternal and maternal responsibility.
"The fact is that religious sanction in the political arena directly conflicts with our fundamental beliefs about the role and responsibility of democratic representatives in a pluralistic America – it also clashes with freedoms guaranteed in our Constitution. Such notions offend the very nature of the American experiment and do a great disservice to the centuries of good work the church has done."

source: www.house.gov/delauro
##
8:52 am
Wednesday, May 16, 2007
SENATORS LOSE THEIR BID TO DEFUND THE TROOPS IN IRAQ

When the vote tally finally got added up, it came to 29-67. That's a major blow to all the senatorial hopefuls. The measure couldn't even get passed the procedural part of the process.

The senators would have needed 31 more votes to go forward with this particular version of its legislation. The House already passed a package supporting the troops in Iraq last week.

So maybe now the domed ones will stop crowing about shoving anything down President Bush's throat. That was the threat recently when Bush vetoed the package that came from Capitol Hill demanding that Bush call the troops home. There was even a veiled threat to defund the war in Iraq.

Didn't happen.

##


SOME USEFUL LEGISLATION ON THE HORIZON -- I HOPE

People who have credit cards and others who have also jumped on the low teaser rates for balance transfers have discovered to their horror that the different transaction types carry different finance charge rates.

That's not so bad. The rub comes in when debtors realize that all the payments go toward paying on the balance of the lowest finance charge rates. The other, higher interest rates keep going up because the finance charges get added to the balance.

Talk about feeling helpless. It's possible to send in a monthly payment and actually see the overall credit card balance increase.

Now comes news that those people up on Capitol Hill are in the process of changing the rules.

Ordinarily, I don't like the idea of a lot of congressional regulations encroaching on our private lives, but, folks, there have been too many with double tiers, even triple tiers, of finance charges. There is no way that they can get out from underneath the horrific credit card scheme that plagues them every month.

It goes something like this: the debtor starts out with a visa -- maybe at an 18% rate if the debtor doesn't have that great a credit score. Then, along comes some checks that the debtor can use -- maybe at 12% -- to buy some Christmas presents or send to another creditor.

Now we have the double tier. While all the payments every month go to the part of the bill that has a 12% finance charge. The other tier -- at 18% -- continues to accrue finance charges being added to that part of the balance.

Where some debtors have gotten into further trouble is when they get a balance transfer at a next to nothing rate, like maybe 2%.

Now, disaster looms on the horizon. All the payment goes to the 2% part of the balance, and the other two tiers have the finance charges added to the balances of each sub-total.

I have had clients who actually have declared bankruptcy because they get these double tiers, some triple tiers, disasters going.

They end up in my office for help with changing behaviors. Especially shopping habits.

You'd think that a homeowner could get a home equity loan to pay everything off and start over. The problem with that is -- statistically -- unless some major changes occur with shopping habits, credit balances get back to where they had been in a couple of years.

Well, you can bet the banks and credit card companies aren't too excited about changing this little scheme.

It looks like the heavy hands of our congressional banking committee members are going to have to come to bear on the highly profitable schemers.

It looks like the legislation is going to require that payments be applied to the higher finance charge part of the balance.

Folks, that's a huge improvement. Getting rid of the tiers would be better. Just roll them all into one balance. For my clients, I'd prefer that.

We'll see what the legislation looks like by the time it gets through the banking committe, then on to the senate, then back through a conference committee finally for a vote.

##

10:55 am
Tuesday, May 15, 2007
NEW APPROVAL RATINGS -- CONGRESS LOWER THAN BUSH

The new Gallup Poll data are out and guess what? Congress has sunk to a low 29% approval rating. Last month is had been 33% and the all-time high for the year was 37%. (www.galluppoll.com)

So what was all this crowing about after the last election about delivering a new direction for the American people?

Let's see -- the stock market is soaring high. In fact, it recently crashed through the 13,000 threshold. What new direction would congress want to take us?

Then there's the unemployment rate. It's hovering around the full employment figure of 4.5%. What new direction would congress want to take us?

Tax receipts for April of this year also hit an all-time high. Mainly because more people are working. This is a direct result from lower taxes. More people work, more people pay taxes. Lower taxes puts more money in the hands of businesses that employ people. Lower taxes means they can expand their businesses. Good for businesses. Good for government because more taxes collected means the deficit gets lower. What new direction would congress want to take us?

In the meantime, Bush's approval rating is running steady at 33%.

If you think that's way too low, keep in mind that Billy Clinton's approval rating had hit a rock bottom of 25% at about this point in time during his second term.

##









11:07 am
Monday, May 14, 2007
YOU MAY NOT HAVE KNOWN THAT PRESIDENT BUSH READS SHEET MUSIC


He refers to himself as "just an ole' cowboy." But he surprised everybody, including the conductor of the Virginia Symphony Orchestra on Sunday afternoon when he took the podium and conducted the orchestra through a couple of minutes of the
Stars and Stripes Forever
.
On Sunday afternoon, President Bush and First Lady Laura Bush were in attendance at the 400th Anniversary Ceremonies on the founding of the Jamestown settlement.
Naturally, Free Republic got some gorgeous photos of the event.
In an article written by Sonja Barisic, an Associated Press writer, JoAnn Falletta, conductor of the symphony, said, "We didn't expect him to know the score so well...He conducted with a great deal of panache."
This particular orchester was made up of about 50 members of the Virginia Symphone plus musicians from youth orchestras from around the country.
So our President impressed the orchestra members with how well he knew the music and how well he cued the different sections -- like the brass, and the percussion. Did a good job keeping the tempo going, apparently.
That, I would loved to have seen. Maybe it will mean a career change after his White House days are behind him.
Check out these photos posted by Wolfstar on Free Republic -- from
WhiteHouse.gov
and
Yahoo News
:
Say, Madam Conductor, mind if I have a go at this?
You over there in the back row, I'm not hearing you.
Okay, everybody, at the same time, here we go.
Now, just one blissful moment before we get into a rousing thunderous drum roll!
There was a huge crowd who came to hear President Bush speak at Jamestown.
President and First Lady inspect some 17th century weapons.
##
12:51 pm
Saturday, May 12, 2007
NEW DRUGS FOR WOMEN -- from Mark Stubbe
>
> > >> DAMNITOL
> >> Take 2 and the rest of the world can go to hell for up to 8 full hours.
> >>
> >> EMPTYNESTROGEN
> >> Suppository that eliminates melancholy and loneliness by reminding you
>of how awful they were as teenagers and how you couldn't wait till they moved out!
> >>
> >> ST. MOMMA'S WORT
> >> Plant extract that treats mom's depression by rendering preschoolers unconscious for up to two days.
> >>
> >> PEPTOBIMBO
> >> Liquid silicone drink for single women. Two full cups swallowed before an evening out increases breast size, decreases intelligence, and prevents conception.
> >>
> >> DUMBEROL
> >> When taken with Peptobimbo, can cause dangerously low IQ, resulting in enjoyment of country music and pickup trucks.
> >>
> >> FLIPITOR
> >> Increases life expectancy of commuters by controlling road rage and the urge to flip off other drivers.
> >>
> >> MENICILLIN
> >> Potent anti-boy-otic for older women. Increases resistance to such lethal lines as, "You make me want to be a better person. "
> >>
> >> BUYAGRA
> >> Injectable stimulant taken prior to shopping. Increases potency, duration, and credit limit of spending spree.
> >>
> >> JACKASSPIRIN
> >> Relieves headache caused by a man who can't remember your birthday, anniversary, phone number, or to lift the toilet seat.
> >>
> >> ANTI-TALKSIDENT
> >> A spray carried in a purse or wallet to be used on anyone too eager to share their life stories with total strangers in elevators.
> >>
> >> NAGAMENT
> >> When administered to a boyfriend or husband, provides the same irritation level as nagging him, without opening your mouth.
> >>
> >> Now, send these to any woman who needs a good laugh, and any man who can handle it.

##

10:31 am
Friday, May 11, 2007
NOW THE GOVERNOR OF KANSAS JUMPS ON THE BLAME BUSH BANDWAGON!


Why can't people just tell the truth?
This time it's Kansas Governor Kathleen Sebelius who said that her response to the tornado that came ripping through Greensburg -- no less than an F5 that was 1.7 miles wide and cut a path 22 miles long -- was hampered because the National Guard had been deployed to the Middle East.
The truth is, there are no less than three military bases in Kansas that had personnel immediately available to her (if she'd asked for federal help) -- Ft. Riley and Ft. Leavenworth are army bases and Ft. McConnel is an air force base. There were all kinds of help available and the governor should know that all she had to do was ask for help. She should also know that the feds don't come barnstorming into local sovereigns without being asked.
Especially after Katrina. If you're a governor, you can't just sit around and say, "We don't need help -- we can handle this ourselves," then get mad at the White House for not sending help.
Again, federal help does not automatically come marching into sovereign states to "take care of things." But such help is certainly there for the asking.
And then, whether it's really true or not, or if she just continued to compound her big stories, she supposedly said that Howard Dean called her at 5 a.m. and instructed her to blame the war on Iraq, and of course, blame Bush. My question is: Does Howard Dean really get up at 5 a.m.?
And where was Governor Sebelius' compassion for her fellow Kansans? Didn't see any pictures of her hugging anybody, praying with anybody, talking with anybody, doing anything that could be construed as caring.
But then, I don't subscribe to any of the newspapers in Kansas, so maybe there were photos. Here are some photos, though. There photos of a man who most certainly does care. Eyeball to eyeball. Heart to heart.
Here's President Bush with Governor Kathleen Sebelius. First she applauds him for signing a disaster relief package for her Kansans within 24 hours, then she criticizes the White House for not sending disaster help (national guard) when, in fact, she hadn't ask for the guard's help.
Question: If she had asked for the guard's help immediately, could any of the ten lives have been saved? Even one?
These photos come fron Free Republic's daily photo threads of our Comforter-in-Chief. A picture is worth a thousand words, don't you think?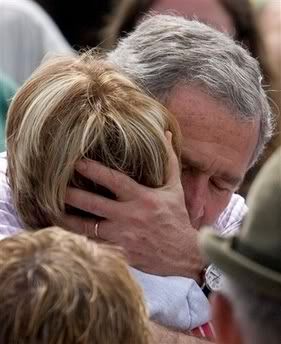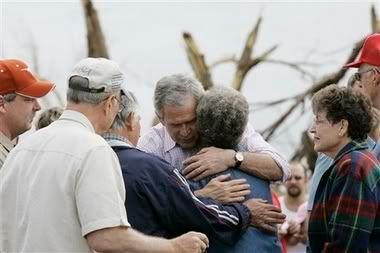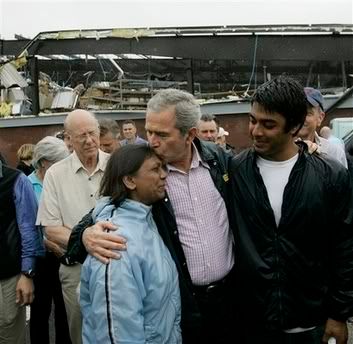 A man who prays. A man who's honest all the way to his core. He looks you in the eye. And the people of the United States of America love President Bush.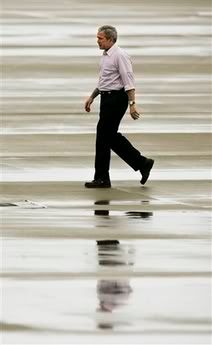 But why does he have to get blamed for everything?
Maybe it helps to just look at the people who are blaming him for each and every little thing.
Somehow, with lots of prayers from fellow believers, he rises above the political rhetoric and draws his strength from God above. I think it helps him to know that there are so many of us who are praying for him to have strength to endure.
##
12:14 pm
Thursday, May 10, 2007
UH OH -- HERE WE GO AGAIN -- ANOTHER SCHOOL LOCKDOWN

Seems like I just did this. But news from CNN says that a high school in Boulder, Colorado, is under lockdown. It's a developing story. The only thing known at this point is that two masked men went into the building and police officers are at the scene. Boulder High School named by breitbart.com.

Try CNN. That's where this headline started.


IS IT REALLY HEROD'S TOMB?

I admit I'm a skeptic, but it just seems to me that if an archeologist discovers what is announced to be Herod's tomb, it ought to have two things: 1) some bones in it and 2) some kind of inscription that says, "here lies the body of ..."

Okay, so some piece of news might be missing. Some clue that would lead the Israeli archeologists in Jerusalem to announce that they had found the mean old Herod who had been the king of the Holy Land around 40 B.C.

Herod is one of those characters who plays a heavy hand all through my Bible studies. I shadowed him through Sunday School lessons and then Confirmation Classes, but I never knew his tomb went missing.

And yes, it would be quite a find. Especially for Ehud Netzer who has been digging in the dust at Herod's known compound since 1972. That would be just about a capstone for Netzer's career, don't you think?

I, for one, wish Netzer every success in his pursuit of historical finds.


YOU CAN'T EVEN GO TO A CONCERT THESE DAYS WITHOUT SOMEONE HAVING A TEMPER SNIT

The Boston Pops, of all places. And the very fancy schmancy opening night, at that.

Where did the time go? The season opened just this past Wednesday. Amazing.

And then someone screamed. Sounded like it was coming from the balcony.

Boston Pops conductor Keith Lockhart turned and looked up that way. But he kept on playing. After all, the show must go on, you know.

Then another scream. This one was louder than the first.

"What is going on up there?" he must have wondered. This time he stopped the orchestra, turned and looked up in the audience again. Chairs were crashing to the floor.

All that racket was definitely interfering with his interlude.

He waited patiently for the rent-a-cops to get up there and personally escort the noisemakers out to the street.

After the old heave ho, the concert resumed. None the worse for wear, but you can bet the whole incident sparked many a conversation at many an after-show cocktail party.

As for the temper tantrum twosome, you ought to at least learn a bit of decorum before you go off and try to ruin opening night, for crying out loud!

Didn't your mothers teach you anything?



##


9:48 am
Wednesday, May 9, 2007
DEMOCRACY IN ACTION: NOW NANCY'S GONNA SUE THE PRESIDENT!

And over all things -- President Bush's signing statements.

Hey, Nancy, it's just not all that unusual for presidents to write signing statements when they veto congressional bills. Like the most recent War Spending Package that you guys sent to him that was chock full of little piggy barrel projects for your pet (big donors) constituents.

So, since you're so vested in freedom of speech as an American virtue, you intend to censor the president and commander-in-chief?

Courts traditionally don't even hear such nonsensical garbage suits. And what a waste of the taxpayers' money! In fact, in an article in today's The Hill written by Jonathan E. Kaplan and Elana Schor, we are reminded that "the courts ruled that dissident lawmakers could not sue solely to obtain outcomes they could not secure in Congress." The authors were referring to a ruling way back in the 1970s when Congress tried to force President Nixon to stop the bombing in Cambodia.

In other words, Ms. Nancy, if you can't get a law passed through Congress, you aren't going to be able to make case law through the judicial system.

Did you completely miss American Government, Social Studies and Civics classes? Since you're about the same age as I am, Ms. Nancy, it would most likely have been Civics.

Civics is where we learned that there are three branches of the U.S. government. Each branch has certain responsibilities and are accountable to the people of the United States.

If and when Congress passes laws that the president believes are not constitutional, then, yes, he has not only the right to veto the law, but also the responsibility to do so.

If he wants to make a statement as to why he's vetoing it, then he also has that right. Like in the most recent case, when he said in his signing statement that he was vetoing the law because it was unconstitutional.

But I will give you credit for giving high school and college students some great opportunities to see how governmental offices run and who has what obligations, power and rights.

For instance, there's going to be one tiny little problem that's gonna slow you down and that is a two syllable word called standing. In any court proceeding, someone has to have "standing." That is, someone has to be the injured party who's looking to the courts for a remedy of some sort.

Somehow, passing a law that's not constitutional and having the president veto it while telling you why he vetoed it is not exactly an injury, you big bunch of uninjured sore losers.

Now get back to work and do what you were hired to do by the taxpayers!

##


11:12 am
Tuesday, May 8, 2007
HERE WE GO AGAIN -- ANOTHER SHOOTING IN PROGRESS

This time in California -- Fresno, in fact.

One dead, two injured. Apparently a 19-year-old, Jon Quel Brooks, involved -- maybe a disagreement with his roomate? Fox News just said that he escaped into the neighborhod.

Brooks was a criminology major.

News story developing. If you're in the area, stay indoors where you're safe. And don't let anybody into your building if you don't know who they are or what they want. And it's not a good idea to go stand outside to see if you can see what's going on.

##


AND PARIS HILTON IS GOING TO JAIL!

Okay so it's only 45 days but it's the point.

These celebrities just can't go running up and down the coast out there thinking they don't have to obey the very same laws the rest of us do.

She didn't even convince the judge that she really didn't know that her driver's license was suspended.

How could you not know that?

Of course she knew it! Good judge call.

Now go to jail. And I don't agree with your mother who said it was a total waste of taxpayer money. Not!

I'll tell you what's a waste of time. You obviously have relied on police authority and judge/bench authority to teach your overgrown child to have some respect for authority.

Obviously it didn't work.

##


NOW PELOSI IS TRYING TO BETTER HER HUSBAND'S WATERFRONT POSITION

Don't you just love it! First congress passes laws that lets them better their positions and their spouses piggy banks too. Then they turn around and take advantage of bilking the taxpayers out of millions of dollars and say "It's not illegal, you know."

These little loopholes in the laws they pass become little pockets where they can stash millions and mega-millions of tax dollars that somehow get through all those ethical filters that are supposed to keep their hands clean.

But it apparently doesn't work like that.

In this instant case, there's a certain water redevelopment bill that concerns San Francisco.

That's her district, of course.

And the waterfront improvements were requested by the Port of San Francisco.

We're actually being asked to believe that Paul Pelosi's waterfront rental properties don't have anything to do with the Port improvements that are in the works. In fact, the two properties are at least a mile apart. Mr. P.P. gets rental income from four different buildings in a nearby commercial district.

So how could they possibly be related?

And so, the little people have now become the "stupid little people," I guess.

Just a mile. That's hardly any distance at all. After all, this is a woman who can hop on a U.S. military jet and soar all the way to Syria -- halfway around the planet -- and they're using one mile as a political safety zone of ethical behavior?

Preposterous. Absolutely proposterous.

How many days does this clownette have left in office?

And the monumental understatement of the year comes out of Senator Tom Coburn's office (R-Okla). He said, "On its face, it appears to be a conflict of interest."

No kidding. I'll just betcha any fifth grade ethics student would agree with that comment. Nancy's part of this multi-million project is a $25 million earmark and, yeah, it most definitely would benefit her husband's little waterfront projects.

In the end, it would benefit her too, since they probably file a joint income tax return and share their monies.

##


WHAT IS WRONG WITH THOSE STARBUCKS PEOPLE?

It was supposed to be one of those little thought-provokers. You've seen those cute little sayings that coffee sellers -- not just Starbucks -- put on the cups to help stimulate conversation.

Well, this went too far. And the firestorm followed. This is the little thought provoker that Starbucks figured would wake up some interesting conversations:

Why in moments of crisis do we ask God for strength and help? As cognitive beings, why would we ask something that may be a figment of our imaginations for guidance? Why not search insider ourselves for the power to overcoem? After all, we are strong enough to cause most of the catastrophes we need to endure.

In my view, that's not a thought provoker. That's a real head spinner.

What was Starbucks trying to do? Turn off its entire Christian customer base?

If Starbucks is going to try to tell me that I don't need to talk to God in prayer because I seem to cause most of the problems I'm praying about, then one of those problems is going to find a new place to get my coffee.

I am deeply offended by Starbucks. Actually, I already was since I learned that they can't even bother sending some good old American coffee to our soldiers in Iraq.

Want to see how fast a big fat juicy corporate entity can go under?

Remember Wieboldts? Remember Goldblatts? Two corporate giants that went bankruptcy.

I've always thought Dunkin Donuts coffee was better anyway. Besides, I just want plain black coffee. None of that latte stuff, and none of those little caramel stripes going across white foam.

##
10:48 am
Monday, May 7, 2007
AN F-5 TORNADO IS A NIGHTMARE'S NIGHTMARE


I've only lived through one F-5 tornado in my life. Believe me, once in a lifetime is more than plenty.
Even those little rope tornadoes that twirl around on the ground like little ballerinas are very dangerous. You definitely don't want to mess with them.
But the F-5 that marched through the little hamlet of Greensburg, Kansas, was enough to flatten the town, according to an Associated Press story filed by Roxana Hegeman. The following video is probably part of the same bunch of tornadoes that wreaked havoc across the states of Kansas, Oklahoma, Illinois, South Dakota and Nebraska.
http://apnews.myway.com/article/20070507/D8OVL61O0.html
Rubble piled up in 20 to 30 foot towers. The only thing left standing was the grain elevator.
If I lived in Greensburg, when it came time to rebuild, I'd want my house made out of the elevator stuff.
But get this: this deadly tornado was nearly two miles wide (1.7 miles) and it went grinding through the countryside for 22 miles.
That's awesome. This is not the tornado in Greenburg, but rather,
http://www.youtube.com/watch?v=xmv72Xqx9fI
Here's a photo of the Greenburg tornado. I got it from Free Republic just a while ago. It's huge!
http://www.kotv.com/newsimages/640/5beb8a57-1b53-4ca2-bb0f-8d9e78249169.jpg
This is not a video of any tornadoes this year, but it is one of the most spectacuar wall clouds I've ever seen captured on film by Robert Prentice.
http://www.youtube.com/watch?v=Qtvk56ztKr4&mode=related&search
=
Another video by sonicbomb.com:
http://www.youtube.com/watch?v=UVppfnXtPZ4&mode=related&search
=
Mother Nature at her most ferocious. Even if you are pretty complacent about storms, a tornado -- especially one at night backlighted by lightning -- will humble you.
Special prayers are lifted for those who died in the tornado. At last count, there are ten believed dead. And for all the people who have to live with the devastation of losing everything that was precious and dear to them. But then, life is the most precious of all. Everything else is just stuff, precious stuff yes, but stuff nonetheless.
It's not like a husband or a wife, or a child, or a best friend, or a neighbor. That's what's truly precious.
##
NATIONAL DAY OF PRAYER -- IN CASE YOU MISSED IT

Not all of us could go to Washington, D.C. to celebrate teh 56th annual Day of Prayer on May 3, 2007.
So, check this link and you can hear the theme song with graphics:
http://www.ndptf.org/press_room/Index.cfm?Entity=4&Department=4&Dept_Order=1&This_TopicOrder=1&This_SubtopicOrder=3&flash=1
Gives me a chill when I see and hear the song and videos behind the music and words.
There's also a message from Mrs. Shirley Dobson, this year's spokesperson for the National Day of Prayer.
##
2:03 pm
Friday, May 4, 2007
HERE'S A THOUGHT: THE WHITE HOUSE COULD REINSTATE THE SALE OF WAR BONDS

You know, if these congress critters sitting up there under the Dome aren't real careful, and insist on "jamming their views down the throats" of not just the president but the American people as well, then I suggest President Bush go to the American people and ask for the money direct.

The sad part is that the taxpayers have already funded the Treasury. And it's not like the money belongs to Congress.

Wouldn't that just really surprise Congress if millions and millions of Americans bought hundred dollar war bonds?

Do you think the Domed Ones would get the idea that all their political horsing around about not paying to support our military in Iraq is a day late and a dollar short?

If there were war bonds and if buyers were to come up with money tonnage, what message do you think that would send to congress? Especially working its way up to the election in 2008?

After all, it's not a new idea. WWI and WWII were funded by war bonds.

I'm telling you, folks, there's a lot more support out there for keeping our military safe and loaded with bullets and whatever else they need, than listening to a bunch a politicos talk 'til their heads rattle.

In short, we do not have to wait until the next election to stand up and be counted as Americans who support our military. Buy a war bond if they go on sale.

##

12:09 pm
HEY HILLARY: YOU CAN'T REVERSE DECLARE A WAR

On October 11, 2002, the Congress of the United States voted to approve Bush's plan to invade Iraq.

I didn't think that Congress has the constitutional authority to de-authorize the action in Iraq except to defund it.

And, in fact, they did pass legislation that authorized new billions for the war effort in Iraq. Just within the last several weeks. They even laced the spending bills with deadlines and so much pork that had nothing to do with Iraq that President Bush told them and told them and told them that if they kept those stipulations in the bill, he would veto it.

Congress said, "Go ahead. We'll override your veto."

The White House said, "Go ahead. If you can."

(The quotes are mine, not those of real people.)

Actually one congress critter said, and this is a real quote, "We'll shove it down your throat."

Now, isn't a nice way for a politico to talk to the president?

So now Hillary Schmillary is going to try to repeal the authority that congress took in 2002 and end U.S. involvement in Iraq.

Stay tuned, folks. That will trigger a huuuuuuuuuge constitutional debate. And it will be settled in federal courts, not in congress.

Congress will not like that one bit. It will mean giving up all that limelight and all those hearings and no more mike time, etc. etc.

So here's an idea. When these politicos come around wanting our votes, let's ask them how important civility is to them. And let's ask them about how important it is to work together with their congressional colleagues.

And if they say something like, "I know I've made mistakes in the past, but if you re-elect me, I promise I will make every effort to reach across the aisle to my colleagues."

If they have not done that up to the point of election day, don't vote for them.

I think that politicians ought to be held accountable for the promises they didn't keep, not hoped for promises that they have no intentions of keeping.

As for The Hillary, she can't seem to make up her mind which way the political wind is blowing. But she's going to try to be on the train when it leaves the station, no matter where it's going.

##

11:46 am
Thursday, May 3, 2007
TODAY IS NATIONAL DAY OF PRAYER


It's an official observance -- since 1952.
Before then, there were times when national prayers were called for and observed. The Continental Congress called for a day of prayer in 1775 to designate a "time for prayer in forming a new national."
It was President Truman who, on April 17, 1952, signed a bill proclaiming the National Day of Prayer into law.
And it was President Reagan who, in 1988, designated the first Thursday of May as National Day of Prayer.
So whoever you are, wherever you are, and whatever your religion or creed or faith is, take a moment to quietly reflect in a moment of prayer.
We are all God's children. He loves each of us equally. And we are all forgiven children. We absolutely need to believe that our sons are forgiven because he sent his son to die for us and wash away all the blemishes of our sins.
All we need to do is ask and he is ready, willing and most authoritatively able to forgive our sins.
If you are not a praying person, then today is a very good day to turn over a new leaf and develop a prayer life with the God, our Heavenly Father.
I pray for God's richest blessings to be with each one of you as you go through your day today.
read more:
http://en.wikipedia.org/wiki/National_Day_of_Prayer
##
OH MY GOODNESS! LOOK WHO'S OBJECTING TO IRAQ'S PARLIAMENT TAKING SOME LEAVE TIME

None other than the good ole U.S. legitarians. When they found out that the Iraq parliament intends to take a summer break, there was a great hue and cry under the dome.
"They can't do that," some cried.
"Not while our soldiers are over there getting killed," others said.
So our politicos ran for their bewailments, those little outfits that are hidden in the back of the closets under careful lock and key and only taken out when there's to be great wailing and gnashing of teeth.
(Bewailments are kind of like albs that priests and pastors wear, except that bewailments are off-white in color and only come down to the knees. That's so the politicos can run and duck better if they see newsies coming at them, or better yet, their constituents.)
Amidst all the furor, I decided to go to the House's web site to see what days the legitarians gave themselves as holidays and breaks this year.
here's the list of the politicos' days off:
http://www.house.gov/house/House_Calendar.shtml
Guess what? It comes to 61 days counting holidays that do not fall on Sundays. I figure that even congressionals are entitled to take a Sunday break as long as they go to church.
They do go to church and worship, don't they?
In August, for instance, our legitarians will be closed down from August 6 to August 31 for what they call their "Summer District Work Period."
That would be golfing and sailing and going on picnics at the beach.
Maybe even a quick junket up to Alaska to measure how much the glaciers are really melting.
Maybe Harry Reid will go back to Peru to check out an Indian fort's security systems, or wherever he went.
And who knows where Pelosi will end up. Maybe she'll go see Captain Marmalade in Iran. On her way back to San Francisco, she might stop to see Vasquez Chavez (Hugo for short) in Venezuela. I hear rumors that she really likes money and since he just over took all the banks in his country, he ought to have buckets of billions lying around.
Psst. Hey, Nancy. Take Feinstein with you. Put on your best little summer frocks and go down there and help him count his cash. Feel the burn. Feel the power.
It's a lie. Don't you know that?
##
HEY MR REID: YOU SAID IRAQ WAS NOT A GOOD IDEA


Now, I never claimed to be a military genius, but I'm just wondering what Reid could possibly have in mind by drawing up a plan for an immediate withdrawal of troops from Iraq.
Then a waiting period of 21 months.
Then a sweeping new surge in Iraq that would wipe out all of the new AQ headquarters and the training camps in Iraq. This surge would begin in January 2009, providing, of course, that there were an
appropriate
outcome for the November 2008 election.
So, let's see -- first he wanted all the troops to be withdrawn, starting in October of this year. Nary a mention in the old Reid Bill for any kind of re-attack plan.
Now he wants an immediate withdrawal of troops and -- after a little while -- a gangbusters redeployment.
Good Great Geronimo!
Reid sounds like he got ahold of Custer's Big Battle Plan.
We're doomed, folks.
##
9:03 am
Wednesday, May 2, 2007
JUST IN: NANCY'S GANG COULDN'T PULL IT OFF

The vote was 222 - 203. The House of Representatives was not able to override the president's veto.

So much for all the comments about jamming the War Package with the Pull-Out Deadline in it down President's throat.

What they fail to realize is that it is not the President's bill. It's about Americans protecting the soldiers out there in harm's way.

And the politicos just don't get it.

Want to check to see how your representative voted? Go to this site:

http://clerk.house.gov/evs/2007/roll276.xml

##


FEINSTEIN'S OOPS MOST CERTAINLY SMELLS LIKE CORRUPTION TO ME

First of all, if you want to see what her humble little house looks like, go to the photo on www.counterpunch.

http://www.counterpunch.org/frank02282006.html

Nice digs, Diane!

So you and your husband, Richard Blum, live in this quiet little house with its formal gardens. That would be out there by the bay -- San Francisco, that is.

You are, to put it bluntly, a sham. You sat on the very committee -- no, wait, you chaired the very committee that kind of just quietly appears to have steered some $1.5 billion in government business toward your husband's two companies, URS of San Francisco and the Perini Corporation of Framingham, Massachusetts.

David Keene writes in The Hill on April 30, 2007, that you appear to have been up to the same old shenanigans that put California Re. Randy "Duke" Cunningham (R) in jail. http://thehill.com/david-keene/

I, for one, would love to see you filling out a change of address form from your current palozzo to the prison of the prosecutor's choice.

So you, Turned-Scumbag-Just-Like-The-Rest-Of-Them Feinstein, were the big cahuna Democrt on the Military Construction, Veterans Affairs and other sub-committees that had something to do with companies that your husband controlled.

And isn't it just plain old downright amazing that you suddenly recognized that you had a conflict of interest and you resigned in late 2005 just about the same instant time that your husband sold his stake in those two companies that had you two joined together at the money-hip?

Gee, let me see, according to Keene's article, you guys got richer by about $40 million.

So when you go to jail, you're gonna leave a lot more than your heart in San Francisco.

As far as I'm concerned, I hope you get about twenty years in the slammer.

You'll be old and wrinkled by then since you won't have spa treatments on your less-then-millionaire budget in jail.

You'll even have to trade your pinstriped Armani suits into something a bit more humbling. I don't think you can call prison garb two inch stripe "pin stripe."

Apparently you're just a big fat greedor like so many of your colleagues up there under the Dome.

What do you guys do all day up there anyway? Sit around and count your ill-gotten money and laugh about the "dumb little guys?" You know, us voters.

If this isn't a clear call for term limits, there never was one!

##


WHY IN THE WORLD SHOULD JOAN BAEZ BE SURPRISED?

First of all, it was supposed to be a benefit for our soldiers who are being treated at Walter Reed Army Medical Center.

Baez, an over-the-hill 66-year-old war protestor from the Vietnam era, thought she'd be welcomed on the Mellencamp program at Walter Reed. At least that's what she told the Associated Press.

Baez says she has always been an advocate for nonviolence..

She actually believes that her anti-war protests back then probably helped get a better welcome home for the soldiers from Vietnam.

Well, that's okay. If that's what you believe.

Contrary to anything you may have heard, Baez Baby, Iraq is not Vietnam. And no matter how much the politicos under the Dome say it, it does not make it so.

If the soldiers from Iraq are offended by your shenanigans, then just go away.

If it has to be explained to you, you probably wouldn't understand it anyway.

##


YOU JUST KEEP BURNING UP YOUR CARBON CREDITS, HILLARY!

Oh, silly me. Why would I expect Hillary to do anything different than hop around on private jets, going hither and thither. Across the country. Then back again.

Then up and down the east coast.

Then up and down the west coast.

Then trading one jet for another because she didn't like the way the cabin was configured.

Huh?

Gone are the days when politicians made whistle stop tours, right?

Now we have campaign war chests that have tidy little bundles of millions and millions just sitting there waiting to be spent. It's as if these cute little bundles are begging, "Spend me, spend me next. I'm a jet bundle of cash."

In an article by Ian Bishop in today's New York Post, Hillary has been having lots of fun jetting around. In lots of little jets.

First there was a Gulfstream II. That just would not do, I say there.

A swankier Gulfstream III would be a lot better.

And then there's the Hawker 800. Now if you want to see swank, get on a corporate jet. They are built to coddle even the tiredest of all aching bones.

And oh my goodness, we all know how hard it is to stand at a podium and debate all those guys about so many picky little subjects.

They can be just downright picky over all those little details! They don't cut any slack at all.

##

10:58 am
Tuesday, May 1, 2007
PELOSI JUST CAN'T SEEM TO GET AROUND TO READING THE WAR BILL


At least in an article by Kahryn Jean Lopez in the
National Review
, Pelosi's spokesman says that she has to read the legislation line by line and wants to go through it word for word.
She promised to get the bill to President Bush by Tuesday.
Uh, that would be today, Your Speakerness.
Even though Bush has promised a quick veto, Pelosi seems to be stalling for goodness only knows why.
But let me guess. Today is the anniversary of Bush's famous flight onto the deck of the
U.S. Abraham Lincoln
in 2003. In that speech Bush addressed thousands of servicemen as their Commander In Chief.
What's wrong with that?
Well, plenty if you don't want Bush to be Commander In Chief, or President, or anything else short of Sagebrush George.
These politicos just can't get it through their heads that George W. Bush won his re-election in 2004 by getting more votes than any other person seeking the office of presidency. Ever. In the history of the United States.
George W. Bush got 62,040,661 in 2004; had received 50,460,110 in 2000.
Bill Clinton got 44,909,889 in 1992; 47,402,357 in 1996.
And that great communicator himself, Ronald Reagan got 43,899,248 in 1980; 54,455,075 in 1984.
So all the politicos who are trying their best to discredit George W. Bush ought to remember that the people of the United States of America hold this man dear to their hearts.
If you have an interest in election information going all the way back to George Washington, take a look at this web site:
http://www.infoplease.com/ipa/A0781450.html
##
CAN THIS REALLY BE TRUE?

Is it possible that a Catholic girls school really told a commencement speaker that she was "disinvited" because of her position on abortion and embryonic stem cell research?
I've not been able to get confirmation yet but it's been reported in the
St. Louis Post Dispatch Today
that Sen. Claire McCaskill is no longer going to be the speaker at McCaskill's daughter's high school graduation ceremonies.
The reason: McCaskill's views contradict church teachings.



http://www.freerepublic.com/focus/f-news/1826401/posts
##
HILLARY THE RODHAM, NOW I'M JUST PLAIN CLINTON
SAYS BUSH'S SPEECH TO NAVY CREW WAS A POLITICAL STUNT


And pray tell what would The Hillary know about political stunts?
The Commander In Chief goes to the
USS Abraham Lincoln
to talk to his all-aboard-buddies and she calls it a political stunt!
Oh, she's talking about
that
sign. The one that said "Mission Accomplished."
There it was -- right out there in plain view -- for all the world to see.
And why not? If it were her in the driver's seat and it had been her idea to oust Saddam Hussein and give an entire country back to its people, she'd have done no less.
But now, all of a sudden, the politicos seem to have gotten the idea that the people of Iraq weren't worth it. That freedom only works when it's here in the United States.
And better yet, freedom only really counts if the correct party is in power. We can't have no double sided balance of power. What's Hillary's plan? To take out the middle aisles in the halls of congress?
Somehow I don't think that's what the framers of the constitution had in mind.
And I also think that the politicos ought to get their houses in order and stop all the bickering. They promised the American public that there would be more civility in the 110th Congress.
Haven't seen it yet.
Maybe they don't speak in four syllable words yet. Civ-il-i-ty. Would be a good word for all of them to learn, don't you think?
##
10:29 am
---
We welcome July readers from Australia, Brazil, Canada, China, Czech Republic, France, Great Britain, Germany, Greece, Hungary, India, Latvia, Philippines, Poland, Romania, Russian Federation, Singapore, Slovak Republic, Spain, Sweden, Taiwan, Thailand, Turkey, Ukraine, Venezuela, Vietnam and United States

This video is the most beautiful depiction of what happens in the womb when the baby is developing and growing. The video was developed by Yale professor Alexander Tsiaras. Just beautiful. Warning, though. Some of the images are graphic. But nothing gross. It is just a reminder to me that life is a beautiful baby and life is absolutely precious.
http://www.youtube.com/watch?v=fKyljukBE70&feature=player_embedded
#!
July 29, 2012

Update on Quint: He is making an incredible recovery. The skin cancer is essentially gone. When we met with the surgeon for a post-op appointment on Friday, we learned that the biopsy of the frozen section shows all the cancer was removed. The incision is healing nicely. It's about a 6" incision down the side of his face in front of the left ear. The doctor put so many stitches in that any scar is hardly visible. Thanks to all for prayers you have been lifting up for his health. The surgeon says there are dissolving stitches in three levels of tissue. We also met with our oncologist last week and he says the lymphocitic/leukemia will continue to make Quint vulnerable to skin cancers. Please keep him in your prayers so that all his cancers, and mine as well, will remain in remission.

I received the following about a child's reason for why he believes in God from our friends, John and Sherre, in Wichita, KS:

Little Boy's Explanation of God

He wrote it for his third grade homework assignment,

to 'explain God.'

I wonder if any of us

could have done as well?



'One of God's main jobs is making people.

He makes them to replace the ones that die, so there
will be enough people to take care of things on earth. He doesn't make grownups, just babies. I
think because they are smaller and easier to make. That way he doesn't have to take up his valuable
time teaching them to talk and walk. He can just leave that to mothers and fathers.'

'God's second most important job is listening to prayers. An awful lot of this goes on, since some
people, like preachers and things, pray at times beside bedtime. God doesn't have time to listen to
the radio or TV because of this. Because he hears everything, there must be a terrible lot of noise in
his ears, unless he has thought of a way to turn it off.'

'God sees everything and hears everything and is everywhere which keeps Him pretty busy. So you
shouldn't go wasting his time by going over your mom and dad's head asking for something they said you
couldn't have.'

'Atheists are people who don't believe in God. I don't think there are any in Chula Vista [California]. At least
there aren't any who come to our church.'

'Jesus is God's Son. He used to do all the hard work, like walking on water and performing miracles
and trying to teach the people who didn't want to learn about God. They finally got tired of him
preaching to them and they crucified him. But he was good and kind, like his father, and he told his
father that they didn't know what they were doing and to forgive them and God said O.K.'

'His dad (God) appreciated everything that he had done and all his hard work on earth so he told him
he didn't have to go out on the road anymore. He could stay in heaven. So he did. And now he helps
his dad out by listening to prayers and seeing things which are important for God to take care of
and which ones he can take care of himself without having to bother God. Like a secretary, only more
important.'

'You can pray anytime you want and they are sure to help you because they got it worked out so one of
them is on duty all the time.'

'You should always go to church on Sunday because it makes God happy, and if there's anybody you want to
make happy, it's God!

Don't skip church to do something you think will be more fun like going to the beach. This is wrong. And
besides the sun doesn't come out at the beach untilnoon anyway.'

'If you don't believe in God, besides being an atheist, you will be very lonely, because your
parents can't go everywhere with you, like to camp, but God can. It is good to know He's around you when
you're scared, in the dark or when you can't swim and you get thrown into real deep water by big
kids.'

'But. . .you shouldn't just always think of what God can do for you. I figure God put me here and he can
take me back anytime he pleases.

And...that's why I believe in God.'


July 13, 2012

Quint is recuperating from surgery on July 11, 2012. Surgeon removed a growth on left cheek that turned out to be squamous cell cancer. Prognosis is good because doctor says he got good margins. Please continue to pray for him. He has a 4" incision on left cheek from about the corner of his eye all the way down to jawbone. Looks worse than it is.

In another matter, this link: http://www.dailymail.co.uk/news/article-2172551/Art-genius-Nine-year-old-painter-tipped-greatness-buyers-world-snap-work.html shows some incredible artwork that a young, 9-year old in England, artist has painted and his work is beginning to sell handsomely.




July 1, 2012

I'm a Lutheran and I sure wish the Lutheran Church had authored this video or one like it: http://www.youtube.com/watch_popup?v=D9vQt6IXXaM&hd

No matter, it's a message that needs saying so hats off to the Catholic church!

On another subject, the temperature here in Middle Illinois at 6 p.m. as 102.8 degrees. That's really hot.

Stay safe out there. If you do not have air conditioning, or if your AC goes out in this heat, sit in a tub of cool water. It will do wonders pulling heat out of your body. And let's remember in prayers all those folks on the eastern seaboard who don't have electricity. They don't even have fans to plug in.

Kind of reminds me of going to church when I was a kid. Oh, was that hot. And remember those hand fans that funeral homes gave out free to churches? We wore ours out.


June 24, 2012

The heat is the story here in the Midwest part of the United States. I can't tell you when the last time there was rain, but the corn stalks are starting to look pretty wilted. The word "parched" comes to mind. The beans don't look any better either.

So the big conclusion that some people have arrived at is that God is punishing the United States because so many people have turned away from Him?

Oh really?

Who said.

And how many?

These gloom and doomers pontificate about how we're all going to die and go to hell can't give any numbers. Can't offer any hope.

Well, folks, don't you believe it. God is a God of love. He wants all of us to be saved.

And to those people who think they can define the reasoning of God are being sacrilegious. They are talking when they should be listing to God.

My God is a God of love. He sent His Son, Jesus Christ, into the world to die for our sins. Because of that, we are assured of salvation and life eternal.

But there are those who are going through these crises of faith. They're noisy. When God talks to you, listen to Him. It's that still, small voice inside you. And don't believe the naysayers who think they have he last word on what means and what God intends to do. They don't know. They just don't know.

Your faith is what will bring you closer to God. Let Him into your hearts and listen to Him.


June 6, 2012

We don't laugh enough. We are not light hearted enough. Way too serious. Oh, there are times when serious is good for you, but there are many more days when we just are not enjoying a good laugh.

So someone sent me a link to Mark Lowry. He's a Christian comedian and good for a real belly laugh, I can guarantee you.

Here's the link: http://jesus-loves-you.org/?p=6641

I'm going to You Tube and search for him and see if he's got other material. He's really funny.


May 15, 2012

Our U.S. Constitution is not flawed. It's not dead. It's not irrelevant!

Those who think it's out of touch with today's "modern thought" fail to realize that the U.S. Constitution is modernized each time the United States Supreme Court reviews a law or an incident and decides whether the rights of our citizens are abridged or impeached.

The language of the U.S. Constitution does, in fact, reside in a little book small enough to fit inside a man's jacket pocket or in a lady's handbag. However, volumes and volumes of interpretive material fills libraries. Interpretation by the sitting Justices keeps our Constitution up-to-date.


May 12, 2012

Our God is awesome! God controls the waters and the seas. Take a look at this video of the angry sea. http://www.dump.com/angryseas/


May 10, 2012

http://www.civilwar.org/maps/

I am in the process of researching the involvement and the role that the National Road (U.S. 40) played in military activities -- specifically troop movements. If you know of any such movements, please email me at jane@janereinheimer.com and put "National Road info" in the subject line. I'd be ever so grateful. If you do not want your name used, be sure to tell me. Otherwise, I'd like to share that you found the information. This is for a funding opportunity for Effingham County and it will focus on the role that the National Road has played in the significance of Effingham.




April 27, 2012

Well, that was a nice little rest.

Since I've last posted, I've fretted that frost would get my lovely irises. It didn't. Nor did the frost chip away at my roses. I have never had roses blooming in April before. They have exploded into full bloom. Bright red blooms against our white house. Wow!

And the irises are just as beautiful. I have some really deep purple irises, light lavender, some two-toned purple and white, bright yellow, a lighter lemon chiffon color, a pink iris and a peach colored one that is a double.

The spirea finally decided it would bloom too.

All in all, considering that I did absolutely nothing last year in the flower bed, it's amazing that my little troopers have done as well as they have. The irises apparently are no longer upset with me for snipping them back at the end of January and early February. Again in March when they started sending up things that looked like they'd bloom.

We've still had frost tucked in between 80 degree days but nothing serious enough to hurt my darling little flowers.

Quint and I are doing well. We continue to see our oncologist every three months and get blood work to check markers for cancer that might have decided to invade us again. So far, so good. Platelet counts are coming back to normal and we're working on our stamina.

I do have to take some medication for five years -- well, four years now -- that inhibits estrogen. It will keep breast cancer from recurring. Problem is, it makes the long bones in my legs and muscles in the thighs really ache. Nothing that can't be tolerated though. Compared to the benefits of what the medicine does for me, I'd say I came out the winner at this point.

Quint's lymphoma is still in remission too, so we're pretty health for the shape we're in.

And now I'm going to fix us a snack of yogurt, sliced strawberries, sliced bananas and walnuts. Then we're going to watch some spy thrillers on Netflix streaming.

Nice to be back and thank you for not giving up on me.


April 10, 2012


I am getting over the grandaddy of all colds. I expect to be better by morning, after having laid around all day today. Finally just gave it up and stayed in bed.
Until now, that is.
And you know how I love kids and their entrepreneural spirit. Well, here's a video of a young lad in east LA who build an arcade out of cardboard boxes in his dad's auto parts store. His name is Caine and he's 9 years old. It's just precious!
http://games.yahoo.com/blogs/unplugged/nine-old-cardboard-arcade-launches-college-fund-182844242.html
Oh, and one other thing before I head back to my comfy easy chair. We have frost warnings for tonight. 30 degrees! My irises and roses are blooming. Wonder how that's going to set with them.
I just thought I'd mention something about all those spam emails and telemarketer calls you may be getting. Even if you're signed up for "do not call" lists, you still can get calls. Here's how. If you take part in an online voting request, or if you call to participate in a TV vote, you are setting up what is known as a "special relationship." Special relationships with a state allows any advertiser of that station of promo outfit to put you on their callers who are exempt from the "do not call" status.
If you live in Illinois and you get a telemarketer call, just tell the caller that Illinois is a "do not call" state and you do not want to be on their lists. They are required to hang up at that point. I've tried it and it works.
Also, here's a tip for getting rid of all those preapproved gimmicks that find their way into your mailbox. When I get the offers, the first thing I do is draw a big diagnonal line through the offer and write VOID on it. Then I stuff the document back into the self-addressed postage paid envelope that they provide. The advertisers are going to stop sending you stuff pretty quick rather than pay postage twice.
April 5, 2012

It's Maundy Thursday - the first part of the Easter trilogy.

Maundy Thursday was the night when Jesus shared bread and wine with his disciples and commemorated the event that we've followed in the Lutheran Church for ages since that time.

When I was confirmed on Palm Sunday many years ago, Maundy Thursday was the first opportunity I was given as a new confirmant to take my first communion. It was an awesome experience then, and it continues to be every chance I get.

I hope that it is the same for you as you draw near to the Easter story.
Tomorrow is Good Friday. Part 2 with the significance of Christ dying on the cross for our sins.

And then, of course, there's Easter Sunday when we celebrate Christ's resurrection.

Sin and death no longer have a hold on us because Christ died for our sins.


April 4, 2012


Ready to watch a miracle? Here's a video showing a woman in an SUV sinking. She couldn't swim. The SUV sank. But the miracle is not that she was somehow pulled from the SUV but the after-story:
http://salesianity.blogspot.com/2012/04/woman-drowning-in-her-suv-is.html
--
May the blessings of Easter catch you up in the miracles going around you every day. Life is a miracle. God brings miracles to us today just as He did thousands of years ago when Jesus died and rose again. I pray that you will get caught up in the miracle of the Easter story all over again. Christ died for our sins and rose again, and because He rose again, we have eternal life guaranteed to us by our Heavenly Father.
April 2, 2012

Want to know what video of a couple of famous dancers has gotten more than 118 million hits? None other than the big routine from Dirty Dancing! http://www.youtube.com/watch?v=WpmILPAcRQo&feature=related

Another trivia question that some of you may know the answer to has to do with the 100th anniversary of the Titanic's failure at sea. April 15 is the date of this tragedy. If you thought most of the folks on board perished in the icy waters, you'll be surprised to learn that only half died. Well, maybe "only" is not a good word. One would be too many on a ship that was touted as unsinkable. There were 2,223 passengers and crew. 1,517 died. A little more than half.


April 1, 2012


If you haven't heard this song by the Barn Again Gang --
On My Father's side
-- am sure you'll enjoy it. And thanks to you, Joyce from Frankfort, IL for sending:
http://www.youtube.com/watch?v=N5ddoyfn6g4
And here's Kaitlyn Maher, a 4-year old, singing in America's Got Talent. Mind you, she's had 26,585,501 hits on her debut on the national stage. She is absolutely adorable!
http://www.youtube.com/watch?v=wwAbtizFCzo&feature=related
Kaitlyn Maher again, this time singing
Ave Maria - http://www.youtube.com/watch?v=CR0AXNtwqZE&feature=related


And she got to sing for President and First Lady Laura Bush:
http://www.youtube.com/watch?v=Fpt_UU96EG8&feature=related
Here she is singing the National Anthem:
http://www.youtube.com/watch?v=bhD9kKb3hSM&feature=related
I have not ever heard the story about the "Praying Hands" so I am especially thankful to Cody in Warrensburg, MO for sending Back in the fifteenth century, in a tiny village near Nuremberg, lived a family with
eighteen children. Eighteen! In order merely to keep food on the table for this mob,
the father and head of the household, a goldsmith by profession, worked almost
eighteen hours a day at his tradeand any other paying chore he could find in the
neighborhood.
Despite their seemingly hopeless condition, two of the elder children, Albrecht and
Albert, had a dream. They both wanted to pursue their talent for art, but they knew
full well that their father would never be financially able to send either of them
to Nuremberg to study at the Academy.
After many long discussions at night in their crowded bed, the two boys finally
worked out a pact. They would toss a coin. The loser would go down into the nearby
mines and, with his earnings, support his brother while he attended the academy.
Then, when that brother who won the toss completed his studies, in four years, he
would support the other brother at the academy, either with sales of his artwork or,
if necessary, also by laboring in the mines.
They tossed a coin on a Sunday morning after church. Albrecht Durer won the toss and
went off to Nuremberg.
Albert went down into the dangerous mines and, for the next four years, financed his
brother, whose work at the academy was almost an immediate sensation. Albrecht's
etchings, his woodcuts, and his oils were far better than those of most of his
professors, and by the time he graduated, he was beginning to earn considerable fees
for his commissioned works.
When the young artist returned to his village, the Durer family held a festive
dinner on their lawn to celebrate Albrecht's triumphant homecoming. After a long and
memorable meal, punctuated with music and laughter, Albrecht rose from his honored
position at the head of the table to drink a toast to his beloved brother for the
years of sacrifice that had enabled Albrecht to fulfill his ambition. His closing
words were, "And now, Albert, blessed brother of mine, now it is your turn. Now you
can go to Nuremberg to pursue your dream,and I will take care of you."
All heads turned in eager expectation to the far end of the table where Albert sat,
tears streaming down his pale face, shaking his lowered head from side to side while
he sobbed and repeated, over and over, "No ...no....no ..no."
Finally, Albert rose and wiped the tears from his cheeks. He glanced down the long
table at the faces he loved, and then, holding his hands close to his right cheek,
he said softly, "No, brother. I cannot go to Nuremberg. It is too late for me. Look
... Look what four years in the mines have done to my hands! The bones in every
finger have been smashed at least once, and lately I have been suffering from
arthritis so badly In my right hand that I cannot even hold a glass to return your
toast, much less make delicate lines on parchment or canvas with a pen or a brush.
No, brother ....for me it is too late."
More than 450 years have passed. By now, Albrecht Durer's hundreds of masterful
portraits, pen and silver-point sketches, water colors, charcoals, woodcuts, and
copper engravings hang in every great museum in the world, but the odds are great
that you, like most people, are familiar with only one of Albrecht Durer's works.
More than merely being familiar with it, you very well may have a reproduction
hanging in your home or office.
One day, to pay homage to Albert for all that he had sacrificed, Albrecht Durer
painstakingly drew his brother's abused hands with palms together and thin fingers
stretched skyward. He called his powerful drawing simply "Hands," but the entire
world almost immediately opened their hearts to his great masterpiece and renamed
his tribute of love "The Praying Hands."
March 30, 2012

I have to share with you that the operators of this web site have become increasingly frustration to work with. The way I see it, I have two choices: (1) shut down the site altogether and discontinue the blogs, or (2) find a site that is more responsive to what I want from a web site.

In the meantime, one of the questions that Jesus asked is #80 -- If you do not believe Moses' writings, how will you believe me? (John 5:47)

Old Testament writings often come under fire as being "irrelevant" or "out of date" or just "too old."

All of those excuses are flawed, in my view.

In the first place, the Word of God is eternal.

Because the Word is eternal, it transcends time and space.

For that reason, when you read the Bible, the breath of God is still on the paper; still on the words. The Bible is the Word of God. It will never get "too old" or "out of date."

Get into the Word. Absorb it; take it in. If you find any challenge whatsoever about understanding what some passages mean, then the Counselor will be sent to you, just for the asking. Just pray that Jesus will send you His Counselor to assist you in your readings.

Blessings to you in your spiritual journey through the Word of God.

March 27, 2012


Here is one of the most precious tapes I've ever heard of a child:
http://www.maniacworld.com/stay-calm-dad.html
From my friend Shirley in Arizona. It's just precious!
This is a video I found on my own.
http://www.youtube.com/watch?v=3rtt-TmReaw&feature=related
I love the innocence of this little girl. I pray that she will hold onto her dreams all her life and never let anyone snatch them away from her.
God keeps the dreams of children in his right hand pocket. And woe be to those who steal the dreams of a child.
Today I am going to discuss Question #66 from Luke 18:7 --
Will not God then secure the rights of his chosen ones who call out to him day and night?


In the first place, I consider myself one of God's
chosen ones
because I claim the inheritance of being a child of God.
And how did I get to be a child of God? Simple. I believe that Jesus Christ, God's only Son, died for my sins and offered me salvation. By doing this, He names says that I share in the inheritance of God's richest blessings.
And you most certainly can enjoy this same inheritance and become a Child of God by believing that Jesus Christ died for your sins too.
It's just that simple. You have only to believe.
This is my right, in God's own words. He says:
Will not God then secure the rights of his chosen ones who call out to him day and night?
I believe that because I know that God does not lie. He's good for His promises and when He says He's going to secure my rights, what do I have to fear?
And do I call out to God day and night? Yes. In my car when I head out to work. I pray that some idiot does not plow into me head-on. I pray that I don't get tee-boned by someone running a red light or a stop sign.
I pray that when I enter that miraculous place of empty thoughts of what seems to be unconsciousness, that the veil will be lifted in the morning and I will re-awaken to a new day. Sleep itself is a miracle. We fall into a mindless abyss every night and awaken refreshed to a new day. Is that a miracle or what? How does God do that?
I remember reading or hearing this "what if" thought that when you awaken in the morning, what if the only things you had in your life were the things you thanked God for yesterday! Kind of put a new perspective on things for me. Instead of just nagging and nagging -- which I can be pretty good at -- for things I think I want, or things I think I need -- I stop every day and thank God for what He gives me. The gifts are enormous and I only get them because He is a gracious God. I certainly deserve nothing.
But all day and all night I talk to God. We have an ongoing conversation. Help me with this, please. Oh, and thank you for that. Or how about all those problems that you just can't seem to solve. Then He says, "I can help you with that." Or, after the problem is solved and I nod a quiet thank you, He says "All you had to do was ask."
God is my friend. This King of the Universe took notice of me when I was about four years old. That's when I started talking to Him in my head. I knew it was God because I learned about Him in Sunday School. My Sunday School teacher told me I could just talk to God simply like he was an ordinary person. I took her at her word and have never thought of God as anything but.
Even though I know for sure, now that I have a few more years on me, that God is nothing ordinary at all. But I also know that He is never too busy to secure my rights as one of His chosen ones.
Enjoy your day and rest easy in your sleep, dear friends. God is watching out for you.
March 26, 2012

Question #32 that Jesus asked was, "Could you not watch for me one brief hour?" -- Matt. 26:40

There are lots and lots of ways to travel through the Lenten season on the way to Calvary. And the reasons for doing things differently are many and varied.

People offer up the thought that they can worship anywhere. They feel just as close to God, they say, when they are listening to a beautiful piece of music, or walking through the woods in the late afternoon.

Those things are true.

But it seems to me that if you want to go down that path to Calvary, you ought to do it the way that Jesus wants you to do it. Not the way you think, in your not-so-infinite pseudo-wisdom of coming up with these cute little excuses. Cute, you think.

Truth is, Jesus wants you to go to your church, or your temple and watch with him there, in that place.

This question that Jesus asks from Matthew sounds like a plea to me. Couldn't you watch with me one hour?

Well, sure you could, if you thought it was important enough.

Quint and I go to Lenten services and the church is not even half full. Where is everybody? Working? Playing? Doing homework? Driving around? Out to dinner? Where are you? Those who couldn't come to this worshiping place to watch with Jesus one hour.

What if I told you that I had learned that Jesus was going to make one of those rare earthly appearances for one week only. He was actually going to come to church because He wanted to talk to me.

I'd move heaven and earth to get there on time. I want to meet this man while He's still alive. You bet I'd watch with him an hour. In fact, I'll stay up all night if he stuck around to talk to me.

And talks to me He does. When I'm sitting in that pew, I can almost feel his eyes burning a hole in my skin. Kind of at the back of my neck. I can almost feel his hand on my shoulder while he bends around to look at me and whispers to me, "I'm so glad you came tonight. I'm doing this all for you, you know."

He's my Savior. We're connected. It must break His heart to see so many empty pews when they should be overflowing with people who are willing to give Him one hour of their busy schedules.

"Why couldn't you watch with me one hour?" He asks. It's a question you'll have all of eternity to answer Him one day.

March 25, 2012

Now this is precious! It's a two year old dancing to Jailhouse Rock. http://www.youtube.com/watch?v=4wt824D1Bqg He's got some good moves too.

March 24, 2012


At this time of year, one of my favorite places on earth is Kentucky when the dogwood and redbud are in full bloom -- and nowhere are they more beautiful than my home town -- Paducah, Kentucky.
Just look at these gorgeous photos and you'll see what I mean:
http://www.terragalleria.com/america/south-east/kentucky/
These quips come from my cousin who lives in a small town not too far from Houston -- well, in Texas, 200 miles is a "small distance" I think: THE POSITIVE SIDE OF LIFE:
Living on Earth is expensive,
but it does include a free trip
around the sun every year.
How long a minute is
depends on what side of the
bathroom door you're on.
Birthdays are good for you;
the more you have,
the longer you live.
Happiness comes through doors you
didn't even know you left open.
Ever notice that the people who are late
are often much jollier
than the people who have to wait for them?
Most of us go to our grave
with our music still inside of us.
If WalMart is lowering prices every day,
how come nothing is free yet?
You may be only one person in the world,
but you may also be the world to one person.
Some mistakes are too much fun
to only make once.
Don't cry because it's over;
smile because it happened.
We could learn a lot from crayons:
some are sharp, some are pretty,
some are dull, some have weird names,
and all are different colors....but
they all exist very nicely in the same box.
A truly happy person is one who
can enjoy the scenery on a detour.
Have an awesome day, and
know that someone
who thinks you're great
has thought about you today!..
"And that person was me.".....
Please don't keep this message
to yourself.....send it to those
who mean so much to you.... "NOW".
Thank you, Frances. I love the one about some mistakes. Hope you don't have too many people out there who are all to eager to point each and every little mistake you make. Those, I think, are the ones who go to their graves with the music still living inside them. It's just too much "vinegar energy" to look for flaws in people. And God knows I have more than my share, it seems. But here's the thing: I don't make mistakes on purpose and I never make mistakes with the idea of making someone's misery index go up. I just thank God that I am surrounded by true friends who cut me some slack. You know the ones. They really care about you. I like the idea that we are all living in a big crayon box. That has to be one of those lessons learned in kindergarten. But then, I'm old enough to realize that we didn't have kindergarten when I started school.

I celebrated kicking off my educational pursuits by going down the big slide on the playground with a somersault from the top. I was grounded from recess for the rest of the week.


These beautiful thoughts also come from Frances:

JUST TO LET YOU KNOW THAT IT IS CHRISTIAN PERSON WEEK AND YOU SHOULD SEND THIS TO
ALL BEAUTIFUL CHRISTIAN PEOPLE


When I say that 'I am a Christian', I am not shouting that 'I am clean living. I'm
whispering 'I was lost, but now I'm found and forgiven.'

When I say 'I am a Christian' I don't speak of this with pride. I'm confessing that
I stumble and need Christ to be my guide.

When I say 'I am a Christian' I'm not trying to be strong. I'm professing that I'm
weak and need His strength to carry on.

When I say 'I am a Christian' I'm not bragging of success. I'm admitting I have
failed and need God to clean my mess.

When I say 'I am a Christian' I'm not claiming to be perfect. My flaws are far too
visible, but God believes I am worth it.

When I say 'I am a Christian' I still feel the sting of pain. I have my share of
heartaches, so I call upon His name.

When I say 'I am a Christian' I'm not holier than thou, I'm just a simple sinner who
received God's good grace, somehow!

Today is Beautiful Christian Person's Day.
Pretty is as Pretty does but, Beautiful is just plain Beautiful..

I'm supposed to send this to Beautiful People,
and you are one of them!!!



March 21, 2012

From the sermon text at our 5th Midweek Lenten Service in Matthew 28:16-20 comes the command of Jesus that we are to go into all the world and make disciples of all men.

Well, I don't know about you but I can't go to the airport and get a ticket to go to some faraway place and work in a mission field. But those very words are the marching orders of the church.

What I can do is partner with the Lutheran Women's Missionary League and be a supplier of stuff that missionaries can use. Quilts, for instance. Quilts are made in Lutheran churches all across this country. They find their way into orphanages. In hospitals. In remote villages where they are placed over a low branch and become the roof of a home. If the villager is lucky, a second quilt could be a floor. We need more quilts -- more than the 355,000 that have been made this winter. That means there will be an unmet need.

Our church is going to put baby kits together. These baby kits will have a few diapers in them. Some tee shirts. Some tiny little caps. Diaper pins and little sleepers. We're making the receiving blankets and it will have a bunch of baby supplies in it, then pinned with the diaper pins. Missionaries can take these baby kits and go into villages and give them to new mothers who often don't have clothes for newborn babies. And if they have a receiving blanket at all, it was made from their old clothes that were too worn out to use anymore. Imagine the joy when a new mom gets a bright, colorful receiving blanket that has been made with so much love and joy and prayers!

Yes, the women of the Lutheran Women's Missionary League can partner with missionaries who are in a position to tell others first-hand what Jesus has done for them. They can ground others by bringing them the Word of God.

And how long are we supposed to do all this?

Jesus says "Until the end of the age." That is, we're supposed to keep on keeping on until Jesus comes back for us.

In the meantime, there isn't a day that goes by that I don't think of ways that I can reach out to people around the world and spread the wonderful message that Jesus Christ died for our sins and because of his death on the cross, we can claim salvation as a child of God.

So this is the reason I write this blog. It's my way of going around the world to talk to people about what Christ has done for each one of us. That would be you. And it would be me. My computer is my magic carpet and on it, I can ride through cyberspace to reach you in 23 countries so far this month.

God bless each and every one of you.




March 20, 2012


Election results in Illinois:
http://www.wthitv.com/subindex/elections/results
Not all results are in at this writing.
If you are anywhere near middle Illinois on March 23, you could do yourself a favor and go to the Effingham Performance Center at 8:00 p.m. and catch the show headlined by Scott Wattles of Blue Suede Crew. Tickets are $5. He's an incredible performer for those of us who wax nostalgia over Elvis, Roy Orbison, Marty Robbins, and a host of others. What a voice!
We had an opportunity to hear him for the first time on Sunday evening. All Gospel songs. And a standing ovation for
How Great Thou Art!


If I tried that it would come under the category of making a joyful noise, but I am filled with appreciation for anyone who can sing really well. We are fortunate because own Pastor Rensner is also a wonderful vocalist. I love listening to someone who loves to sing. And both these gentlemen do!
Earthquake
near Acapulco registers 7.6! That's a really hefty earthquake even if it is about 200 miles from Acapulco. God is sure rattling the earth these days. Two hundred miles is nothing when an earthquake ripples its way through the earth.
It is still 78 degrees in the house. And Quint mowed the grass -- or part of it -- yesterday afternoon. Don't remember that happening in March. Ever. We sure do enjoy having the windows open and soft warm breezes blowing across us when we're sleeping though.

We pray for God's blessings to all of you. Some of you are living in dangerous area and you are especially in our prayers.

And we thank you for prayers too.



March 19, 2012


An anonymous quote: PEOPLE MAY NOT REMEMBER EXACTLY WHAT YOU DID, OR WHAT YOU
SAID ~BUT~THEY WILL ALWAYS REMEMBER HOW YOU MADE THEM FEEL.
It's time for a patriotic song and this just arrived from Shirley, my favorite snow bird who has not returned from Arizona yet:
http://www.youtube.com/watch?v=6TPgJSZf5Vw&feature=youtu.be
And here's a cute little story sent by our friends John and Sherre in Wichita:
Subject: A New Pet
The Talking Centipede
A single guy decided life would be more fun if he had a pet.
So he went to the pet store and told the owner
That he wanted to buy an unusual pet.
After some discussion, he finally bought a talking centipede,
(100-legged bug), which came in a little white box
To use for his house.
He took the box back home, found a good spot for the box,
And decided he would start off by taking his new pet
To church with him.
So he asked the centipede in the box,
"Would you like to go
To church with me today?
We will have a good time."
But there was no answer from his new pet.
This bothered him a bit, but he waited a few minutes
And then asked again,
"How about going
To church with me
And receive blessings?"
But again,there was no answer
From his new friend and pet.
So he waited a few minutes more,
Thinking about the situation.
The guy decided to invite the centipede one last time.
This time he put his face up against
The centipede ' s house and shouted,
"Hey, in there!
Would you like to go
To
Church with me
And learn about God?"
......
YOU ARE GOING TO LOVE THIS ......
This time,
A little voice
Came out of the box,
"I heard you the first time!
I ' m putting my shoes on!"
March 17, 2012


Today is the day when the whole world is Irish. That includes my cousin, Mark, who sends this blessing. It's beautiful poetry by Phil Coulter and narrated by Roma Downey. I thank you Mark for this beautiful blessing and, in turn, send it along to all my friends:
http://www.andiesisle.com/ThisBlessingIsForYou.html
Looking at the beautiful photos, I am reminded of a wonderful vacation that Quint and I took to Ireland a few years ago. It's a beautiful country and I got an answer to why the green grass is so vibrant and emerald colored. Supposedly it's because of the high level of minerals in the soil, most particularly calcium. And that's one of the reasons why Queen Elizabeth sends here pregnant horses to Ireland to deliver. Munching on good Irish green grass makes for healthy bones for the baby horse in the mom's womb, and also when the little baby horse starts to grow and develop. The grass really is emerald colored. They aren't just kididng.
Ready for a little humor? This comes from my friend Cody in Warrensburg, MO:
Billy Graham was returning to Charlotte after a speaking engagement and when his
Plane arrived there was a limousine there to transport him to his home.
As he prepared to get into the limo, he stopped and spoke to the driver.
'You know' he said, 'I am 87 years old and I have never
Driven a limousine. Would you mind if I drove it for a while?'
The driver said,
'No problem. Have at it.'
Billy gets into the driver's seat and they head off
Down the highway.
A short distance away
Sat a rookie State Trooper operating his first speed trap.
The long black limo went by him doing 70 in a 55 mph zone.
The trooper pulled out
And easily caught the limo
And he got out of his patrol car to begin the procedure.
The young trooper walked up to the driver's door
And when the glass
Was rolled down,
He was surprised to see
Who was driving.
He immediately excused himself and went back to his car
And called his supervisor.
He told the supervisor,
'I know we are supposed
To enforce the law....
But I also know that
Important people are
Given certain courtesies.
I need to know what
I should do because
I have stopped a
Very important person.'
The supervisor asked,
'Is it the governor?'
The young trooper said,
'No, he's more important
Than that.'
The supervisor said,
'Oh, so it's the president.'
The young trooper said,
'No, he's even more
Important than that.'
The supervisor finally asked,
'Well then, who is it?'
The young trooper said,
'I think it's Jesus,
Because he's got Billy Graham for a chauffeur!'
Smile - God loves you! I ask the Lord to bless you, as I pray for you today;
To guide you and protect you, as you go along your way
God's love is always with you, God's promises are true.
And when you give God all your cares, believe with all your might that God will see you through.
March 16, 2012

I see a lot of anxious people who come for counseling. And even though anxious people want very much to not be anxious anymore, they resist doing the very thing that un-anxious people know all about. That is, un-anxious people live their lives on a foundation of faith. Christ lives in their hearts. The Holy Spirit is used as a daily ever-ready counselor.

In going down the list of 100 Questions That Jesus Asked, I come to Luke 12:26 which asks: If even the smallest things are beyond your control, why are you anxious about the rest?

It's a humbling thought that we don't have all that much control over the external events of our lives. For instance, there's that old Liar, Satan, who likes to poke his nose into every facet of our business. He'd like to think we're easy pickings for his nasty little harvest. And beware that you say such things as, "I'd give anything ..." Satan is the one who will seize that opportunity and yes, he can grant your wishes, too. Many times he does. Then he comes back for payment from you a nickel at a time.

You want wealth? Satan will give it to you. Then what? How many lives have been ruined by winning the lottery? But you say you'd like to just try it? Don't bother. Satan doesn't play fair. He wants to own you, lock stock and barrel.

The Lord, on the other hand, says, Do my work and I will prosper you. God is not against prosperity. It's not money that gets people in trouble. Rather, it's the love of moneythat leads to sin. The love of money leads to greed and corruption. People who are thousandaires strive to become millionaires. Millionaires strive to become billionaires. No matter how weather they are, they are never satisfied with what they have. Prosperity, on the other hand, comes with contentment.

When we are prosperous we thank the Lord that we have enough to spare and some left to share.

Lots of people are anxious about money because they have this idea that they want more and more and more, and never realizing that they don't have enough, and probably will never have enough to suit them.

But money isn't the only thing that causes so much anxiety. It's the fear that we're never going to be in control of situations or events in our lives.

When you look at your life, what is it that you think you do have control over? Your children? Your addicted spouse? Your job? Your ability to drive down the street and not have an accident? Your shopping for food and making the assumption that the food hasn't been tampered with by an idiot who has figured out a way to slip a poison into your food without it being detected until you get sick and are rushed to a hospital? Or you order and egg at a restaurant and get a dose of salmonella.

How's that control thing working out for you?

But here's what you do. First of all, get down on your knees and pray to God. Pray to Jesus Christ. Ask the Holy Spirit to come into your heart and help you figure things out better. God likes our prayers better when we are reverent, I've found. That's why kneeling is best; it's humbling.

Don't want to do that? Well, you don't have to. Life can continue the way it's been going for you if you are filled with fears and anxieties. But if you want your life to change, let Jesus Christ into your heart. He has solutions for you that you can't even imagine.

He's the Master of the universe and it's Jesus Christ who is the agent of change in your life, not you.


March 15, 2012

Oh my, what a beautiful day we had today. It warmed up to a perfect 74 degrees. Soft, gentle breezes. Then there was this dark, ugly row of clouds that I had my eye on as I drove to work. It was about twenty miles away. Never did get a drop of rain. The clouds scooted east and stayed out of my way. The storm must have hit Detroit. I saw some pretty ugly video of tornadoes over there late this afternoon. Lots of damage and rubble. Hope there were no casualties.

On another subject, I have been thinking about compassion a lot these days. The people who are able to express and share it with others are so welcome in my world. Here's the deal. We all have to fashion our responses to other people similarly to what our Lord and Savior, Jesus Christ, would do.

Compassion and gentle tenderness. And love and kindness. And helping one another.

This comes from good friend Shirley all the way from Arizona:

This is SIMPLY AWESOME!I've never seen this before! Whoever put "The Resume of
Jesus Christ" together is surelya blessing to us all! Please share it! The last
sentence says it all...

The Resume of Jesus Christ
Address: Ephesians 1:20
Phone: Romans 10:13
Website: The Bible . Keywords: Christ, Lord, Savior and Jesus
_____________________________________________________
Objective
My name is Jesus -The Christ. Many call me Lord! I've sent you my resume because
I'm seeking the top management position in your heart. Please consider my
accomplishments as set forth in my resume.
_____________________________________________________________________
Qualifications
I founded the earth and established the heavens, (See Proverbs 3:19)
I formed man from the dust of the ground, (See Genesis 2:7)
I breathed into man the breath of life, (See Genesis 2:7)
I redeemed man from the curse of the law, (See Galatians 3:13)
The blessings of the Abrahamic Covenant comes upon your life through me, (See
Galatians 3:14)
_____________________________________________________________________
Occupational Background
I've only had one employer, (See Luke 2:49 ).
I've never been tardy, absent, disobedient, slothful or disrespectful.
My employer has nothing but rave reviews for me, (See Matthew 3:15 -17)
_____________________________________________________________________
Skills Work Experiences
Some of my skills and work experiences include: empowering the poor to be poor no
more, healing the broken hearted, setting the captives free, healing the sick,
restoring sight to the blind and setting at liberty them that are bruised, (See
Luke 4:18).
I am a Wonderful Counselor, (See Isaiah 9:6). People who listen to me shall dwell
safely and shall not fear evil, (See Proverbs 1:33 ).
Most importantly, I have the authority, ability and power to cleanse you of your
sins, (See I John 1:7-9)
_____________________________________________________________________
Educational Background
I encompass the entire breadth and length of knowledge, wisdom and understanding,
(See Proverbs 2:6).
In me are hid all of the treasures of wisdom and knowledge, (See Colossians 2:3).

My Word is so powerful; it has been described as being a lamp unto your feet and a
light unto your path, (See Psalms 119:105).
I can even tell you all of the secrets of your heart, (See Psalms 44:21).
_____________________________________________________________________
Major Accomplishments
I was an active participant in the greatest Summit Meeting of all times, (See
Genesis 1:26 ).
I laid down my life so that you may live, (See II Corinthians 5:15 ).
I defeated the arch enemy of God and mankind and made a show of them openly, (See
Colossians 2:15 ).
I've miraculously fed the poor, healed the sick and raised the dead!
There are many more major accomplishments, too many to mention here. You can read
them on my website, which is located at: www dot - the BIBLE. You don't need an
Internet connection or computer to access my website.
_____________________________________________________________________
References
Believers and followers worldwide will testify to my divine healing, salvation,
deliverance, miracles, restoration and supernatural guidance.
_____________________________________________________________________
In Summation
Now that you've read my resume, I'm confident that I'm the only candidate uniquely
qualified to fill this vital position in your heart. In summation, I will properly
direct your paths, (See Proverbs 3:5-6), and lead you into everlasting life, (See
John 6:47 ). When can I start? Time is of the essence, (See Hebrews 3:15 ).
Send this resume to everyone you know,
you never know who
may have an opening!
Thanks for your help.

'Nuff said.








March 14, 2012


I just got this link from my friend in the Quad Cities area in northern Illinois. It's an eagle mom sitting on her nest. And the article points out that the nest if seven feet in diameter!
http://www.alcoa.com/locations/usa_davenport/en/info_page/eaglecam.asp
Got this from Mary, a friend who lives in Springfield. It comes to her from an attorney. And just an aside, when your credit card is stolen, you do know that you have to file the report in the police department where the fraud/theft took place, don't you? There's lot of good advice here and I thank you, Mary, for sending this. I'm going to write "photo ID required" on each card as I receive new ones. That's a great idea!
All Credit Card Users Advice
- Tel Numbers
Advice for all credit card users posted by Bluwolf at Caps Corner
Sunday morning 03/11/2012
bluwolf] Read this and make a copy
for your files in case you need to refer to it
someday. Maybe we should all
take some of his advice! A corporate attorney sent
the following out to the
employees in his company:
1.Do not sign the back of your credit cards.
Instead, put 'PHOTO ID REQUIRED.'
2. When you are writing checks to pay
on your credit card accounts, DO NOT put the complete account number on the
'For' line. Instead, just put the last four
numbers. The credit card company
knows the rest of the number, and anyone who might be handling your check as it
passes through all the check processing
channels won't have access to it.
3.Put your work phone # on your checks instead of your home phone. If
you have a PO Box use that instead of your home address. If you do not have a PO
Box, use your work address. Never have your SS# printed on your checks. (DUH!)
You can add it if it is necessary. But if you have It printed, anyone can get
it.
4.
Place the contents of your wallet on photocopy machine. Do both sides of each
license, credit card, etc. You will know what you had in your wallet and all of
the account numbers and phone numbers to call and cancel. Keep the photocopy in
a safe place. I also carry a photocopy of my passport when I travel either here
or abroad. We've all heard horror stories about fraud that's committed on us in
stealing a Name, address,Social Security number, credit cards..
Unfortunately, I, an attorney, have firsthand knowledge because my
wallet was stolen last month. Within a week, the thieves ordered an expensive
monthly cell phone package, applied for a VISA credit card, had a credit line
approved to buy a Gateway computer, received a PIN number from DMV to change my
driving record information online, and more.
But here's some critical information to limit the damage in case this happens to you or someone you know:
5.We have been told we should cancel our credit cards immediately.
But the key is having the toll free numbers and your card numbers handy so you
know whom to call. Keep those where you can find them.
6.. File a police report immediately in the jurisdiction where your credit cards, etc.,
were stolen. This proves to credit providers you were diligent, and this is a
first step toward an investigation (if there ever is one). But here's what is
perhaps most important of all: (I never even thought to do this.)
7.
Call the 3 national credit reporting organizations immediately to place a fraud
alert on your name and also call the Social Security fraud line number. I had
never heard of doing that until advised by a bank that called to tell me an
application for credit was made over the Internet in my name. The alert means
any company that checks your credit knows your information was stolen, and they
have to contact you by phone to authorize new credit.
By the time I
was advised to do this, almost two weeks after the theft, all the damage had
been done. There are records of all the credit checks initiated by the thieves'
purchases, none of which I knew about before placing the alert. Since then, no
additional damage has been done, and the thieves threw my wallet away this
weekend (someone turned it in). It seems to have stopped them dead in their
tracks.
Now, here are the numbers you always need to contact about
your wallet, if it has been stolen:
1.) Equifax:
1-800-525-62851-800-525-6285
2.) Experian (formerly TRW): 1-888-397-3742
1-888-397-3742
3.) Trans Union : 1-800-680 7289 1-800-680 7289
4.) Social Security Administration (fraud line): 1-800-269-0271
1-800-269-0271
We pass along jokes on the Internet; we pass along
just about everything. If you are willing to pass this information along, it
could really help someone that you care about.
March 13, 2012

It has been a really long day at an all day board meeting for Lutheran Women's Missionary League (LWML). The location of the meeting is some 95 miles from home. We passed a resolution for mission grants in the amount of $75,000.

The women of the LWML are amazing. They collect small amounts of change on a regular basis and add them all together and pretty soon, there are thousands of dollars in our district, and almost two million at the national level. Then the money is sent all around the world to help feed hungry children, start new churches, help church workers go to school, and a wide variety of projects that we receive.

One of the member groups, called Societies, is finishing up some 170 quilts they have been making this winter. Another group, from my zone, has made 127 quilts. These quilts will be sent to Lutheran World Relief and shipped to people around the world wherever they are needed.

It's a long day to meet for quarterly board meetings but it's refreshing to partner with so many other women of faith who share a single commitment to help make the world a better place to live in.

We had a mission pastor speak at our church last Sunday and he tells of the horrible poverty in Central America. Did you know that there are children who do not have clothes to wear. And they eat maybe once every two or three days?

Why aren't more people on fire with a passion to join in a partnership with churches that are working hard in these poverty-stricken countries? These are the groups that make sure almost 100% of any money that's collected goes right where it's needed. And much of that money is spent distributing the goods that are collected.

Pray for the hungry and the naked children who live in squalor and poverty.

God bless you, each and every one.


March 11, 2012


Today is the day when it feels like we've moved into another time zone -- one just to the west of us because the sun stays up longer. ha ha
My dear friend Joyce sent me this link to a video that is nothing short of adorable.
http://www.youtube.com/watch_popup?v=vJRDpTUIrJI&vq=medium
It's about a mother black bear and her three newborn cubs getting tagged in the wilds of Ontario. The commentator is pretty funny too. Thank you, Joyce.
Here's another one from Joyce. It's about a young woman who's talking to her grandpa about the ipad she gave him. He assures her that he's using it and knows all about the apps, etc. Watch this:
http://www.youtube.com/watch?v=v0FVm_H_D18
-- See, don't tell fibs.
And this comes from my cousin, Frances, in southern Texas:
How children perceive their Grandparents......
1. She was in the bathroom, putting on her makeup, under the watchful
eyes of her young granddaughter, as she'd done many times before.
After she applied her lipstick and started to leave, the little one
said, "But Grandma, you forgot to kiss the toilet paper good-bye!" I
will probably never put lipstick on again without thinking about
kissing the toilet paper good-bye....
2. My young grandson called the other day to wish me Happy Birthday.
He asked me how old I was, and I told him, 80. My grandson was quiet
for a moment, and then he asked, "Did you start at 1?"
3. After putting her grandchildren to bed, a grandmother changed into
old slacks and a droopy blouse and proceeded to wash her hair. As she
heard the children getting more and more rambunctious, her patience
grew thin. Finally, she threw a towel around her head and stormed into
their room, putting them back to bed with stern warnings. As she left
the room, she heard the three-year-old say with a trembling voice,
"Who was THAT?"
4. A grandmother was telling her little granddaughter what her own
childhood was like. "We used to skate outside on a pond. I had a swing
made from a tire; it hung from a tree in our front yard. We rode our
pony. We picked wild raspberries in the woods."
The little girl was wide-eyed, taking this all in. At last she said,
"I sure wish I'd gotten to know you sooner!"
5. My grandson was visiting one day when he asked, "Grandma, do you
know how you and God are alike?" I mentally polished my halo and I
said, "No, how are we alike?'' "You're both old," he replied.
6. A little girl was diligently pounding away on her grandfather's
word processor. She told him she was writing a story.
"What's it about?" he asked.
"I don't know," she replied. "I can't read."
7. I didn't know if my granddaughter had learned her colors yet, so I
decided to test her. I would point out something and ask what color it
was. She would tell me and was always correct. It was fun for me, so I
continued. At last, she headed for the door, saying, "Grandma, I think
you should try to figure out some of these colors yourself!"
8. When my grandson Billy and I entered our vacation cabin, we kept
the lights off until we were inside to keep from attracting pesky
insects. Still, a few fireflies followed us in. Noticing them before I
did, Billy whispered, "It's no use Grandpa. Now the mosquitoes are
coming after us with flashlights."
9. When my grandson asked me how old I was, I teasingly replied, "I'm
not sure." "Look in your underwear, Grandpa," he advised "Mine says
I'm 4 to 6."
10.. A second grader came home from school and said to her
grandmother, "Grandma, guess what? We learned how to make babies
today." The grandmother, more than a little surprised, tried to keep
her cool. "That's interesting." she said... "How do you make babies?"
"It's simple," replied the girl. "You just change 'y' to 'i' and add 'es'."
11. Children's Logic: "Give me a sentence about a public servant,"
said a teacher. The small boy wrote: "The fireman came down the ladder
pregnant." The teacher took the lad aside to correct him. "Don't you
know what pregnant means?" she asked.
"Sure," said the young boy confidently. 'It means carrying a child."
12. A grandfather was delivering his grandchildren to their home one
day when a fire truck zoomed past. Sitting in the front seat of the
fire truck was a Dalmatian dog. The children started discussing the
dog's duties.
"They use him to keep crowds back," said one child.
"No," said another. "He's just for good luck.."
A third child brought the argument to a close."They use the dogs," she
said firmly, "to find the fire hydrants."
13. A 6-year-old was asked where his grandma lived. "Oh," he said,
"she lives at the airport, and when we want her, we just go get her.
Then, when we're done having her visit, we take her back to the
airport."
14. Grandpa is the smartest man on earth! He teaches me good things,
but I don't get to see him enough to get as smart as him!
15. My Grandparents are funny, when they bend over, you hear gas leaks
and they blame their dog.
March 7, 2012

Got this earnest prayer from a dear friend, Diane, who lives in Hidalgo:

Hi Lord, its me.* *We are getting older and things are getting bad here.*
*Gas prices are too high, no jobs, food and heating costs too high.* *I
know some have taken you out of our schools, government and even* *Christmas,
but Lord I'm asking you to come back* *and re-bless America .* *We really
need you!* *There are more of us who want you than those who don't!* *Thank
You Lord,* *I Love you.* *If you agree, send it on---if not just delete.*
*Only you & the Lord will know.*
*"Life without God is** **like an unsharpened pencil - it has no point."*


As a side note, there is a prayer group that stops to pray at 8:00 p.m. Central Standard Time. The prayer is for America to return to its Christian roots and rid Washington, D. C. of all corrupt politicians. People all over the country are joining together in this common prayer. Join in if you can.

Last night was Ladies Aid at church. What a privilege it is to meet with other women of like Christian values and to share God's word in a Bible Study, then our hostess for the evening, Melissa, made a wonderful spread of fresh fruit. She also made cookies but I didn't have any. It seems that sugar has become my enemy since learning that I have gout that settled in my lower back and my right thumb. The medicine that I now take is for people who specifically took Cytoxan as a chemo treatment for breast cancer. So, no sugary desserts. But then, since Quint is diabetic, Splenda has become my friend. And I can also get chocolate covered cherries from Figi's and have them shipped to me. Yummmmmmy!

It's really windy here. So bad that the windmill has blown over twice in the last day or so. I also heard that there were 90 mph gusts in Las Vegas. Not that anybody who goes to Las Vegas goes outside to stand on the sidewalks to enjoy the weather. I mean, they don't even have clocks in the casinos. They'd probably like it if people took their watches off, but that's not happening much either.


Got this from both cousins, Mark and Alan, so you know it's serious stuff:

Seems Reasonable


Can't eat pork,

Swine flu...



Can't eat chicken,

Bird flu.



Can't eat Beef, Mad cow

.....

Can't eat eggs, Salmonella.



Can't eat fish, heavy metal poisons in their waters.



Can't eat fruits and veggies E coli, insecticides and herbicides.



Hmmmmmmmmm!!!!!!!!!!!!!

M

M

M

M

M

M

M

M

M

M

M



I believe that leaves Chocolate and ice cream!!!!!!!!



Remember - - - 'STRESSED'

spelled backwards!

is

'DESSERTS'


March 5, 2012

Got this poignant story from cousin Mark. Enjoy! Gratitude is a acquired pleasure.Have a great day full of love and happiness.

Change Your Thinking

Two men, both seriously ill, occupied the same hospital room.

One man was allowed to sit up in his bed for an hour each afternoon to help drain
the fluid from his lungs.

His bed was next to the room's only window.

The other man had to spend all his time flat on his back.

The men talked for hours on end.

They spoke of their wives and families, their homes, their jobs, their involvement
in the military service, where they had been on vacation..

Every afternoon, when the man in the bed by the window could sit up, he would pass
the time by describing to his roommate all the things he could see outside the
window.

The man in the other bed began to live for those one hour periods where his world
would be broadened and enlivened by all the activity and colour of the world
outside.

The window overlooked a park with a lovely lake.

Ducks and swans played on the water while children sailed their model boats. Young
lovers walked arm in arm amidst flowers of every colour and a fine view of the city
skyline could be seen in the distance.

As the man by the window described all this in exquisite details, the man on the
other side of the room would close his eyes and imagine this picturesque scene.

One warm afternoon, the man by the window described a parade passing by.

Although the other man could not hear the band - he could see it in his mind's eye
as the gentleman by the window portrayed it with descriptive words.

Days, weeks and months passed.

One morning, the day nurse arrived to bring water for their baths only to find the
lifeless body of the man by the window, who had died peacefully in his sleep.

She was saddened and called the hospital attendants to take the body away.

As soon as it seemed appropriate, the other man asked if he could be moved next to
the window. The nurse was happy to make the switch, and after making sure he was
comfortable, she left him alone.

Slowly, painfully, he propped himself up on one elbow to take his first look at the
real world outside. He strained to slowly turn to look out the window besides the bed.

It faced a blank wall.

The man asked the nurse what could have compelled his deceased roommate who had
described such wonderful things outside this window.

The nurse responded that the man was blind and could not even see the wall.

She said, 'Perhaps he just wanted to encourage you.'

Epilogue:

There is tremendous happiness in making others happy, despite our own situations.

Shared grief is half the sorrow, but happiness when shared, is doubled.


And these quips from "kids in church" comes from dear friend, Cody, in Warrensburg, MO:

A little boy was in a relative's wedding.
As he was coming down the aisle, he would take two steps,
stop, and turn to the crowd.
While facing the crowd, he would put his hands up like claws and roar.
So it went, step, step, ROAR, step, step, ROAR, all the way down the aisle.
As you can imagine, the crowd was near tears from laughing so hard
by the time he reached the pulpit.
When asked what he was doing, the child sniffed and said,
"I was being the Ring Bear."

One Sunday in a Midwest City ,
a young child was "acting up" during the morning worship hour.
The parents did their best to maintain some sense of order in the pew
but were losing the battle.
Finally, the father picked the little fellow up
and walked sternly up the aisle on his way out.
Just before reaching the safety of the foyer,
the little one called loudly to the congregation,
"Pray for me! Pray for me!"

One particular four-year old prayed,
"And forgive us our trash baskets
as we forgive those who put trash in our baskets."

A little boy was overheard praying:
"Lord, if you can't make me a better boy, don't worry about it.
I'm having a real good time like I am."

A Sunday School teacher asked her little children, as they were on the way to church
service, "And why is it necessary to be quiet in church?"
One bright little girl replied, "Because people are sleeping."

A little boy opened the big and old family Bible with fascination,
looking at the old pages as he turned them.
Then something fell out of the Bible.
He picked it up and looked at it closely.
It was an old leaf from a tree that has been pressed in between the pages.
"Mama, look what I found," the boy called out.
"What have you got there, dear?" his mother asked.
With astonishment in the young boy's voice he answered,
"I think it's Adam 's suit".

The preacher was wired for sound with a lapel mike,
and as he preached, he moved briskly about the platform,
jerking the mike cord as he went.
Then he moved to one side,
getting wound up in the cord and nearly tripping before jerking it again.
After several circles and jerks,
a little girl in the third pew leaned toward her mother and whispered,
"If he gets loose, will he hurt us?"

Six-year old Angie , and her four-year old brother, Joel , were sitting together in
church.
Joel giggled, sang and talked out loud.
Finally, his big sister had had enough.
"You're not supposed to talk out loud in church."
"Why? Who's going to stop me?" Joel asked.
Angie pointed to the back of the church and said,
"See those two men standing by the door?
They're hushers."

My grandson was visiting one day when he asked ,
"Grandma, do you know how you and God are alike?"
I mentally polished my halo, while I asked,
"No, how are we alike?"
"You're both old," he replied.

A ten-year old, under the tutelage of her grandmother,
was becoming quite knowledgeable about the Bible.
Then, one day, she floored her grandmother by asking,
"Which Virgin was the mother of Jesus ? The virgin Mary or the King James Virgin ?"

A Sunday school class was studying the Ten Commandments.
They were ready to discuss the last one.
The teacher asked if anyone could tell her what it was.
Susie raised her hand, stood tall, and quoted,
"Thou shall not take the covers off the neighbor's wife."

March 3, 2012

Please lift your hearts in prayer for the victims of this horrible rash of tornados today. These are killer winds. In addition to fatalities reported, there's dangers with houses being lifted off their foundations. It's a good night to stay in, be safe, and pray that God will embrace all those people who are suffering with heavy losses. Harrisburg, in southern Illinois, was particularly hit, it seems to me. But there are other areas, with just as deadly outbreaks. I heard on one of the news channels that this year would be as bad as the tornado season in 1978.

We pray steadfastly, also, that our nation will return to its Christian roots on which it was founded.

I look forward to going to church on Sunday and hearing a message from the Gospel lesson that, at least in part, says For whoever is ashamed of me and of my words in this adulterous and sinful generation, of him will the Son of Man also be ashamed when he comes in the glory of his Father with the holy angels. March 8:38

I think there are a whole bunch of people out there who have kind of postponed thinking about what they're going to do with all this Christianity stuff. "I'll worry about all that when I get older," they seem to think.

Oh yeah?

Well, think of Andrew Breitbart, who now lays cold and quiet at the tender age of 43. He was one of my favorite reads. He was the kind of journalist that Pulitzer hoped to reward for courage through the printed word. I pray that he was okay with God before he took his last breath. I have a feeling that he was.

But what about all the other people out there? You know the ones -- they don't want the children to pray in school. They don't want to say the word "God" in the Pledge of Allegiance. They don't want to hear anything that sounds like Christian talk. Woe be to those who turn their backs on God. This verse in Mark tells them exactly what God will do in retaliation. And don't think for one minute that they can appease God with some half-witted excuse like, "I didn't mean it. You know I wasn't serious, don't you?"

It's time to pray like you mean it. It's time to spend your days thinking about God. Oh, you don't have to jump up out of your chair screaming "Hallalujah." But you can think about the Great and Wonderful Creator of the Universe who allows you to take each breath throughout every day of your life. Be thankful for that.

I have always wondered about the people who want to go to heaven. Don't they realize that they will spend their time praising and worshiping God? If they are looking forward to the time when they are able to do that, wouldn't you think they could spend more time worshiping and praising God every day, in some way?

There are so many things a person can do to worship God. He sees us when we are kind to others. He sees us when we are compassionate and generous. He sees us when we try with all our heart to lead a life as free as sin as we possibly can - not that we'll ever be totally sin-free, what being human and all. But we ought to try as best as we can to avoid temptation and sin in our lives.

God likes it when we strive to do that.



February 29, 2012

Questions to ask yourself --

Can you tell the difference between being tested and being tempted?

Easy answer.

When you're tempted, it involved a sin of some sort.

Being tested is a form of discipline. Discipline makes you grow in faith. It enriches you and tempers your faith into a tool as strong as steel.

The passage that started all this thinking about being tempted was from the Epistle lesson a week or so ago. It's from the Book of James, and says: Let no one say when he is tempted, "I am being tempted by God," for God cannot be tempted with evil, and he himself tempts no one. But each person is tempted when he is lured and enticed by his own desire. -- James 1:13-14

So if you feel like you're being tempted, who do you think might be the culprit?

Another easy answer -- Satan himself.

Satan is the author of evil. Not God. God does not tempt us, Satan does. Temptations involve sins. Testing involves love through discipline.

This notion that there is a person named Satan reared its head out on the campaign trail a few weeks back. Santorum made the comment that "...Satan had his eye on Washington." What a firestorm that set off. Here came the spindoctors who tried to make Santorum look like a religious kook. Until some organization did a survey and found that 70% of Americans believe -- truly believe -- that Satan really does exist.

Remember way back in Sunday School days hearing that the best trick Satan has going for him is that he convinces people that he does not exist. Well, that doesn't happen in the United States.

We're a Christian nation and we know he's real. And his favorite game is Gotcha!

If you want an inkling about who Satan is, take a look at the Book of Job.

In the very first chapter, in verse 6, we read: One day the angels came to present themselves before the Lord, and Satan also came with them. The Lord said to Satan, "Where have you come from?"

Satan answered the Lord, "From roaming through the earth and going back and forth in it."

Then follows a conversation recorded between the Lord and Satan. So if the Lord recognizes Satan and calls him by name, who are we to even think that he does not exist?

Rest safely in the arms of the Lord, my friends, and pray fervently for his protection from Satan and all that is evil.


February 28, 2012


Before I go off in a different direction, you have to watch this video of the Daytona 500. Talk about races, burning cars, fast bumps, and one big brewhaha. One spill took out six cars:
http://news.yahoo.com/video/turnerweekendtop5-20497430/weekend-top-5-daytona-28446636.html#crsl=%252Fvideo%252Fturnerweekendtop5-20497430%252Fweekend-top-five-homestead-27337497.html
Here's a video that is precious. It's about Pastor Ed Dobson, who developed ALS. He talks about his new role as a different kind of pastor now that he no longer has an active church.
http://religion.blogs.cnn.com/2012/02/18/tending-the-garden-one-person-at-a-time/
Pastor Rensner talked about how come God, who has the power to stop the storms in our lives, doesn't do that. Pastor said that sometimes God calms the person going through the storm rather than calming the storm. And why would He do that? His reasons are his own and they are not my ways.
I am working on a thesis of the difference between being tested and being tempted. I hope to have it finished by this time tomorrow, so I hope you'll come back to read it.
Blessings, prayers and hugs,
Jane
February 27, 2012

This story comes from Connie today. She says it will give you the chills....... GOOD chills. See if you agree.

A young man had been to Wednesday Night Bible
Study. The Pastor had shared about listening to God and obeying the Lord's voice

The young man couldn't help but wonder, 'Does God still speak to people?'

After service, he went out with some friends for coffee and pie and they discussed
the message. Several different ones talked about how God had led them in different ways.

It was about ten o'clock when the young man started driving home. Sitting in his car, he just began to pray, 'God...If you still speak
to people, speak to me. I will listen. I will do my best to obey.'

As he drove down the main street of his town, he had the strangest thought to stop
and buy a gallon of milk. He shook his head and said out loud, 'God is that you?' He didn't get a reply and
started on toward home. But again, the thought, buy a gallon of milk.

The young man thought about Samuel and how he didn't recognize the voice of God,
and how little Samuel ran to Eli. 'Okay, God, in case that is you, I will buy the milk.' It didn't seem like too hard
a test of obedience. He could always use the milk. He stopped and purchased the
gallon of milk and started off toward home.

As he passed Seventh Street, he again felt the urge, 'Turn Down that street.' This is crazy he thought, and drove on past the intersection.

Again, he felt that he should turn down Seventh Street .

At the next intersection, he turned back and headed down Seventh.

Half jokingly, he said out loud, 'Okay, God, I will.'

He drove several blocks, when suddenly, he felt like he should stop He pulled over
to the curb and looked around. He was in a semi- commercial area of town. It wasn't
the best but it wasn't the worst of neighborhoods either. The businesses were closed and most of the houses looked dark like the people were
already in bed.

Again, he sensed something, 'Go and give the milk to the people in the house across
the street.' The young man looked at the house. It was dark and it looked like the
people were either gone or they were already asleep. He started to open the door
and then sat back in the car seat.

'Lord, this is insane. Those people are asleep and if I wake them up, they are going
to be mad and I will look stupid.' Again, he felt like he should go and give the
milk.

Finally, he opened the door, 'Okay God, if this is you, I will go to the door and I
will give them the milk. If you want me to look like a crazy person, okay. I want
to be obedient. I guess that will count for something, but if they don't answer
right away, I am out of here.'

He walked across the street and rang the bell. He could hear some noise inside. A
man's voice yelled
out, 'Who is it? What do you want?' Then the door opened before the young man could
get away.

The man was standing there in his jeans and T-shirt. He looked like he just got out
of bed. He had a strange look on his face and he didn't seem too happy to have some
stranger standing on his doorstep. 'What is it?'

The young man thrust out the gallon of milk, 'Here, I brought this to you.' The man
took the milk and rushed down a hallway.

Then from down the hall came a woman carrying the milk toward the kitchen. The man
was following her holding a baby. The baby was crying. The man had tears streaming
down his face.

The man began speaking and half crying, 'We were just praying. We had
some big bills this month and we ran out of money. We didn't have any milk for our
baby. I was just praying and asking God to show me how to get some milk.'

His wife in the kitchen yelled out, 'I ask him to send an Angel with some. Are you
an Angel?'

The young man reached into his wallet and pulled out all the money he had on him
and put in the man's hand. He turned and walked back toward his car and the tears
were streaming down his face.
He knew that God still answers prayers.

This is so true. Sometimes it's the simplest things that God asks us to do that
cause us, if we are obedient to what He's asking, to be able to hear His voice
more clear than ever. Please listen, and obey ! He will bless you (and the world).
Phil 4:13

February 25 -- 26, 2012


I'm adding this video at the front. It's from my cousin Mark and it's a video showing an owl coming in for a landing on a security tower.
http://www.dogwork.com/owfo8/
It's unbelievable footage showing the owl "putting on the brakes," so to speak. And look at those wing maneuvers! It's only a minute long, but fascinating.
Beautiful photograph by Paul Bunyard, set to music -- called
Chasing the Light.
It's a four and a half minute respite!
http://www.dogwork.com/bnpcduk8/
One of my favorite videos -- this is a dog in a contest -- apparently the judges don't give him very high marks because he can't seem to get it right. But then, just wait until the amazing end!
http://www.dogwork.com/tconmv8/
This is a video (1:40) of cranes flying over Venice, Italy. Fascinating photography of the landscape below, but also of the cranes communicating with one another while flying:
http://www.dogwork.com/crafly9/
Here's a video, also from dogworld.com that shows a little bird coming into a bluegrass festival and sitting on the lead singer's guitar. Too funny!
http://www.dogwork.com/blugrs9/
Now, before you watch this next one, please realize that dogs are not supposed to stand upright and walk, much less dance. But here's a cute little dog doing a Paso Doble. Yes, dancing:
http://www.dogwork.com/psdqwk8/
Danica Patrick crashed intot he wall at Daytona today:
http://www.breitbart.tv/danica-patrick-crashes-at-daytona/
Oh dear. This video shows someone getting creamed by an oncoming traffic. Just another reason why I don't do any road ranging during ice and snow and black ice weather:
http://www.breitbart.tv/nissan-frontier-shattered-into-bits-by-oncoming-semi/
Here's a recently discovered amateur video of the shuttle that exploded. After watching it, the videographers didn't really understand what had happened. It seemed like they thought the crash was the booster rocket separating.
http://www.cnn.com/video/#/video/us/2012/02/24/vo-challenger-amateur-video.newscientist
And this final video is about a man named Omar and his seeing eye dog Salty. Omar was working on the 71st floor of the World Trade Center when the building was hit. Watch this video of this remarkable dog rescuing and saving his best friend, Omar:
http://www.dogwork.com/arfp8/
February 24, 2012

You do know that 2012 is a leap year, don't you? Just thought I'd bring that up, in case you overlooked the fact that February has 29 days in it this year.

So it's Friday night here at home. It's cold outside with the wind whipping around the corner of the house. And we're about ready to settle down to a good old mystery on Netflix streaming and Quint asks from the kitchen, "You want popcorn with that?" Who could say no? Popcorn is one of my favorite snacks.

I made 3-2-1 cakes for dessert. If you remember, I have a big plastic bag into which I mixed together a sugar-free yellow cake mix and an angel food cake mix. Really mix them well. Then, whenever you want a quick little cake, you mix 3 tablespoons of this cake mix and 2 tablespoons of water. Microwave that for 1 minute and you have this unbelievable little cake.

Well, I got fancy, I did. I put about 1/2 tablespoon of margarine and 1/2 tablespoon of brown sugar blend (with Splenda). Microwave that for about 5 seconds until the butter is melted. Stir that up and put in 1/2 tablespoon of crushed pineapple. Then add the mixed up 32-1 cake mix and microwave that for 1 minute. Yummmy!

I'm going to see if sliced strawberries in the bottom of my little dish (which is about the size of a ramekin), then put the 3-2-1 mixed up cake mix and see if it passes for a strawberry short cake. It might. Or it might be close enough to pass for a suitable substitute.

Changing the subject, the weather here has taken a dive down to 36 degrees. This time yesterday it was almost 60 degrees. For those of you who just joined us from the United Arab Emirates, it probably doesn't matter that much. You have heat all year round. But you also have sand. I don't know if I could really get used to living on a sand hill. It just looks - well, dry.

But since readers are from all over the world, it's probably a curiosity for some who never experience snow. (You're not missing much at all.)

And as a side note, I'm so glad that you liked the blog from a few days ago about the man praying the Lord's Prayer. It's unbelievable how many emails I've gotten in favor of this prayer. And how it's made you pause and think about what you're saying when you pray. You know, God really is right around you every minute of the day. And he cares about you, so keep on praying.

My prayer for you is that you will be blessed with many wonderful people and opportunities that God will put in your life today. Enjoy each and every one of them.


February 23, 2012

Last night was Ash Wednesday service at church. It marks a time when we begin a remembrance of the death of Jesus Christ and his resurrection three days later at Easter. It's a somber time and as I sat in church and looked around me, I saw the usual faithful worshipers. I felt closer to them than I do at other times of the year. The imposition of ashes reminds us that we came from dust and it is to dust that we will return. In the meantime, we are to live our lives as Christians and walk through life behaving as if --

...as if Christ were right beside us, visibly point out pitfalls,

... as if Christ were steering us around the misdeeds we might otherwise get ourselves into,

... as if we remember that we are never alone,

... as if we realize consciously that Christ is watching us,

... as if we remember that it is Christ who sits at the right hand of God interceding for us on our behalf,

... as if we remember, also, that it is Christ who will judge us when we catch up with eternity,

... as if we always remember that we are to pray to God, our heavenly father, and we can only get there through Jesus Christ,

... as if we want more than anything to please God and Jesus Christ,

and finally, as if we are truly sorry for all our sins.

This isn't one of the questions that is listed as having been asked by Jesus, but sometimes, when I do really silly stuff, I have this vision of Jesus asking, "What in the world did you do that for?" It helps me not to do things anymore that I really don't want to do and know that I shouldn't do.







February 21, 2012


Did you feel the earthquake this morning? It registered 4.0 on the Richter Scale. I'll have to tell Quint that it wasn't the wind that was rattling the windows that woke him at 4:00 am, but rather, the temblor shifting around close to the New Madrid fault line. Here's a map that shows exactly where the earthquake was:
http://earthquake.usgs.gov/earthquakes/recenteqsus/Maps/US10/32.42.-95.-85.php
But if you really want to see something, take a look see at this map of the United States -- 806 earthquakes in the last 24 hours. California and Alaska are always feeling a lot of shaking going on.
Stay safe out there, my friends.
Changing the subject, back to the List of 100 Questions that Jesus Asked:
Question #79 --
How is it that you seek praise from one another and not seek the praise that comes from God?
John 5:44
Walk through this question with me for a moment. Remember the last time you went to get a new outfit? You found something that you thought would look good on you. You looked in the 3-way mirror to make sure the outfit draped across your body just the way you wanted it to. And why is that?
Simple. When we buy something new to wear, we're thinking of what others will think of it. Then they'll tell us how nice it looks.
We'll get praise.
But hold on here for a moment. The question that Jesus is asking is how come you're thinking about what others think?
How come you aren't all that concerned about what God thinks of you?
I think there might be a couple of answers to this question.
One of the thoughts I have is that because we don't physically see God, it's sometimes hard to imagine that he's right here, right now, in this very room, reading over your shoulder. Maybe watching you curiously to see how you get through your day. But, our humanness sometimes fails us spiritually because we aren't always consciously thinking that God is present everywhere at the same time.
How can that be? I don't know the answer to that. My brain can't get wrapped around that possibility, but I know it's true because the Bible says so.
I know that after Quint and I finish our breakfast and we join hands for our daily prayers, God is in the room with us. And I also know that it pleases God when his children talk to him. That's what we do. We let him know what we're thankful for because he does so much for us. We wouldn't have a thread to wear if it weren't for God's grace. Oh, I don't mean that he puts a hanger with clothes on it in our closet. But he makes provisions for us to get the things we need as we go through our lives. And it's been like that since the day we were born.
God has always been a stellar provider. He has never failed to provide us with what we need.
By the same token, he puts situations in our paths to see what we're going to do about them. He brings people to us to see how we're going to react to them.
We need to always think about what we are doing so that we live our lives in ways that please God.
To me, that's a lot more important than whether someone else likes a dress I bought.
I care what God thinks. I most definitely care what he thinks. And I hope that anything and everything I do in life tickles him. He is not a person I ever want to be displeased with at me!
February 20, 2012

And who couldn't use a bit of humor in these harried political days? Got this one from my cousin Al in Virginia Beach:

A female journalist heard about a very old Jewish man who had been going
to the Western Wall to pray, twice a day, every day, for a long, long time.

So she went to check it out. She went to the Western Wall and there he was,
walking slowly up to the holy site.

She watched him pray and after about 45 minutes, when he turned to leave,
using a cane and moving very slowly, she approached him for an interview.

"Pardon me, sir, I'm Rebecca Smith. What's your name?

"Morris Feinberg," he replied.

"Sir, how long have you been coming to the Western Wall and praying?"

"For about 60 years."

"60 years! That's amazing! What do you pray for?"

"I pray for peace between the Christians, Jews and the Muslims."

"I pray for all the wars and all the hatred to stop."

"I pray for all our children to grow up safely as responsible adults and to
love their fellow man."

"I pray that politicians tell us the truth and put the interests of the people
ahead of their own interests."

The reporter then asked, "How do you feel after doing this for 60 years?"

"Like I'm talking to a wall."


And our good friend Joyce sends us this cost analysis of how much it costs to run a Volt. Can you tell that Joyce is a banker by trade?

Subject: Cost to operate a Chevy Volt

Take a few minutes to read thru this analysis. This is truly an economic failure,
until technology improves to change these costs! This is what the Obama
Administration is pushing in his new budget! Just another "cash sink hole", from our
taxes, and huge debt!

Eric Bolling (Fox Business Channel's Follow the Money) test drove the Chevy Volt at
the invitation of General Motors.

For four days in a row, the fully charged battery lasted only 25 miles before the
Volt switched to the reserve gasoline engine.

Eric calculated the car got 30 mpg including the 25 miles it ran on the battery.

So, the range including the 9 gallon gas tank and the 16 kwh battery is
approximately 270 miles.

It will take you 4 1/2 hours to drive 270 miles at 60 mph. Then add 10 hours to
charge the battery and you have a total trip time of 14.5 hours.

In a typical road trip your average speed (including charging time) would be 20 mph.

According to General Motors, the Volt battery hold 16 kwh
of electricity. It takes a full 10 hours to charge a drained battery.

The cost for the electricity to charge the Volt is never mentioned so I looked up
what I pay for electricity.

I pay approximately (it varies with amount used and the seasons) $1.16 per kwh.

16 kwh x $1.16 per kwh = $18.56 to charge the battery.

$18.56 per charge divided by 25 miles = $0.74 per mile to operate the Volt using the
battery.

Compare this to a similar size car with a gasoline engine only that gets 32 mpg.

$3.19 per gallon divided by 32 mpg = $0.10 per mile.

The gasoline powered car cost about $15,000 while the Volt costs $46,000.........

So Government wants us to pay 3 times as much, for a car that costs more that 7
times as much to run, and takes 3 times longer to drive across country..... REALLY
?????

- I have a question. After the battery just up and dies, how much will it cost to destroy it? I doubt if the batteries will be allowed in landfill. I mean, if you can't even put an old, dead cell phone in the landfill, what are you going to do with the Volt battery?

But what if you keep the Volt and decide to replace the battery. I read somewhere a couple of years ago that the battery alone cost $25,000. Can that be right? Does anybody know? If you do could you shoot me an email. Please.


And this from my dear cousin Frances in Broaddus, Texas:

We need to show more sympathy for these people.
* They travel miles in the heat.
* They risk their lives crossing a border.
* They don't get paid enough wages.
* They do jobs that others won't do or are afraid to do.
* They live in crowded conditions among a people who speak a
different language.
* They rarely see their families, and they face adversity all day
~ every day..

I'm not talking about illegal Mexicans ~

I'm talking about our troops!

Doesn't it seem strange that so many are willing to lavish all
kinds of social benefits on illegals, but don't support our
troops?

Wouldn't it be great if we took the $360,000,000,000 (that's
billion) we spend on illegals every year, and spend it on our
troops!!!


February 17, 2012

This is one of the best versions of an interactive Lord's Prayer that I've ever read. It's sent to us from my dear friend Cody in Warrensburg, MO. I do pray that it will enrich your life today and that you will think about this when you pray the Lord's Prayer:

THE LORD'S PRAYER- Rather cleverly done. This is in two parts,
The prayer(in blue type) and GOD(in red type)-in response.
It is very, very good.
*********
"Our Father Who Art In Heaven.
Yes?
Don't interrupt me. I'm praying.
But -- you called ME!
Called you?
No, I didn't call you..
I'm praying.
Our Father who art in Heaven.
There -- you did it again!
Did what?
Called ME.
You said,
"Our Father who art in Heaven"
Well, here I am..
What's on your mind?
But I didn't mean anything by it.
I was, you know, just saying my prayers for the day.
I always say the Lord's Prayer.
It makes me feel good,
Kind of like fulfilling a duty.
Well, all right.
Go on.
Okay, Hallowed be thy name .
Hold it right there.
What do you mean by that?
By what?
By "Hallowed be thy name"?
It means, it means .. . Good grief,
I don't know what it means.
How in the world should I know?
It's just a part of the prayer.
By the way, what does it mean?
It means honored, holy, wonderful.
Hey, that makes sense..
I never thought about what 'hallowed' meant before.
Thanks.
Thy Kingdom come,
Thy will be done,
On earth as it is in Heaven.
Do you really mean that?
Sure, why not?
What are you doing about it?
Doing? Why, nothing, I guess.
I just think it would be kind of neat if you got
Control, of everything down here like you have up
There. We're kinda in a mess down here you know.
Yes, I know;
But, have I got control of you?
Well, I go to church..
That isn't what I asked you.
What about your bad temper?
You've really got a problem there, you know.
And then there's the way you spend
Your money -- all on yourself.
And what about the kind of books you read ?
Now hold on just a minute!
Stop picking on me!
I'm just as good as some of the rest
Of those People at church!
Excuse ME..
I thought you were praying
For my will to be done..
If that is to happen,
It will have to start with the ones
Who are praying for it.
Like you -- for example ....
Oh, all right. I guess I do have some hang-ups.
Now that you mention it,
I could probably name some others.
So could I.
I haven't thought about it very much until now,
But I really would like to cut out some of those things.
I would like to, you know, be really free.
Good.
Now we're getting somewhere.
We'll work together -- You and ME.
I'm proud of You.
Look, Lord, if you don't mind,
I need to finish up here.
This is taking a lot longer than it usually does.
Give us this day, our daily bread.
You need to cut out the bread..
You're overweight as it is.
Hey, wait a minute! What is this?
Here I was doing my religious duty,
And all of a sudden you break in
And remind me of all my hang-ups.
Praying is a dangerous thing.
You just might get what you ask for.
Remember, you called ME -- and here I am.
It's too late to stop now.
Keep praying. ( pause .. . )
Well, go on.
I'm scared to.
Scared? Of what?
I know what you'll say.
Try ME.
Forgive us our sins,
As we forgive those who sin against us.
What about Ann?
See? I knew it!
I knew you would bring her up!
Why, Lord, she's told lies about me, spread stories.
She never paid back the money she owes me..
I've sworn to get even with her!
But -- your prayer --
What about your prayer?
I didn't -- mean it..
Well, at least you're honest.
But, it's quite a load carrying around all that
bitterness and resentment isn't it?
Yes, but I'll feel better as soon as I get even with her.
Boy, have I got some plans for her.
She'll wish she had never been born.
No, you won't feel any better.
You'll feel worse.
Revenge isn't sweet.
You know how unhappy you are --
Well, I can change that.
You can? How?
Forgive Ann.
Then, I'll forgive you;
And the hate and the sin,
will be Ann's problem -- not yours.
You will have settled the problem
as far as you are concerned.
Oh, you know, you're right.
You always are.
And more than I want revenge,
I want to be right with You . . (sigh).
All right, all right . .
I forgive her.
There now!
Wonderful!
How do you feel?
Hmmmm. Well, not bad.
Not bad at all!
In fact, I feel pretty great!
You know, I don't think I'll go to bed uptight tonight.
I haven't been getting much rest, you know.
Yeah, I know.
But, you're not through with your prayer, are you?
Go on.
Oh, all right.
And lead us not into temptation,
but deliver us from evil.
Good! Good! I'll do that.
Just don't put yourself in a place
where you can be tempted.
What do you mean by that?
You know what I mean.
Yeah. I know..
Okay.
Go ahead. Finish your prayer.
For Thine is the kingdom,
and the power,
and the glory forever.
Amen.
Do you know what would bring me glory?
What would really make me happy?
No, but I'd like to know.
I want to please you now...
I've really made a mess of things.
I want to truly behave like Christ
I can see now how great that would be.
So, tell me .. . .
How do I make you happy?
YOU just did".

February 15, 2012


Taking a break from the questions that Jesus asked, I have to share with you that Sen. Orrin Hatch (R-Utah) took Secretary (Health and Human Services) Sebelius to task today about whether or not she had consulting with any bishops before drafting the contraceptive order for the White House. Her response was that she had not, but assumed that the folks over at the White House must have.
Well, that wasn't quite good enough to Hatch who then made the statement that he believed all religious organizations should be exempted from the contraception demand. (See article at:
http://blogs.wsj.com/washwire/2012/02/15/sebelius-didnt-consult-bishops-on-contraception-deal/
)
There are several layers to this argument, if you ask me. One is that of whether you believe women ought to be able to buy contraceptives.
The other is a question of honoring all religions who are opposed to abortion and believe that abortion is about killing an unborn child. In that event, then the "morning after pill" would make the trip down that slippery slope.
Then there is the constitutional camp which is inhabited by people who believe that the government has no right in tampering with freedom of religion. Forcing organizations, whether directly with religious organizations, or imposing on the insurance companies who insure employees of religious organizations makes no difference. The question isn't about who pays for the contraceptives -- the religious organization or its insurance company. It's about whether the government has the right to mandate any such behavior.
Clearly there is not a lot of wiggle room with folks who believe strongly that they have a right to hold onto their religious beliefs without interference from the government. And yes, of course, the fed have overstepped its constitutional boundaries.
Bet this one makes it to the Supreme Court.
February 14, 2012

The next question that Jesus asked is in Mark 8:12 -- Why does this generation ask for a miraculous sign?

This was when Jesus was meeting with the Pharisees and they wanted to test him. Guess they wanted to see if he could really perform some good magic tricks. They asked him in verse 11 for a sign from heaven. You know that Jesus must have been a bit perturbed because verse 12 starts out with Jesus sighing deeply.

Well, if you were the Son of God and you knew you could move a mountain if you just wanted to, wouldn't you get just a bit exasperated with people trying to put you on the spot all the time?

Why couldn't people just believe that Jesus was the Son of God? Would you? If you were expecting the promised Messiah to be more, well, kingly, would you still believe a person who arrived on the scene dressed in something that looked like a homespun robe? So he went around doing miracles. These were real miracles. They weren't magic signs that could be explained by a slight of hand.

No, no. Jesus healed the sick. He made the lame walk. He even touched the leper and made him clean. And he saved his best miracle to last when he raised a dead man back to life.

Was that sign enough?

Not really. Because the very idea that he had brought a man back to life was used to prosecute him.

If you were reading the Galilean Daily Chronicles and there was this banner headline about a dead man walking again, wouldn't you call to get a ticket to this man's next event?

Of course you would. And you'd probably try to get a front row seat so that when this guy Jesus asked if anyone in the audience would like to come down to the front and ask for anything they wanted, you'd hop on down there. What would you want? Win the lottery? Cure for your arthritis? A baby for your barren womb? A fairy tale, drop dead gorgeous superman for a husband? A shiny new Corvette to tool around the Galilean countryside? A big fancy yacht to troll around the Sea of Galilee, catching fish and stuff?

If you could have anything you wanted, what kind of a sign would satisfy you that Jesus is the true Son of God. In fact, he's the only Son of God.

Jesus must have grown weary of people who had to have this proof that he was who he said he was.

Do you think it's any different now -- 2,000+ years later? Aren't people still looking for a sign?

Can you just accept in your hearts that Jesus is Lord? No signs are needed for those who believe.

And for those who do not believe, there aren't enough signs in the whole world to bring the proof that they require.

It's all about faith. And believing.




February 13, 2012

I have my hands on a wonderful list called 100 Questions that Jesus Asked.

What a wonderful springboard for our conversations here on this thread.

Eventually I want to go all the way through the questions that Jesus asked. And the first one is from Matthew 6:27 -- Can any of you by worrying add a single moment to your lifespan?

My recent - and I call the last two years of my life as recent -- bout with breast cancer jumps up and out of the depths of that rusty barrel that houses my brain.

I will say that never during that entire ordeal did I feel desperate and anxious about living or dying. That was because of a couple of reasons, not the least of which is the verse quoted above. I know that somewhere in Jeremiah, there's a reference to the fact that God said he knew me when I was still in my mother's womb. In another verse way back there in the Old Testament, probably from a psalm, there's a reference to God knowing how many hairs I have on my head, and also how many days I will spend here on earth.

Some might view those cancers for both Quint and me as God specifically not answering our prayers. I take a counter view because we have both gone through that long, black tunnel of chemo. Radiation added for me. When we talked it through, all the way to the core, we came to understand that God had, in fact, answered our prayer. You see, at our age, if there was to be cancer, it was far better to get it out of the way, so to speak, before we got really old. Advanced age puts severe limitations on what chemo you can get and what you can't tolerate. We are blessed to have gone through all that and are now in remission. In fact, we just may be in better shape now than a lot of people who are incubating cancerous cells and don't know about it.

So, knowing that God knows all those details about my life, I have little to fear because I also know that he walks with me through all my days.

Besides, God doesn't seem to put the same sense of desperation on dying that we humans do. Perhaps that's because God thinks of death as the death of a soul. I figure that he's elated when a person's body dies because those persons get to come back home to be with him in heaven. Who could cry about that?

It doesn't mean we don't go through a grieving process when we lose our loved ones. And there might even be a few people who will be said when my creaky old bones end up in the fiery pits of a crematorium. But I hope they will be overjoyed when death finds me skipping through that tunnel that near-deathers describe.

After all, as Pastor Rensner says, "What are you going to do, threaten me with heaven?"

So, no worries. Enjoy each and every little sunbeam as you travel down the road of life. And get down on your knees and thank the good Lord above for all the blessings he has given you in this life, right now.


February 12, 2011

Navy Seal quote of the week

Dana Perrino ( Fox News) describing an interview she recently had with a Navy SEAL .
After discussing all the countries he had been sent to, she asked if they had to
learn several languages?

His reply:

"No ma'am, we don't go there to talk."


February 9, 2012

I almost ran over a hawk on the way home from work this afternoon. How could I ever explain how I could kill a bird on the wing! But sure enough, the silly thing flew right in front of me about a foot higher than the hood of the car. He got real close to the edge of the air.

That's Quint's reason for airline crashes. Planes crash when they go past the edge of the air.

Changing the subject, I'm making cookies for little kiddos at church. We have an after school program and offer the kiddos a snack when they get off the bus and come into the play area with tummies that have caved in from hunger. They get a half sandwich, a cookie and a piece of fruit. Then they go charging around the gym and burn it all off and go home starved for supped.

I'm making cookies from a cake mix. To do that, you out two eggs into 1/3 cup oil and mix well. Then, mix that into the dry cake mix. Makes a bit more than 2 dozen little cookies. The cookies are baked at 375 degrees for 6 - 8 minutes.

I got a confetti cake mix since little darlings adore confetti and sprinkles.


And I got this beautiful story from my cousin Mark:

Tell me this one doesn't put life in perspective.

In Phoenix , Arizona , a 26-year-old mother stared down at her 6 year old son, who was
Dying of terminal leukemia.

Although her heart was filled with sadness, she also had a strong feeling of determination.

Like any parent, she wanted her son to grow up and fulfill all
his dreams. Now that was no longer possible.

The leukemia would see to that. But she still wanted her son's
dream to come true.

She took her son's hand and asked,

'Billy, did you ever think about what you wanted to be once you grew up ?

Did you ever dream and wish what you would do with your life ?'

Mommy, 'I always wanted to be a fireman when I grew up.'

Mom smiled back and said, 'Let's see if we can make your wish
come true.'

Later that day she went to her local fire Department in Phoenix , Arizona, where she met Fireman
Bob, who had a heart as big as Phoenix .

She explained her son's final wish and asked if it might be possible to give her
6 year-old son a ride around the block on a fire engine.

Fireman Bob said, 'Look, we can do better than that. If you'll
have your son ready at seven o'clock Wednesday morning, we'll
make him an honorary Fireman for the whole day. He can come down to the fire
station, eat with us, go out on all the fire calls, the whole nine yards !

And if you'll give us his sizes, we'll get a real fire uniform
for him, with a real fire hat - not a toy one with the emblem of the
Phoenix Fire Department on it, a yellow slicker like we wear
and rubber boots.'

'They're all manufactured right here in Phoenix , so we can get them fast.'

Three days later Fireman Bob picked up Billy, dressed him in his uniform and escorted him from his hospital
bed to the waiting hook and ladder truck.

Billy got to sit on the back of the truck and help steer it
back to the fire station. He was in heaven.

There were three fire calls in Phoenix that day and Billy
got to go out on all three calls.

He rode in the different fire engines, the Paramedic's' van, and
even the fire chief's car. He was also videotaped for the local news program.

Having his dream come true, with all the love and attention that was lavished upon him, so
deeply touched Billy, that he lived three months longer than any doctor thought possible.

One night all of his vital signs began to drop dramatically and
the head nurse, who believed in the hospice concept - that no one should die alone, began to
call the family members to the hospital.

Then she remembered the day Billy had spent as a Fireman, so
she called the Fire Chief and asked if it would be possible to send a fireman in uniform to
the hospital to be with Billy as he made his transition..

The chief replied, 'We can do better than that. We'll be there in five minutes. Will
you please do me a favor ?

When you hear the sirens screaming and see the lights flashing, will you announce
over the PA system that there is not a fire? 'It's the department coming to see one of its finest members one more time. And will you open the window to his
room?


About five minutes later a hook and ladder truck arrived at the hospital and extended its
ladder up to Billy's third floor open window --------

16 fire-fighters climbed up the ladder into Billy's room!

With his mother's permission, they hugged him and held him and
told him how much they LOVED him.

With his dying breath, Billy looked up at the fire chief and
said, 'Chief, am I really a fireman now?'

'Billy, you are, and The Head Chief, Jesus, is holding your hand,' the chief said.

With those words, Billy smiled and said, 'I know, He's been
holding my hand all day, and the angels have been singing.'

He closed his eyes one last time.




February 8, 2012

So there's this mountain of mud sitting at the edge of the yard. It's the residue from the sewer line repair the other day. Rather than spread it out flat with the rest of the yard, we were told that the spring rains would pound it down so that the trench would eventually be filled in. Sounds reasonable to me, but I think I'll get out there with a rake one of these days, all of the same. Otherwise, I'm going to go out there in the next day or so and find a ski lift with very little people using the little mound for their winter fun.

It got cold in the last day or so. Even had a dusting of snow. We are woefully behind with our snowfall. According to the old wives' tale, since we had our first snowfall on the 27th of December, we can expect 27 snowfalls in total. Last night's dusting was only #4. Now, mind you, I don't mind not having 27 snowfalls. It's not like it's a goal or something.

Oh, another thing. Changing the subject, NASA says that the oceans are not rising, but rather, the level of water went down a bit. According to the weather/climate change/global warming gurus, weren't we told that because of global warming, the ice sheets would be melting and we'd have so much more water in the oceans that our eastern coast would be flooded. So how come the water level is going down? Faulty theory = flawed results. But then, just maybe because the Russians drilled a hole in the ice sheet in Antarctica to get to an underground lake, maybe water is draining down into the hole. Hey, it could happen!

Quint took me to lunch at Cracker Barrel today. When we were coming out to go back to the car, we noticed that there had been a bunch of pansies in bloom before they got frosted. Now, who would plant blooming pansies in the middle of winter? Sure enough, they got frostbit last night. I love the meatloaf at Cracker Barrel. If I close my eyes, I can imagine that I'm back at Grandma Stubbe's boarding house in Paducah. Cracker Barrel's meatloaf tastes just like hers. Maybe they found her recipe somewhere. It's delicious. So is their Cream of Potato Soup which is my favorite soup anywhere.

And now my client has arrived for a session. I see her pulling into the driveway now.




February 6, 2012


Want the world to be a better place? Then do something. Think about joining the huge group of volunteers in America.
I know this is old data, but it's the source I found when I went looking. It's a research article on volunteerism in America written by Richard D. Young. He cited a Bureau of Labor Statistics report that says 59% of people in the United States who are 16 years old or older volunteered for an organization in some capacity. And that was for the year way back in 2001 to 2002. that was 27.6% of the American population.
Volunteers most often donate their time to religious organizations (33.9%). Second on the list is educational organizations who get 27.2% of the volunteers. But it's the old folks who are 65 and older who donate
the most time to churches -- 45.2%.
Further, the Bureau of Labor Statistics identifies several activities in which volunteers engage in consistently. The list below shows which activities are most predominate.
● Teaching or coaching (24.4 %).
● Canvassing, campaigning, or fundraising (22.9 %).
● Collecting, making, serving, or delivering goods (22.2 %).
● Serving on a board, committee, or neighborhood association (16.3 %).
● Providing care or transportation (12.3 %).
● Consulting or administrative work (14.0 %).
So this ties in with the Gospel lesson at church yesterday. It's from Mark 1:29-39 and tells the story of Jesus healing Peter's mother-in-law from a fever. What's the first thing she did when her fever went away? She got up and began to serve them.
Not because she had to, as Pastor Gillet said. But because she wanted to.
When it comes to serving in the Kingdom of God, it's something
we get to do.
We don't
have to,
but rather, we are
allowed to serve.


In another article, again pulling data from the Bureau of Labor Statistics, we read that ...
nearly 63 million Americans, slightly more than a quarter of the population, volunteered for charities last year, providing services valued at nearly $173-billion. That's down from 2009, when 63.4 million adults, or nearly 27 percent of the population, donated their time. The volunteer rate has not changed significantly since 2006, hovering around 26 percent. Volunteerism reached nearly 29 percent from 2003 to 2005 and has been as low as 20.4 percent in 1989, says a report by the Corporation for National and Community Service, which is based on annual and monthly surveys of roughly 100,000 Americans age 16 or older, conducted by the U.S. Census Bureau for the Bureau of Labor Statistics.


What's neat about this article is an interactive map of the United States that compares the percentage of volunteers in a state and compares it to the national average when you move your cursor over the state.
http://philanthropy.com/article/Volunteerism-Holds-Steady-in/128565/
So get out there and be a good neighbor. While you're at it, volunteer to help out at your church too.
February 4, 2012

Quint and I headed over to Culvers after closing up the junior quilting shop at church. When we started looking for a spot to sit down at, I heard a familiar voice say, "Jane." It was the vice president of the Effingham/Shelby Zone and she invited us to sit with her and her husband. They were just finishing up the flavor of the month (chocolate eclair) ice cream, so we sat down.

After talking about a dizzying list of favorite subjects, Chris and I then started talking about cake recipes. I told her I was going to start visiting churches in the Zone. Tomorrow is my first outing. It's at a church where the church council is making soup for lunch. I told her I was going to make a yellow cake with a peach pie filling and after sharing that quick recipe with her (it's on the recipe page over there on the left), she said, "I'll tell you how to make a cake."

She explained, first you mix a cake mix with an angel food cake mix. It can be any kind of cake mix you want, but it has to be with an angel food cake mix.

Then, when you get those two cake mixes mixed well, mix 3 tablespoons of the dry mix with 2 tablespoons of water and microwave for 1 minute.

She says it's easy to remember because it's 3-2-1.

When I got home I mixed a sugar free yellow cake mix with an angel food mix that I picked up on the way home.

Sure enough, it works! So I have this cake mix in a ziploc bag ready to make a cake in a minute.

I even bought one of those new cans of frosting mix that Pillsbury has. It looks like a whipped cream container where you kind of bend a plastic tip a bit and out comes the frosting.

What an amazing age we live in!

I remember when I was a little girl my grandmother would send me to the bakery to buy two layers of a yellow cake if she didn't have time to bake a cake for a church event. And she thought that was cheating. But no one ever knew. She always covered it with her famous 7 Minute Frosting so who would have ever been able to tell.

One of my other favorite memories of my grandmother was her little forest of African Violet leaves. She had a big pan of sand which she kept wet. Then she would take leaves from her African Violets and stick them in the sand. After some mysterious length of time, she'd know when to take the leaves out because they'd have roots developed. She'd plant them in little pots and after a while, little baby African Violets would pop their little faces up through the dirt. Eventually, she'd cut the big leaf off and put it back in the sand to make a new generation.

I got up enough nerve to try that this year. A nurse at the oncology center assured me that this method would work so I gave it a try. I now have a beautiful purple and another pink African Violet and when I get a little new plant, I give them to clients who want them.

Except that I only use African Plant Food water. That makes them bloom like happy little campers. Pretty much all the time too.



February 2, 2012

If the groundhog can be believed, we don't have to worry about winter weather so much. We had fog as thick as pea soup. Not only could the rat not see his shadow, I doubt if he could see his cute little paw in front of his face. Yay! Go groundhog.

I received this from my friend Cody in Warrensburg, MO:


One of the best I've seen lately........

Ever wonder what would happen if we treated our Bible like we treat our cell phone?

What if we carried it around in our purses or pockets?

What if we flipped through it several times a day?

What if we turned back to go get it if we forgot it?

What if we used it to receive messages from the text?

What if we treated it like we couldn't live without it?

What if we gave it to Kids as gifts?

What if we used it when we traveled?

What if we used it in case of emergency?

This is something to make you go....hmm...where is my Bible?

Oh, and one more thing.

Unlike our cell phone, we don't have to worry about our Bible being
disconnected because Jesus already paid the bill.

Makes you stop and think 'where are my priorities? And no dropped calls!

When Jesus died on the cross, he was thinking of you!


I read another article today on the web warning about yet another scam. This one has to do with jury duty. Supposedly someone sends you an email or calls you to let you know there's a warrant for your arrest because you didn't show up for jury duty.

After you pick yourself up off the floor and start to explain that you never got a summons to appear for jury duty, then the most helpful scam artist at the other end of the phone asks you for your social security number and birthday so it can be double checked against the list of warrants. Now, we aren't going to give anybody that kind of information, are we?

Please say you won't.

Scam artists are mean. They're usually crooks who need to go where other criminals live.

If you live in Illinois, you need to know that Illinois is a "do not call" state. That means if you get an annoying telemarketing call, immediately tell the caller that you are aware that you live in a "do not call" state and want your name taken off the list he/she is calling from. The caller has to stop the conversation immediately.

Also, there's a link on the Links page on this website to put your phones on the "Do not call list." I probably need to do that again because I'm starting to get calls again. Putting your phone numbers on the list is not a permanent solution but when you start to get calls again, just go back in and renew your numbers.


February 1, 2012

We're zipping through the Bible at an accelerated pace in our Sunday morning adult discussion class. It's an ambitious undertaking because we're actually going to go from Genesis to Revelation in a 10-week segment. Oh, for sure, we aren't going to do any really in depth stopping over points. We can always go back and focus on aspects of the textbook we're using individually at a later date.

One of the quick points that was made in an early chapter was that Genesis 15:1 was the first time that the term "the word of the Lord came to..."

In this particular instance, the reference was to Abraham. He was the first man to whom the word of the Lord came. Abraham was a prophet. In this particular instanc, the word prophet means one who receives the word of the Lord.

Don't you think it would be exciting to pick up the Bible and get into the Word? Page after page after page of the Word brings us richness and depth to our soul. It's a blessed journey to walk every day with the Lord.

There's mending to be done when we weep from heavy grief. Our soul yearns for healing and it's right there, in between the covers of the Book.

There's learning that jumps off the pages with so much history. The Bible is not a complete history of what was going on in the world. For instance, from 1250 to 1190 BC the Greeks and Trojans were fighting the famous Trojan War. It happened. We know that from recorded history. But it's not a Bible story.

And did you know that from 1750 - 1040 BC, China's Shang Dynasty had a system of writing. They organized a bunch of armies too.

There were earthquakes too. From 1150-950 BC, earthquakes rattled the area around Cyprus.

Accupuncture was first introduced during the Chou dynasty at 1030 BC.

For sure, there were people in other places doing other things. Their stories were not captured in the Bible.

What the Bible does bring us is the bloodline of Jesus all the way back to Adam and Eve. The Bible traces this lineage through the House of David, through his line of history to a little town of Bethlehem.

There's much in the Word to sift through and think about. Absolutely no other book in the history of mankind has had the impact as the Word of God. Nor has any one single individual, save Jesus Christ, had as much of an impact on civilization than the Son of God who came from heaven to become flesh and blood and to live among us. Then he died as a sacrifice on the cross for the sins of each one of us.

This month we recognize Ash Wednesday as the beginning of the season of Lent. It's a time when we stop what we're doing and ponder the miracle of God's great love which he so graciously gifts us with.

Let the Word of God come to you. Pick up the Bible and just hold it in your hands. Then open it and start to read.

Prepare to be amazed.




January 31, 2012

It's hard to believe that here in Middle Illinois, it's 58.1 degrees. Highly unusual for January 31. Only two days 'til Ground Hogs Day and this year, do I dare say, "Who cares?"

Actually, when you think about it, it doesn't matter whether the rat sees his shadow or not. Spring is six weeks away no matter what. Just count the days on the calendar.

When I left you last night I was talking about the bad rap that controlling and manipulating people have gotten over the years. We've put a negative connotation onto those two words when, in fact, they can be life-saving.

I mentioned that the reason people are controlling is because they want life to be predictable. And who doesn't want that?

But maybe we're asking for trouble in trying to control people, places and events that we don't have any business messing with. There's all kinds of attempts at controlling that could even land you in jail. For instance, if you forged someone's signature because you wanted to control your ability to get out of debt so you think stealing someone's identity and/or money is acceptable. Not.

That's not even close to be included in this discussion.

What you can control, though, is your behavior. How you react to events and people in your life can be a healthy way to control your environment.

Babies, for instance, who smile and giggle at you make it awfully easy and heartwarming to pick them up and cuddle them. They've learned at a very early age that positive behaviors get more favorable attention from the big people in their lives. In a small way, they've figured out how to control someone to come over and pick them up.

I remember when my daughter and her husband were trying to get back to Los Angeles when, for some reason, their flight was abruptly cancelled. No new flights were scheduled at that airline. So she went over to another airline and said to an already overstressed service attendant that she realized the burden that this lady was under and she certainly didn't want to push her for help, but she was hoping ever so much if there was anything that she could do to get them on a plane. She engaged the lady in a few light moments and the next thing you know, she and her husband were on a flight, with a "Thank you so much. You are a lifesaver." And off the went to the other end of the airport where the other airline's terminal was.

She learned when she was a little girl that when you're reasonable, you're more able to operate on your environment and more often than not, get the results you want.

Call it whatever you want, but being pleasant will get you farther along than being pushy and ignorant and belligerent and demanding.

When you wake up in the morning, look at the daylight and say, "Today is going to be a great day. I'm going to have some adventures and come in contact with people I enjoy being with." Then get up, get dressed, and put your very best smile on your face as you out to operate on your environment. Make things happen. But in a pleasant way that shows people you care about them.




January 30, 2012

I'm actually in between clients right now, so this will be a bit brief. I'll finish my thought tomorrow in a bit more detail.

What I want to discuss before the thought goes too far away is this whole idea that controllingness and manipulation is a bad thing. I say -- not necessarily.

The reason we need to control or manipulate things is to make life more predictable. We all need predictability in our lives. So the question really wraps itself around why we feel insecure when our lives are not predictable.

Jean Piaget, the psychological guru who developed the school of cognitive development, says we all learn how to "operate" on our environment and the people in it.

It does not make you a bad person.

More about this after I've had a good night's rest.


About the time I think there's not much new under the sun, this comes to my email. It's from Linda over in Lawrenceville. Thank you, Linda!


Subject: Monday Morning Message

This is SIMPLY AWESOME! I've never seen this before! Whoever put The Resume
of Jesus Christ together is surely a blessing to us all! Please share it!
The last sentence says it all... Send this resume to everyone you know, you
never know who may have an opening! Powerful!
Have a blessed day!
The Resume of Jesus Christ
Address: Ephesians 1:20
Phone: Romans 10:13
Website: The Bible . Keywords: Christ, Lord, Savior and Jesus
_____________________________________________________
Objective
My name is Jesus -The Christ. Many call me Lord! I've sent you my resume
because I'm seeking the top management position in your heart. Please
consider my accomplishments as set forth in my resume.
_____________________________________________________________________
Qualifications
I founded the earth and established the heavens, (See Proverbs 3:19 )
I formed man from the dust of the ground, (See Genesis 2:7 )
I breathed into man the breath of life, (See Genesis 2:7 )
I redeemed man from the curse of the law, (See Gal at ians 3:13 )
The blessings of the Abrahamic Covenant comes upon your life through me,
(See Galatians 3:14 )
_____________________________________________________________________
Occupational Background
I've only had one employer, (See Luke 2:49 ) .
I've never been tardy, absent, disobedient, slothful or disrespectful.
My employer has nothing but rave reviews for me, (See Matthew 3:15 -17 )
_____________________________________________________________________
Skills Work Experiences
Some of my skills and work experiences include: empowering the poor to be
poor no more, healing the brokenhearted, setting the captives free, healing
the sick, restoring sight to the blind and setting at liberty them that are
bruised, (See Luke 4:18 ) .
I am a Wonderful Counselor, (See Isaiah 9:6 ) . People who listen to me
shall dwell safely and shall not fear evil, (See Proverbs 1:33 ) .
Most importantly, I have the authority, ability and power to cleanse you of
your sins, (See I John 1:7-9 )
_____________________________________________________________________
Educational Background
I encompass the entire breadth and length of knowledge, wisdom and
understanding, (See Proverbs 2:6 ) .
In me are hid all of the treasures of wisdom and knowledge, (See Colossians
2:3 ) .
My Word is so powerful; it has been described as being a lamp unto your feet
and a light unto your path, (See Psalms 119:105 ) .
I can even tell you all of the secrets of your heart, (See Psalms 44:21 ) .
_____________________________________________________________________
Major Accomplishments
I was an active participant in the greatest Summit Meeting of all times,
(See Genesis 1:26 ) .
I laid down my life so that you may live, (See II Corinthians 5:15 ) .
I defeated the arch enemy of God and mankind and made a show of them openly,
(See Colossians 2:15 ) .
I've miraculously fed the poor, healed the sick and raised the dead!
There are many more major accomplishments, too many to mention here. You can
read them on my website, which is located at : www dot - the BIBLE. You
don't need an Internet connection or computer to access my website.
_____________________________________________________________________
References
Believers and followers worldwide will testify to my divine healing,
salvation, deliverance, miracles, restoration and supernatural guidance.
_____________________________________________________________________
In Summ at ion
Now that you've read my resume, I'm confident that I'm the only candidate
uniquely qualified to fill this vital position in your heart. In summation,
I will properly direct your paths, (See Proverbs 3:5-6 ) , and lead you into
everlasting life, (See John 6:47 ) . When can I start? Time is of the
essence, (See Hebrews 3:15 ) .
Send this resume to everyone you know,
you never know who may have an opening!


Thanks for your help.

September 26, 2012


Got these one-liners from friend Cody in Warrensburg, Missouri:
Don't let your worries get the best of you;
Remember, Moses started out as a basket case.
*+*+*+*+*+*+*+*+*+*
Some people are kind, polite, and sweet-spirited
Until you try to sit in their pews..
*+*+*+*+*+*+*+*+*+*
Many folks want to serve God,
But only as advisers.
*+*+*+*+*+*+*+*+*+*
It is easier to preach ten sermons
Than it is to live one.
*+*+*+*+*+*+*+*+*+*
The good Lord didn't create anything without a purpose,
But mosquitoes come close.
*+*+*+*+*+*+*+*+*+*
When you get to your wit's end,
You'll find God lives there.
*+*+*+*+*+*+*+*+*+*
People are funny; They want the Front of the bus,
the Middle of the road,
And Back of the church.
*+*+*+*+*+*+*+*+*+*
Opportunity may knock once,
But temptation bangs on the front door forever.
*+*+*+*+*+*+*+*+*+*
Quit griping about your church;
If it was perfect, you couldn't belong.
*+*+*+*+*+*+*+*+*+*
If a church wants a better pastor,
It only needs to pray for the one it has ..
*+*+*+*+*+*+*+*+*+*
God Himself doesn't propose to judge a man until
he is dead. So why should you?
*+*+*+*+*+*+*+*+*+*
Some minds are like concrete
Thoroughly mixed up and permanently set.
*+*+*+*+*+*+*+*+*+*
Peace starts with a smile.
*+*+*+*+*+*+*+*+*+*
don't know why some people change churches;
What difference does it make
which one you stay home from?
*+*+*+*+*+*+*+*+*+*
A
lot of church members singing 'Standing on the Promises'
Are just sitting on the premises.
*+*+*+*+*+*+*+*+*+*
Be ye fishers of men. You catch 'em - He'll clean 'em.
*+*+*+*+*+*+*+*+*+*
Coincidence is when God chooses to remain anonymous.
*+*+*+*+*+*+*+*+*+*
Don't put a question mark where God put a period.
*+*+*+*+*+*+*+*+*+*
Forbidden fruits create many jams.
*+*+*+*+*+*+*+*+*+*
God doesn't call the qualified, He qualifies the called.
*+*+*+*+*+*+*+*+*+*
God grades on the cross, not the curve.
*+*+*+*+*+*+*+*+*+*
God loves everyone,
But probably prefers 'fruits of the spirit' over
'religious nuts!'
*+*+*+*+*+*+*+*+*+*
God
promises a safe landing, not a calm passage.
*+*+*+*+*+*+*+*+*+*
He
who angers you, controls you!
*+*+*+*+*+*+*+*+*+*
If God is your Co-pilot, swap seats!
*+*+*+*+*+*+*+*+*+*
Prayer:
Don't give God instructions, just report for duty!
*+*+*+*+*+*+*+*+*+*
The task ahead of us is never as
great as the Power behind us.
*+*+*+*+*+*+*+*+*+*
The
Will of God never takes you to where the
Grace of God will not protect
you.
*+*+*+*+*+*+*+*+*+*
We
don't change the message,
The message changes us.
*+*+*+*+*+*+*+*+*+*
You can tell how big a person is
By what it takes to discourage him.
*+*+*+*+*+*+*+*+*+*
The best mathematical equation I have ever seen:
1 cross + 3 nails = 4 given .
Do you think the US Navy would ever name a ship after an army guy, even if he is a Green Beret? Well, if your name is Roy Benavidez, it would. Benavidez got the Medal of Honor too. You have to see his story to believe it. This comes from cousin Mark:
http://biggeekdad.com/2010/01/tango-mike-mike/
Oh my goodness - what fun! This letter from a New Orleans attorney provides, in addition to a good argument, a bit of history at the same time. Thank you, Mark:
You have to love this lawyer.......
Part of rebuilding New Orleans caused residents often to be challenged with the task
of tracing home titles back potentially hundreds of years. With a community rich
with history stretching back over two centuries, houses have been passed along
through generations of family, sometimes making it quite difficult to establish
ownership. Here's a great letter an attorney wrote to the FHA on behalf of a client:
A New Orleans lawyer sought an FHA loan for a client. He was told the loan would be
granted if he could prove satisfactory title to a parcel of property being offered
as collateral. The title to the property dated back to 1803, which took the lawyer
three months to track down. After sending the information to the FHA, he received
the following reply:
(Actual reply from FHA):
"Upon review of your letter adjoining your client's loan application, we note that
the request is supported by an Abstract of Title. While we compliment the able
manner in which you have prepared and presented the application, we must point out
that you have only cleared title to the proposed collateral property back to 1803.
Before final approval can be accorded, it will be necessary to clear the title back
to its origin."
Annoyed, the lawyer responded as follows:
(Actual response):
"Your letter regarding title in Case No.189156 has been received. I note that you
wish to have title extended further than the 206 years covered by the present
application. I was unaware that any educated person in this country, particularly
those working in the property area, would not know that Louisiana was purchased by
the United States from France, in 1803 the year of origin identified in our
application. For the edification of uninformed FHA bureaucrats, the title to the
land prior to U.S. ownership was obtained from France, which had acquired it by
Right of Conquest from Spain. The land came into the possession of Spain by Right of
Discovery made in the year 1492 by a sea captain named Christopher Columbus, who had
been granted the privilege of seeking a new route to India by the Spanish monarch,
Queen Isabella.
The good Queen Isabella, being a pious woman and almost as careful about titles as
the FHA, took the precaution of securing the blessing of the Pope before she sold
her jewels to finance Columbus's expedition...Now the Pope, as I'm sure you may
know, is the emissary of Jesus Christ, the Son of God, and God, it is commonly
accepted, created this world. Therefore, I believe it is safe to presume that God
also made that part of the world called Louisiana. God, therefore, would be the
owner of origin and His origins date back to before the beginning of time, the world
as we know it, and the FHA. I hope you find God's original claim to be satisfactory.
Now, may we have our loan?"
The loan was immediately approved.
September 24, 2012


Before I do another thing, I want to share a link with you from a friend of mine. It's an outstanding vocalist, a ten year old young lady named Jackie Evancho. You know how I love to watch and hear people who excel at anything, regardless of their age. Just listen:
http://www.youtube.com/watch?v=foUrBztgzZA
She was on America's Got Talent, and boy does she!
Changing the subject, today was the day when one of those mega-mega-zoom-zooms arrived from our sun to lay havoc with the Earth's magnetic fields. Even Delta Airlines re-routed some of its flights to dodge the solar winds from the Coronal Mass Eruption.
http://www.space.com/12581-stunning-photos-solar-storms-flares-sun-weather.html
Wow! The northern lights must have danced quite a little Texas Two Step.
Now, on to other matters of some import. It's all about retraining your communications ability so that you don't fall victim to people who want to get and keep you on the defense.
In the first place, don't think you have to jump in and answer someone who demands an immediate answer. No no no. Take a deep breath and give yourself a bit of time to send a response back over the fence, so to speak.
Yes, it's more than okay to answer a question with a question. In fact, it's how you get out of all those defense-intended maneuvers that are being shot at you. You simply do not have to answer with all that immediacy.
For instance, when someone says to you, "Why don't you want to talk to me?"
Your response could be, "About what?"
Or, "Why didn't you call me?"
"Was I supposed to?"
"Yes."
"Who said that?"
Slow down a bit and give yourself time to frame your response.
Try it. It will take some time to get in the habit of allowing yourself to proceed slowly. In the long-run, it will help you set your boundaries and maintaining them. Especially if you get the inkling that someone is trying to invade your peace of mind by demanding that you defend yourself.
And how can you recognize defense maneuvers? Aside from your gut reaction, densive maneuvers usually start with the word "Why."
"Why" questions are not part of polite conversation. The intent is for one person to try to get and keep the upper hand over someone else.
September 23, 2010

This is one of those off the beaten path pieces of information that you may not have known. I didn't either until today's issue of American Profile arrived.

The there it was on Page 12. Yet another reason that Chicago can claim to be a winner at something.

The Field Museum in Chicago has won the 2011 America's Best Restroom Award.

So what, you may ask, does a "best restroom" have going for it that would beat out other competitors? Well, for starters, it has little people potties. And there's a nursing room complete with a sofa in it.

So congrats, Chicago. 'Nuff said about that.


Now it's official. Quint is in remission from his chronic lymphocytic/leukemia. We made our trip to the oncologist today and learned that the results of the CT scan he had a couple of weeks ago show that the lymph nodes have returned to normal. Thank you for answered prayers. We're both now on the once-in-three-months regimen. I did have a new medication to the list of what the doctor has in my file. That's Allupurinol. So when I told him, he said, "Oh, you've got gouty athritis."

Yep. That's me. The medication is specifically for people who has been given Cytoxa for chemo with breast cancer.

But then I found out that eating cherries -- only 6 a day -- will help out a lot. Sure enough, we found cherries in the produce aisle. Fresh from Chile. They are delicious. After only a week of cherry snacks, I've seen an improvement. I can now bend my thumb with no pain at all. That's the only place, plus my back, that seems to be bothered. Oh, it's just a nuisance. Nothing fatal. I'll take nuisances.


January 20, 2012


We are just jumping up and down for joy watching those pink icy, wintry mix patches float by on the weather map. And up north, oh my goodness. I remember those days when a six inch snowfall was kind of sort of ordinary.
We do not miss it.
Here is a link to a beautiful young girl who is a prodigy -- Akiane Kramarik. She has been painting since she was very young, age 4. Her paintings are incredible. And thanks to friends in Wichita, John and Sherre for the link:
http://www.shangralafamilyfun.com/prodigy.html
Here's a link to Gene Simmons of KISS performing for the troops:
http://www.youtube.com/watch_popup?v=5MtdIO23MKM
Makes me want to stand up and march around the dining room. Thanks, Mark, for sharing.
January 20, 2012


We are just jumping up and down for joy watching those pink icy, wintry mix patches float by on the weather map. And up north, oh my goodness. I remember those days when a six inch snowfall was kind of sort of ordinary.
We do not miss it.
Here is a link to a beautiful young girl who is a prodigy -- Akiane Kramarik. She has been painting since she was very young, age 4. Her paintings are incredible. And thanks to friends in Wichita, John and Sherre for the link:
http://www.shangralafamilyfun.com/prodigy.html
January 18, 2012

Okay, so here's my ignorance showing. I don't know where either of these teams are from -- Trinity and Millsap -- but this link that my cousins Al and Mark sent to me shows one of the most phenomenal football plays I have ever seen in all my born days: http://www.dump.com/2011/02/22/end-zone-angle-of-the-final-football-play-of-trinity-vs-millsaps-video/

Talk about teamwork! This one play won the game. Wow!

And Mark sends these tips too:

1. I think part of a best friend's job should be toimmediately clear your computer
history if you die.

2. Nothing sucks more than that moment during an
argument when you realize you're wrong.

3. I totally take back all those times I didn't want to
nap when I was younger.

4. There is great need for a sarcasm font.

5. How the hell are you supposed to fold a fitted sheet?

6. Was learning cursive really necessary?

7. Map Quest really needs to start their directions on #5. I'm pretty sure I know
how to get out of my neighborhood.

I especially like #7.

As for the second point, I'll have to see if Quint can even remember a time when he was wrong. About anything. ha ha

Me? I try to keep my mouth shut unless I know pretty much what the answer is.

Reminds me of a fella in grad school who had a most unique form of discipline. He says it's more effective than time outs and has been using it since his kiddos were real little. He makes them sit down so that he can tell them the entire history of slavery. All total, it takes about 45 minutes.


January 17, 2012

We went from 61 degrees this morning to a cool 28 now. There's a raw wind blowing that makes it feel like 2 zillion below zero.

Thank goodness Ground Hogs Day is only weeks away. That's the day I first celebrate spring.

I remember when I was a little girl the teacher would pass around those mimeographed pictures for our class to color. After I became an adult, I realized that the ground hog is nothing but a big rodent and the whole thing used up all my brown color crayons. Big deal.

My irises did die back again though. Poor little things. I can hear them shivering under their little dirt shoes. I have a huge variety of colors. Some are yellow, a peach color that's really a double. Looks pretty and frilly. Various shades of purple, one almost black. And finally a pink iris. I like irises. They remind me of Vincent Van Gogh. He painted irises for the whole year that he was in the asylum. People sometimes comment about how they must have been Van Gogh's favorite flower. The truth is, they were the only flower planted at the asylum. So of course he painted irises. What else were there? Besides, by that time he was probably tired of doing self-portraits, being one ear shy of having a full face and all.

Thank you for all your "as if" comments. It was very interesting to hear about how you are using the same concept. Actually it's little more than positive thinking. But it works. People who are negative get dumped on a lot. They aren't any fun and they suck all the air out of relationships, out of the sky and out of their hearts. So lighten up everybody and live your lives as if you are the successful person you want to be!

January 16, 2012

Live your life as if --

It's a Biblical concept. Believe you will get what you pray for, and it is yours, we are promised.

It's the underlying principle of the best-seller The Secret.

So let's all put a whole bunch of positive energy out there. The idea is that if you send positive energy out from yourself, it will come back to you.

That's where you embrace the idea that you'll do better in life if you live your life as if.

For instance, married couples who live their lives as if can somehow keep a vibrancy alive in their relationship. Remember those days when you tried to do all the thoughtful, courteous things you could to attract this handsome guy, or gorgeous lady, into your life? If you're going to be late, do you call and let somebody know you're being detained? If you're living your life as if, then you're going to do such thoughtful things like making a call.

Or how about getting that dream job? What happens when you are sitting in your cubicle doing some grunt project and wishing the clock would advance a few hours so you could get out of there? Well, if you're living your life as if you'd just gotten into an interview and were trying to convince a prospective boss that you really wanted the job, you'd go ahead and do the best you could do, even if every day isn't always exciting and creatively challenging.

Or how about parenting. Remember those days when you couldn't wait for Little Baby Ten Toes to arrive? Live your life as if those days beckon you and you back to the days when you promised yourself that you'd be the best parent you possibly could be to the new baby yet to be born. Living as if will help you get through long, fright-filled nights when you're waiting for an errant teenage to wander on back home.

And most of all, live your life as if Christ were headed this way from the other side of the universe and he is just about ready to come down out of the clouds. Living your life as if he were just about here just may change your life choices.

Good luck with that. Think about ways you could live your life as if.


January 13, 2012

Yes, we got the snow. Not much. Just a couple of inches. Then it stopped for a few hours. I reminded Quint that when the snow started up again, it counted as a new snow. At least for my reckoning. He doesn't have to count the snows separately if he doesn't want to. It's just that if you don't, you end up with some extra snowfalls anticipated by the end of the season.

Yesterday I saw a red fox loping along across the neighbor's yard across the street. At first I thought it was a dog, but then, that tail is a giveaway. Red fox it was. Pretty good sized one too. We have some woods behind our house. Figure he lives back in there with the deer who come out every once in a while looking for good chow, like when the neighbor's beans are about ready to pick. I told her to get a bottle of Liquid Fence at the hardware store, last year. It works. It's kept deer, squirrels and rabbits away from my garden goodies ever since I planted a garden down here. Not too cheap, but it does the trick. You spray around the perimeter of the garden, not on the veggies. A quart bottle lasts most of the season.

It even works on those naughty dogs who like to hike up their legs and take a leak on my rose bush out front. Actually they're probably marking their territory. Doesn't matter, me and my Liquid Fence go out there and give the bush a squirt where the dogs squirted. They don't come back so much. Nothing to reclaim if they can't get a whiff of their aroma.

Tomorrow I'm going to my first meeting of the Christian Writers Group here in town. Looking forward to meeting others who are plying their craft too.

I'm anxious to see if anyone else uses what I call the Ernest Hemingway approach -- you know, three to four word sentences. He was a master at it and I figured if he made it work, so could I. Problem is, my spell checker does not like fragmented sentences. But hey, that's the way people talk. So I say I write "conversationally." ha!

Oh, changing the subject. What do you think the stock markets are going to do on Monday morning, now that Standard and Poors has downgraded the financial houses of Yerp? France and Austria lost their AAA ratings. A total of 15 European nations' ratings were cutting in the S&P slash and burn come-uppance move. One of these days, the US is going to get downgraded again if we don't get a grip on spending.

You can't spend all your money!

I watched one of those news interview programs, maybe a Jay Leno man on the street. Not sure. Anyway, the commentator was asking the people where they thought money came from. One lady said she thought the president printed the money in the basement of the White House. Unfortunately, she was serious. She even knew who the president was.

God said something about wasting the blessings He gives us. We'd better all listen up and pay attention, folks.

January 11, 2011

I'm so glad that Netflix survived the stupidest marketing debacle yet -- raising money on top of money by doing a double tier charge system. Never could figure out what they were going to charge so we canceled everything but the streatming, which we used mostly anyway. We do get one video still, though. What we have both come to really like is the video of a fireplace burning. That's all it is. Just a fireplace burning. It makes the living room seem warm and cozy. Okay, so it doesn't make the room actually warm, but the crackling fire and licking flames do okay by me.

Just in time, too, for a winter storm heading our way. I fear that this one isn't going to miss us. We might get several inches out of it. It's heading SSE out of Iowa and looks to cut a big swath across Illinois as it heads east. I guess that's the end of our 40 degree winters.

Oh well, it was nice while it lasted.

Now, on to Groundhog's Day which is February 2. Somehow I don't think the little groundhog is going to be a harbinger of spring. This is going to be one of those winters where it's going to be snowing for Easter, I'll bet. When the girls were little tykes I remember them hopping through snow on the way to the church on Easter Sunday. Didn't do their little patent leather slippers any good.

Not much news going on except politics, in case you haven't noticed. Politics in the US has become a mult-billion dollar business. So the ads and speeches and debates and spin doctoring are going to continue until November.

One good thing did come out of the Supreme Court today. Believe it or not, the justices reaches a unanimous decision that says churches can hire people of their own choice - whether it's a priest, pastor, rabbi, or imam. The supremes said the government had to "butt out" in so many words.

Well, it's about time.

And my cousin Frances in Texas says the jonquils are sprouting and the bluebells are really thick, though not blooming just yet.

I will add that my irises are totally confused. I have cut them back twice now and could cut them back again but I'm not gonna. If they decide to bloom when it snows, I'll take a photo for posterity.

And with that, no matter where you are, please drive carefully. I know that some parts of the midwest are supposed to get 10" of snow or more, but the rest of us can expect 1 to 2 inches of the white stuff. I don't care if we only get one inch of snow. If it's sitting on icy pavement, it can still be deadly.

Prayers for safety for all of you.

January 9, 2012


Had he lived, today would have been my brother, Allison's, 67th birthday. His middle name was Wallace, probably named for some long lost relative I've never heard of. So we called him A.W. because that's what people in the south do. There's usually at least one first degree relative identified only by initials. So wherever you are, A.W., I hope you're enjoying the choirs of angels and that at the last moments on your deathbed you begged forgiveness for a life filled with sins. I suspect that you did get that idea as you lay dying of lung cancer. But I don't know that. I just pray that you did because I would love to see you in heaven.
Changing the subject, I have received more than quite a few emails about this Mayan thing and what's going to happen at the end of 2012.
In the first place, the Bible reference to the end of the world is very clear about who knows what. I believe it's in Revelation where the verse says that no one knows when the world will end except the Father. Even His Son, Jesus Christ, does not have that information.
Yep. It says so in the Bible. Look it up. Or if you don't have a Bible with a good commentary that can point you to the verse, go to
www.ask..com
and type in a question like, "Where in the Bible does it say ............................................" You'll get a reference.
That's exactly what I did this evening before I started this writing. I knew that somewhere in the Bible, there was an answer to some prophet who asked God how he would end the world the "next time" since he'd promised in a covenant after the flood that he would never destroy the population with a flood again. Then he put a rainbow in the sky. To this day, when I see a rainbow, I am reminded of God's promise not to send a flood again.
But what about this point that the Mayans supposedly thought the world was going to end? Did they actually say that? Not really, unless you interpret their writings to fit into that concept. But what if it'd the Mayan calendar, not the world, that is supposed to end in December 2012? After all, we have Bible texts that say only the Father knows. If He didn't get around to telling His much beloved Son, Jesus Christ, do you really believe He would have told some Indians out there on the Yucatan Peninsula.
So what did God tell the prophet?
In the New International Reader's Version, in Hebrews 12, we find:
25
Be sure that you don't say no to the One who speaks. People did not escape when they said no to the One who warned them on earth. And what if we turn away from the One who warns us from heaven? How much less will we escape!
26 At that time his voice shook the earth. But now he has promised, "Once more I will shake the earth. I will also shake the heavens."—(Haggai 2:6) 27 The words "once more" point out that what can be shaken can be taken away. I'm talking about created things. Then what can't be shaken will remain.
28 We are receiving a kingdom that can't be shaken. So let us be thankful. Then we can worship God in a way that pleases him. We will worship him with deep respect and wonder. 29 Our "God is like a fire that burns everything up."—(Deuteronomy 4:24)


There are also references to God shaking the earth in Psalm 115:3 and Haggai 2:6.

I am reminded of the reference in Verse 28 that "...we can worship God in a way that pleases him." That pretty much takes care of people who say they don't go to church because they believe they can worship God in a forest, or somewhere else. In fact, God tells us that he wants us to meet in assembly with fellow believers.

So get up on the Sabbath, get dressed and make your way to church where you can "assemble" with "fellow believers." Just do it. Don't say "no" to God.




And then there's this Tebow guy. Don't you love him?! Over the weekend he rushed 316 yards. That was the accumulated passes he threw and I think he ran the ball some too. When he heard the stats broadcast with his last winning throw of the day that he was responsible for 316 yards that won the game for the Denver Broncos, what does he do? Did he swell up and sing, "How great I am?" Not on your life. He dropped to his knee and thanked God for his blessings. He later explained that when he heard that, all he could think of was John 3:16.


January 7, 2012

I'm stuck at the weight where I've plateaued so Quint and I headed for the gym today. That's how you get off those plateaus - either drastically cut back on calories or step up the exercise.

Well, since our life is pretty sedentary as it is, just walking out the door to get intot he car is an improvement on the sedentary lifestyle. So, since we're Silver Sneakers on our Humana insurance, we headed for the gym where we used to go faithfully before all this cancer nonsense started. We walked on the treadmill for a big fat 20 minutes. We got all the way up to a 27 minute mile. Then we did some work on the strength training machines. I got on the machine that works the hamstrings. I personally think my hamstrings have completely atrophied, but that could be just a bit hyperbolic. Truth is, I don't like needing to hang onto something just to stand up, for crying out loud.

Okay, so I don't expect to jump up out of my seat, but I would like to look less like an invalid. I'll work up to walking for an hour, or get up to five miles. I remember when I was a Girl Scout leader I used to go on five mile hikes with frequency. But then, those were called "all day hikes" for Brownies.

Oh well, we're expecting it to take some little while to get some semblance of stamina back.

On our way home, we stopped at Walgreens where I got my flu shot. The doctor only had one left when we were there for our last checkup, so Quint got it.

We also stocked up on sugar free candy. Russell Stover is my friend!

Changing the subject, I can always rely on my cousin Mark to send the Darwin Awards for the previous year. And here they are:


THE 2011 DARWIN AWARDS

You've been waiting for them with bated breath, so without further ado, here are the
2011 Darwin Awards:

Eighth Place

In Detroit , a 41-year-old man got stuck and drowned in two feet of water after
squeezing head first through an 18-inch-wide sewer grate to retrieve his car keys.


Seventh Place

A 49-year-old San Francisco stockbroker, who "totally zoned when he ran",
accidentally jogged off a 100-foot high cliff on his daily run.


Sixth Place

While at the beach, Daniel Jones, 21, dug an 8 foot hole for protection from the
wind and had been sitting in a beach chair at the bottom, when it collapsed, burying
him beneath 5 feet of sand. People on the beach used their hands and shovels trying
to get him out but could not reach him. It took rescue workers using heavy equipment
almost an hour to free him. Jones was pronounced dead at a hospital.


Fifth Place

Santiago Alvarado, 24, was killed as he fell through the ceiling of a bicycle shop
he was burglarizing. Death was caused when the long flashlight he had placed in his
mouth to keep his hands free rammed into the base of his skull as he hit the floor.


Fourth Place

Sylvester Briddell, Jr., 26, was killed as he won a bet with friends who said he
would not put a revolver loaded with four bullets into his mouth and pull the
trigger.


Third Place

After stepping around a marked police patrol car parked at the front door, a man
walked into H&J Leather & Firearms intent on robbing the store. The shop was full of
customers and a uniformed officer was standing at the counter. Upon seeing the
officer, the would-be robber announced a hold-up and fired a few wild shots from a
target pistol.

The officer and a clerk promptly returned fire, and several customers also drew
their guns and fired. The robber was pronounced dead at the scene by Paramedics.
Crime scene investigators located 47 expended cartridge cases in the shop. The
subsequent autopsy revealed 23 gunshot wounds. Ballistics identified rounds from 7
different weapons. No one else was hurt.


HONORABLE MENTION

Paul Stiller, 47, and his wife Bonnie were bored just driving around at 2 A.M. so
they lit a quarter stick of dynamite to toss out the window to see what would
happen. Apparently they failed to notice that the window was closed.


RUNNER UP

Kerry Bingham had been drinking with several friends when one of them said they knew
a person who had bungee-jumped from a local bridge in the middle of traffic. The
conversation grew more excited, and at least 10 men trooped along the walkway of the
bridge at 4:30 AM. Upon arrival at the midpoint of the bridge, they discovered that
no one had brought a bungee rope. Bingham, who had continued drinking, volunteered
and pointed out that a coil of lineman's cable lay nearby. They secured one end
around Bingham's leg and then tied the other to the bridge. His fall lasted 40 feet
before the cable tightened and tore his foot off at the ankle. He miraculously
survived his fall into the icy water and was rescued by two nearby fishermen.
Bingham's foot was never located.


AND THE WINNER IS....

Zookeeper Friedrich Riesfeldt ( Paderborn , Germany ) fed his constipated elephant
22 doses of animal laxative and more than a bushel of berries, figs and prunes
before the plugged-up pachyderm finally got relief. Investigators say ill-fated
Friedrich, 46, was attempting to give the ailing elephant an olive oil enema when
the relieved beast unloaded.

The sheer force of the elephant's unexpected defecation knocked Mr Riesfeldt to the
ground where he struck his head on a rock as the elephant continued to evacuate 200
pounds of dung on top of him. It seems to be just one of those freak accidents.


January 9, 2012

Had he lived, today would have been my brother, Allison's, 67th birthday. His middle name was Wallace, probably named for some long lost relative I've never heard of. So we called him A.W. because that's what people in the south do. There's usually at least one first degree relative identified only by initials. So wherever you are, A.W., I hope you're enjoying the choirs of angels and that at the last moments on your deathbed you begged forgiveness for a life filled with sins. I suspect that you did get that idea as you lay dying of lung cancer. But I don't know that. I just pray that you did because I would love to see you in heaven.

Changing the subject, I have received more than quite a few emails about this Mayan thing and what's going to happen at the end of 2012.

In the first place, the Bible reference to the end of the world is very clear about who knows what. I believe it's in Revelation where the verse says that no one knows when the world will end except the Father. Even His Son, Jesus Christ, does not have that information.

Yep. It says so in the Bible. Look it up. Or if you don't have a Bible with a good commentary that can point you to the verse, go to www.ask..com and type in a question like, "Where in the Bible does it say ............................................" You'll get a reference.

That's exactly what I did this evening before I started this writing. I knew that somewhere in the Bible, there was an answer to some prophet who asked God how he would end the world the "next time" since he'd promised in a covenant after the flood that he would never destroy the population with a flood again. Then he put a rainbow in the sky. To this day, when I see a rainbow, I am reminded of God's promise not to send a flood again.

So what did God tell the prophet?

In the New International Reader's Version, we find:


25 Be sure that you don't say no to the One who speaks. People did not escape when they said no to the One who warned them on earth. And what if we turn away from the One who warns us from heaven? How much less will we escape!
26 At that time his voice shook the earth. But now he has promised, "Once more I will shake the earth. I will also shake the heavens."—(Haggai 2:6) 27 The words "once more" point out that what can be shaken can be taken away. I'm talking about created things. Then what can't be shaken will remain.
28 We are receiving a kingdom that can't be shaken. So let us be thankful. Then we can worship God in a way that pleases him. We will worship him with deep respect and wonder. 29 Our "God is like a fire that burns everything up."—(Deuteronomy 4:24)
January 4, 2011

Warning: this could be the beginning of a developing article about recognizing saboteurs within an organization. You know -- they're the ones we refer to as alligators. Every organization has them. And they show their true colors more prominently than you might think.

Here's an old maxim as you start your new year: If you want people to like you, you have to make yourself likable.

That takes care of the bossy ones. People run from these guys. They sit in their chairs and issue edicts and "fetch orders." "Get me this," or "get me that" seems to be their motto. You don't see these people surrounded by a big crowd of people, do you? Organizations are full of these little chiefs.

So what can you do to make people like you? Easy. If you want something, go get it yourself. That's for starters. The world does not raise citizens who wait for you to beckon them.

That is, unless you're a politician or a monarch, or something that gives your blue-blooded attitude the self-imposed right to sit on a chair and make demands.

Tied to likability is another maxim: Good leaders make good followers. You can spot the good leaders in your organization by looking around to see who the workers are. They're the ones who make the good leaders. The people who don't want to do any real work in a group are the same ones who will keep the organization at the status quo. No growth. They say, "I liked it better when we were smaller." All too often, these little-minded people have a secret agenda of their own. They seldom do anything to help the organization grow. Does the definition of passive aggressive come to mind?

Just remember, aggression is always a hostile act.

And passive aggression is disguised as sabotage. Each and every time. Passive aggressive people are on a perpetual search for power. And what do they want the most? Whatever strength you've got. They're trying to run a little micro counter-culture in your organization.
But there's good news. You reward (reinforce) the behavior you want to continue. That's behavior modification rule #1. If you find yourself surrounded by people who don't share your values, then for your own sense of well-being, find another venue. There are plenty of organizations and opportunities out there in this big, wide wonderful world that welcome hard workers.

It's even Biblical to shake the dust from your sandals and walk away. Whatever happened between the "shake the dust from your sandals" theory and the "turn the other cheek motto?"

Well, that thesis can be bridged with a good sermon. I'm not a pastor so I'll leave that one for theologians to wrestle with.
January 2, 2012

Therefore, be it resolved -----

I don't ordinarily make New Years resolutions. But this year is an exception.

I can trace my weight gain all the way back to 1985 when my thyroid was removed. I had what's known as a "thyroid storm" at work and was taken by ambulance to Northwest Memorial Hospital from the law firm where I worked. An endocrinologist diagnosed Graves Disease, an autoimmune nuisance. Problem was I had my daughter's wedding gown about half done and was looking down the barrel of her wedding in about two weeks. I finished the gown, had the thyroid ablated with a radioactive iodine. Quint said I glowed in the dark. The doctor released me much earlier than he would have ordinarily because I promised to return post haste after the wedding for quick checkups. That only entailed a quick cab ride over to his office from the law firm where I was back at work.

The problem was, my weight started to slowly rise. At about a 60 degree slope upward. I put on seventy pounds in a year!

I tried lots of diets. All the wrong ones. Low carb diets, for instance, are never any good. I don't care who recommends them, they are not good for your body's chemistry. The human being is meant to eat grains and grain products. Problem was, I wasn't eating anything differently than my pre-ablation days.

Then, in 2006 Quint and I moved. We bought a Cape Cod. People thought I was nuts to move into a house that had three levels when we had lived in a condominium that was all on one level. Not to mention that my knees were giving me fits. But after we moved I started to lose weight. Slowly. Ever so slowly. After about six months my knees were not giving me any problems at all. I wasn't doing anything much different except I was out from under the sedentary lifestyle that came with my counseling practice. I was walking around more. I enjoyed the physical activity. At the end of a year I was 49 pounds lighter.

But now is the year I'm going to take off the rest of the 25 pounds that I packed on. And how am I going to do this? Simple. Give up most of the flour products I eat.

Following a gout diet is not that difficult. Sugar is my enemy. Yeast products are also my enemy. Meat is my enemy too. No more bacon with my eggs. No more smoky links that are stuffed with cheddar cheese and jalapeno peppers.

No more cookies. At least not more than two at one sitting. Ice cream is okay so it's a good thing that I really like Eskimo Pies -- sugar free that is. This afternoon I'm going to make a cookie that has a chocolate turtle stuffed inside. The cookie dough is a Pillsbury sugar free cake mix and the chocolate turtles are sugar free from Russell Stove. I'll cut the turtles into quarters to make them go farther. Does it cost more to make them? You bet. But it's cheaper than all the medicines that you have to take if you're diabetic. I can have a couple of cookies with impunity.

Low-fat cheeses and cottage cheese are also very good for me. And for some reason, tart cherries are also good for the gout diet. They are low in purines. The lower the purines in the bloodstream, the lower the risk of too much uric acid in the blood. Fresh apples and oranges and bananas are good for the low purine diet too. But I seldom eat bananas. Once in a while we'll put them on cereal for breakfast. (Did you know that a serving of banana is only 1/2 of the banana?) It has too much sugar in it. I learned that from Quint's diabetic diet.

Two weeks ago I started a lifestyle change that will allow me to get control of the gout. I've now lost 5 and a half pounds.

I'm looking forward to being at least ten pounds lighter by the end of January. That's the only resolution that I've made so far.

I'm thinking about slowing down a bit. Especially now that I'm working at a job that I really enjoy in the afternoons. It's working for a dual parish church office. Fortunately, the pastor I work with was a friend of mine before I started working with him.

I'm not willing to give that up. But I am willing to give up my "over-do" list. It's too easy for people to mistake my generosity with my time and energy. So I'm going to step back this year and let other people do some of the things that I used to do. In the meantime, I have joined a Christian Writers Group that meets here in Effingham County. It's a group of about ten people who are writing for publication.

And I have a couple of grants that I promised to write for some business people here in the county. I like writing grants. It keeps my paralegal skills honed. And I like helping business people get their enterprises off the ground.

I also want to continue with my own writing projects.

And that should keep me busy and productive in the new year.

That's only two resolutions. They're two that I can commit to that I know I will follow faithfully. That's the key to success when it comes to re-inventing yourself. Pick a re-invention project that you are willing to commit to completely. And don't take on too many projects at the same time. You'll only frustrate yourself. Pick a project that you are motivated to work on. For me, it was the dreaded fear that if I kept on gobbling away, I'd hit 300 pounds. That's just something that I'm not willing to embrace. Besides, losing weight is all about math. If you eat more calories than you use up, you'll gain weight.

I've watched people who claim that they "just can't lose weight." They'd have you believe that they have tried everything. Yet, when you look at their plates, there's potatoes, noodles, and bread and butter. Then there's the entree and maybe, just maybe a little bit of green vegetable. Never ever eat potatoes and bread in the same meal. And I don't know what they think they're doing by dumping noodles or dressing onto the plate. After all, you're not required to eat everything on the menu. So, if you're an adult, make a fist. That's about a cup. Half of that amount would be a serving. If you're eating a closed fist size of mashed potatoes, you're eating too much. Oh, you could have that much in green beans. That's for sure. But not if the beans are highly seasoned with butter and bacon bits, silly.


I figure you've probably seen this letter that my cousins Mark and Al sent to me, but it's worth another read through:

Our 14-year-old dog Abbey died last month.
The day after she passed away my 4-year-old daughter Meredith was crying and talking
about how much she missed Abbey.
She asked if we could write a letter to God so that when Abbey got to heaven, God
would recognize her.
I told her that I thought we could so, and she dictated these words:


Dear God,

Will you please take care of my dog?
She died yesterday and is with you in heaven.
I miss her very much.
I ' m happy that you let me have her as my dog even though she got sick.

I hope you will play with her.
She likes to swim and play with balls.
I am sending a picture of her so when you see her you will know that she is my dog.
I really miss her.
Love, Meredith

We put the letter in an envelope with a picture of Abbey & Meredith , addressed it
to God/Heaven.
We put our return address on it.
Meredith pasted several stamps on the front of the envelope cause she said it would
take lots of stamps to get the letter all the way to heaven. That afternoon she
dropped it into the letter box at the post office.
A few days later, she asked if God had gotten the letter yet.
I told her that I thought He had.

Yesterday, there was a package wrapped in gold paper on our front porch addressed,
'To Meredith' in an unfamiliar hand.
Meredith opened it.
Inside was a book by Mr. Rogers called, 'When a Pet Dies.'
Taped to the inside front cover was the letter we had written to God in its opened
envelope.
On the opposite page was the picture of Abbey & Meredith and this note:


Dear Meredith,
Abbey arrived safely in heaven. Having the picture was a big help and I recognized
her right away.

Abbey isn't sick anymore.
Her spirit is here with me just like it stays in your heart.
Abbey loved being your dog.
Since we don't need our bodies in heaven, I don't have any pockets to keep your
picture in so I ' m sending it back to you in this little book for you to keep and
have something to remember Abbey by.

Thank you for the beautiful letter and thank your mother for helping you write it
and sending it to me.
What a wonderful mother you have.
I picked her especially for you.
I send my blessings every day and remember that I love you very much.
By the way, I'm easy to find.
I am wherever there is love.

Love,

God

January 1, 2012

What a beautiful message I've received from my cousins, Mark and Al:

WHAT HAPPENS IN HEAVEN WHEN WE PRAY?
>
> This is one of the nicest e-mails I have seen :
>
> I dreamt that I went to Heaven and an angel was showing me around. We
> walked side-by-side inside a large workroom filled with angels. My angel
> guide stopped in front of the first section and said, 'This is the
> Receiving Section. Here, all petitions to God said in prayer are received.
>
> I looked around in this area, and it was terribly busy with so many angels
> sorting out petitions written on voluminous paper sheets and scraps from
> people all over the world.
>
> Then we moved on down a long corridor until we reached the second section.
>
> The angel then said to me, "This is the Packaging and Delivery Section.
> Here, the graces and blessings the people asked for are processed and
> delivered to the living persons who asked for them." I noticed again how
> busy it was there. There were many angels working hard at that station,
> since so many blessings had been requested and were being packaged
>
> for delivery to Earth.
>
> Finally at the farthest end of the long corridor we stopped at the door of
> a very small station. To my great surprise, only one angel was seated
> there, idly doing nothing. "This is the Acknowledgment Section, my angel
> friend quietly admitted to me. He seemed embarrassed.
>
> "How is it that there is no work going on here? I asked."
>
> "So sad," the angel sighed. "After people receive the blessings that they
> asked for, very few send back acknowledgments."
>
> "How does one acknowledge God's blessings? "I asked.
>
> "Simple," the angel answered. Just say, "Thank you, Lord."
>
> "What blessings should they acknowledge?" I asked.
>
> "If you have food in the refrigerator, clothes on your back, a roof
> overhead and a place to sleep you are richer than 75% of this world.
>
> If you have money in the bank, in your wallet, and spare change in a dish,
> you are among the top 8% of the world's wealthy, and if you get this on
> your own computer, you are part of the 1% in the world who has that
> opportunity."
>
> "If you woke up this morning with more health than illness.. You are more
> blessed than the many who will not even survive this day."
>
> "If you have never experienced the fear in battle, the loneliness of
> imprisonment, the agony of torture, or the pangs of starvation... You are
> ahead of 700 million people in the world."
>
> "If you can attend a church without the fear of harassment, arrest,
> torture or death you are envied by, and more blessed than, three billion
> people in the world."
>
> "If your parents are still alive and still married.... you are very rare."
>
> "If you can hold your head up and smile, you are not the norm, you're
> unique to all those in doubt and despair......."
>
> "Ok," I said. "What now? How can I start?"
>
> The Angel said, "If you can read this message, you just received a double
> blessing in that someone was thinking of you as very special and you are
> more blessed than over two billion people in the world who cannot read at
> all."
>
> Have a good day, count your blessings , and if you care to, pass this
> along to remind everyone else how blessed we all are..........
>
> ATTN: Acknowledge Dept .
>
> "Thank you Lord, for giving me the ability to share this message and for
> giving me so many wonderful people with whom to share it."
>
> If you have read this far, and are thankful for all that you have been
> blessed with, how can you not send it on?
>
> I thank God for everything, especially all my family and friends.
>

(And do you know how many pearly gates there are? -- If you guessed 12, you'd be correct. See Revelation 21.)


And here's a profound story from my friend Linda, in Lawrenceville:

Read it before but just as powerful the second or third time.
GOD BLESS. Please do not forget the real reason for the
Christmas season!

This is so beautiful!
John 3:16

A little boy was selling newspapers on the corner, the people
were in and out of the cold.

The little boy was so cold that he wasn't trying to sell many
papers.

He walked up to a policeman and said, 'Mister,
you wouldn't happen to know where a poor boy could
find a warm place to sleep tonight would you?

You see, I sleep in a box up around the corner there and down
the alley and it's awful cold in there for tonight. Sure
would be nice to have a warm place to stay.'

The policeman looked down at the little boy and said, 'You go
down the street to that big white house and you knock
on the door. When they come out the door you just say John
3:16, and they will let you in.'

So he did. He walked up the steps and knocked
on the door, and a lady answered. He looked up and said,
'John 3:16 .' The lady said, 'Come on in, Son.'

She took him in and she sat him down in a split bottom rocker
in front of a great big old fireplace, and she went off.. The
boy sat there for a while and thought to himself:
John 3:16 ....I don't understand it, but it sure makes a cold
boy warm.

Later she came back and asked him 'Are you hungry? 'He said,
'Well, just a little. I haven't eaten in a couple of days,
and I guess I could stand a little bit of food,'

The lady took him in the kitchen and sat him down to a table
full of wonderful food. He ate and ate until he couldn't eat
anymore. Then he thought to himself: John 3:16...



Boy, I sure don't understand it but it sure makes a hungry
boy full.

She took him upstairs to a bathroom to a huge bathtub
filled with warm water, and he sat there
and soaked for a
while. As he soaked, he thought to himself: John 3:16 ...
I sure don't understand it, but it sure makes a dirty boy
clean... You know, I've not had a bath, a real bath, in my
whole life. The only bath I ever had was when I stood in
front of that big old fire hydrant as they flushed it out.
The lady came in and got him. She took him to a room,
tucked him into a big old feather bed, pulled the covers up
around his neck, kissed him goodnight and turned out the
lights. As he lay in the darkness and looked out the
window at the snow coming down on that cold night,
he thought to himself: John 3:16 .....I don't understand it
but it sure makes a tired boy rested.

The next morning the lady came back up and took him
down again to that same big table full of food. After he
ate, she took him back to that same big old split bottom
rocker in front of the fireplace and picked up a big old Bible.

She sat down in front of him and looked into his young face..
'Do you understand John 3:16 ? ' she asked gently. He replied,
'No, Ma'am, I don't. The first time I ever heard it was last
night when the policeman told me to use it,'
She opened the Bible to John 3:16 and began to explain
to him about Jesus . Right there, in front of that big old
fireplace, he gave his heart and life to Jesus. He sat there
and thought: John 3:16,"I
don't understand it, but it sure makes a lost boy feel safe.

You know, I have to confess I don't understand it either,
how God was willing to send His Son to die for me, and how
Jesus would agree to do such a thing. I don't understand the
agony of the Father and every angel in heaven as they watched
Jesus suffer
and die. I don't understand the intense love for ME that kept
Jesus on the cross till the end. I don't understand it, but
it sure does make life worth living.

John 3:16 For God so loved the world, that he gave his only
begotten Son, that whosoever believeth in him should not
perish, but have everlasting life....

If you aren't ashamed to do this, please follow the
directions .

Jesus said, 'If you are ashamed of me, I will be ashamed of
you before my Father.' Pass this on only if you mean it.

I do Love God . He is my source of existence... .. He keeps
me functioning each and every day. Phil 4:13 If you love God
and are not ashamed of all the marvelous things he has done
for you, send this on..

Take 60 seconds & give this a shot ! Let's just see if Satan
stops this one.

All you do is:

1) Simply say a small prayer for the person who sent you
this, 'Father, God bless this person in whatever it is that
You know he or she may be needing this day. In Jesus' Name,
Amen ! '

2) Then send it on to other people. Within hours many people
have prayed for you, and you caused a multitude of people to
pray to God for other people. Then sit back and watch the
power of God work in your life for doing the thing that you
know He loves.

(This is a good example of what I call Network Prayers. It really makes me feel great to know that people are praying for me, and I love to pray for others too. Thank you, Linda, for sending.)